Men's Hockey World Cup 2018: 'Underdogs' Belgium Re-Write History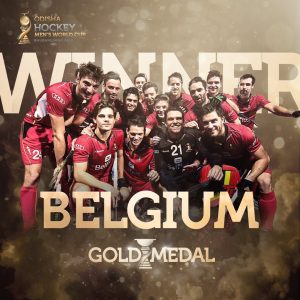 An abrasive Belgium crushed previous champs, the Netherlands in an exciting conflict to win their first ever men's hockey World Cup title at the Kalinga Stadium.
Olympic silver medallist Belgium made history by squeezing out a 3-2 win in the penalty shoot-out after the last match of the sport's masterpiece occasion finished in a goalless draw.
It was an extraordinary day for Belgium hockey as the nation enlisted its second greatest global title after the Olympics silver in Rio in 2016.
In the last version of the World Cup at The Hague in Netherlands, Belgium had completed fifth.
FIH Hockey Series Open 2018: In Lahore 17-22 Dec.; Team Announced
The Netherlands, then again, neglected to coordinate Pakistan's record of a fourth world title for the second successive release.
They did it. And now they can celebrate. Beautiful world cup x so deserved. Unforgettable ! History made. ❤️???? #WorldChampion #Hockey #SoProud #Belgium pic.twitter.com/FiMe7CprUb

— Tessa Debergh (@tessadebergh) December 16, 2018
Belgium world champion! Congratulations to the @BELRedLions for winning the world title Hockey in #India! Incredible achievement! ??? #BELRedLions #HWC2018 #BelNed #RoarTogether #RoarForGold #WorldChampion #BelgianRoyalPalace #MonarchieBe pic.twitter.com/bfD4X9tbwl

— Belgian Royal Palace (@MonarchieBe) December 16, 2018
What a game #Belgium was on top….
Congratulations @BELRedLions
What a world cup ….
Thanks @FIH_Hockey @TheHockeyIndia for organizing best world cup ever#HWC2018 #HWCFinal2018 pic.twitter.com/v06gGdsm3g

— Choudhry Abdul Moid (@moiz_choudhry) December 16, 2018
#HWC2018
One of the best Hockey World Cup? final. Congratulations Belgium?? @BELRedLions. This final remind me of 1994 World Cup final @PHFOfficial Pakistan?? vs @oranjehockey Netherlands?? where Pakistan won at shootout

— Sameer Ashiq (@sashiq63) December 16, 2018
Belgium beat Netherlands in a historic match of hwc final and has made history by lifting the hockey world cup first time in the history!
While Pakistan's record of most titles (4) is still unbeatable.
A deserving champion.#HWCFinal2018 #BelgiumHockey pic.twitter.com/tCRq8b7khQ

— Zayed Bin Salman (@BinSalman_26) December 16, 2018
For more updates keep visiting allsportspk