Pakistan – National Junior Badminton Championship 2018: Champs Decided
LAHORE: Raja Zulqarnain Haider (Punjab) won the U-18 Single Title and Alja Tariq (Balochistan) won the U-18 single Championships. In the Boys U-16 Single Qari Adnan from Khyber Paktunkhawa and in the Girls U-16 Single Sumaiya Tariq from Balochistan won the title. Umar Khan from Khyber Pakhtunkhawa took the U-14 Boys Single title.
in the Boys Doubles U-18 Raja Zulqarnain Haider & Tayyab Shafiq (Punjab) won the title and in Girls U-18 Doubles Amal Munib & Laiba Masoud (Punjab) won the Title.
Muhammad Khalid Mahmood, Secretary General Pakistan Olympic Association was the chief guest of the final ceremony and distributed trophies, cash award and certificates amongst the finalists.
Pakistan – National Junior Badminton Championship '18: 6 Punjab Jr's Into Semis
The total Prize money of the tournament was Rupees 150,000.
Mr. Sam Benthan Sivaparumal, Development officer of Badminton Asia, Mr Pervaiz Ahmad Secretary Election commission of POA, Miss Ada Jaffery Secretary Education commission POA and Wajid Ali Chaudhry Secretary PBF were also present at the occasion.
Results
Boys Single U-18
Raja Zulqarnain Haider (Punjab) beat Tayyab Shafiq (Punjab) by 21-16, 21-17
Girls Single U-18
Alja Tariq (Balochistan) beat Amal Munib (Punjab) by 21-15, 15-21, 21-11
Boys Single U-14
Umar Khan (Khyber Pakhtunkhawa) beat Saad Amir (Punjab) by 21-18, 21-11
Boys Single U-16
Qari Adnan (Khyber Pakhtunkhwa) beat Raza Ali Adil (Punjab) by 21-19, 21-19
Girls Single U-16
Sumiya Tariq (Balochistan) beat Zainab Chauhdry (Punjab) by 21-5, 21-9
Girls U-18 Double
Laiba Masoud & Amal Munib (Punjab) beat Alja Tariq & Masooma (Balochistan) by 21-15, 21-17
Boys Double U-18
Raja Zulqarnain Haider (Punjab) bear Abdullah & Zubair Shah (Khyber Pakhtunkhwa) by 25-27, 21-13, 21-18
Images Of The Day – National Junior Badminton Championship 2018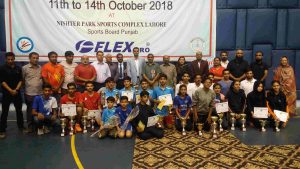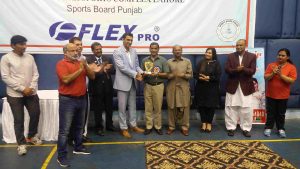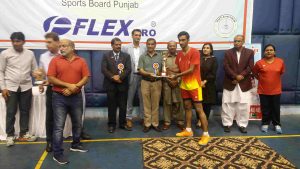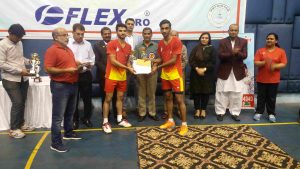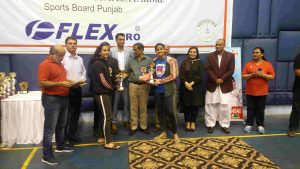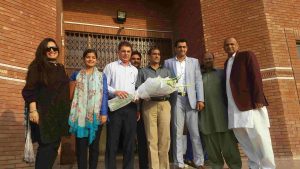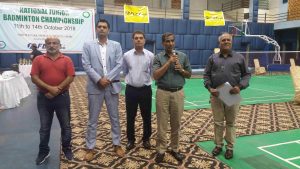 For more updates about National Junior Badminton Championship keep visiting allsportspk