Shangrila Scrabble Champions Trophy: Day 2 – Waseem Khatri Back On Top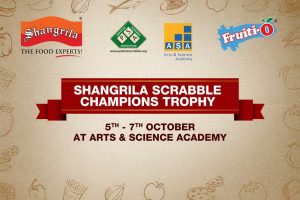 KARACHI: Shangrila Scrabble Champions Trophy continued on day-two at Arts & Science Academy, Karachi.
On day two the Former champion – Waseem Khatri came roaring back to form by winning 8 of the ten matches played today. Waseem finished on top with 13 wins out of 17 matches played so far with 1038 spread.
Former world youth champion and current National Champion Moiz Baig maintained his good form and finished at the 2nd spot with 12 wins and a spread of 1108.
The star of the day was undoubtedly the 12 year old Imaad Ali. Playing against players several times his age the youngster displayed maturity and sheer class that impressed all.
The reining under-12 world champion Imaad briefly reached the No.1 spot but lost the last game of the day to finish 3rd at the end of the second day with 11 wins and a spread of 810.
Shangrila Scrabble Champions Trophy: Day 1 – Moiz Baig Leads
Veteran Jawed Shamim, Hammad Hadi and his younger brother and current 14 world champion Hasham Hadi finished fourth, fifth and sixth at the end of day 2 respectively.
Shahzaib Khatri, Ahmed Salik, Hassan Bin Arshad and Hassan Hadi made up the rest of the top ten at the end of day two.
Trophy Brief
The Shangrila Scrabble Champions Trophy is an elite internationally rated tournament which features, the 26 of the top ranked scrabble players of Pakistan, including current and former national champions.
During the trophy in total 27 games will be played with the winner receiving the Shangrila trophy. Plus a cash pool of Rs. 85,000 will be distributed between the position holders.
This event is a warm-up session for the youngster before the World Championship to be held later year in United Kingdom. Pakistan is presently the title holder of five titles and will be defending them.
All the matches are being telecast live at Pakistan Scrabble Association's official Facebook page
The third on 8th October 2018 ( Monday) will be the final day.
For more updates keep visiting allsportspk