UMA CNS Open Golf Championship: Ahmed & Namchok In Lead
KARACHI: UMA CNS Open Golf Championship which is part of the International Asia Tour Golf, commenced at the admirable and elegant Karachi Golf Club Golf Course in Karachi.
Ahmed Baig of Pakistan, a twenty years old amateur champion, fired a flawless five -under-par 67 to emerge as the leader. NamchoK Tantipokhakul of Thailand shares the top position with Ahmed Baig, as he also ended the first round of 18 holes with a score of five under par 67 and these two are bunched together at the top of the leaderboard, as they move into the second round on Friday.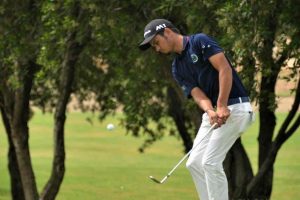 Ahmed Baig showed adequate calmness and control and was definitely not overawed by the fact that he was up against many top golfers of Asia and other continents. Including the top ranked golf professionals of Pakistan. What impressed the experts was his superb and accurate hitting off the tees and skillful and deft approach shots from the fairways.
Day 1 – Detailed Scores: UMA CNS Open Golf Championship | Asian Tour
Undoubtedly, Namchok is a branded player of the Asian Tour and his mastery in application of golfing skills is evident from the way he handles his golf sticks and especially his putter.
More champions who performed exceedingly well are Muhammed Shabbir Iqbal of Pakistan, Honey Baisoya of India, Pawin Ingkhaprait of Thailand, and James Ryan Lam of Phillipines. These four fearsome and adept players are bracketed at a remarkable score of 68, four under par.
KPK Amateur Golf Championship: M. Ziaraf In Lead
The heartening news for Pakistan was that Shabbir looked in great trim and apparent was his determination to outshine his fellow competitors from other continents. And minus one lapse on the ninth hole where he lost a stroke, he was relentless in his pursuit of an outstanding show in this championship."Overall my game was Ok", he said and "I did what I had to do, finding fairways an greens,as required"."I hope to improve further in the second round".
The players from overseas who are searching for a victory in Pakistan and lucrative prize money seem delighted that they accepted the invitation to come to Pakistan and play at the exquisite Karachi Golf Club Golf Course. They admitted that ,"before coming here, they had a very different idea about conditions in Pakistan but in actuality the situation is absolutely opposite and they feel good and would love to come back".
Others players who have come up with good scores are Muhammed Munir, 69, Sunny Masih 69, Shahid Javed Khan 69. Another one to score a 69 is Suradit Yong from Thailand. At a score of 70, two under par are Koh Deng Shan (Singapore), Matthew Killen(England), Dilshad Ali (Pakistan) and Imdad Hussain(Pakistan).
The second round will be contested on Friday, 12th October.
For more updates keep visiting allsportspk