West Indies Cricket: CWI President Slams Over-Rate Ban On Jason Holder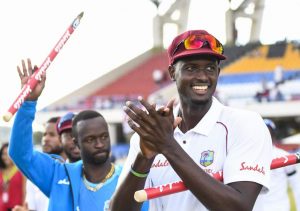 Cricket West Indies president David Cameron has marked Jason Holder's suspension for a slow over-rate to be quite "punitive".
Having anchored a 10-wicket pounding in the second match in Antigua, West Indies captain Jason Holder guided the Windies to a radiant Test series prevail upon England with one match to play.
Notwithstanding, having been sanctioned by the ICC, Jason Holder would not be a part of the series finale against Joe Root's men in St Lucia, for the 3rd and final test.
Women Blind Cricket – Pak Vs Nepal – 5th T20: Consecutive 10 Wicket Victory; Nepal Win Series
Holder was handed a one-match ban, along with a forty percent match fee, after Windies were found just 2 overs shy of their over-rate target.
CWI's President David Cameron said:
"We will, of course, abide by the ICC ruling, but we have to wonder if such punitive action at a pivotal stage of the series is good for cricket. What a shame if the series is remembered not for the sparkling play of the reinvigorated West Indies players but for a crippling decision made by a rule that ought to be modified," 
He further added:
Jason now has the opportunity to benefit from resting his body over the period of the next test and be well prepared for the upcoming ODI series against England which begins on February 20," Cameron continued."
Be that as it may, Cameron trusts the punishment gave to Holder, who was discovered blameworthy of a minor over-rate offense amid the Barbados Test against Sri Lanka a year ago, conveys the wrong message.
At present, Jason Holder has taken 7 wickets in the series and also made 229 runs which includes an unbeaten double century in the 1st Test.
Totally agree with this piece. If slow over rate affected the game,then the ban was justified,but how can you ban a player if the game finished in less than 4 days? This rule needs to change
"Miller: Jason Holder slow-over ban is just ICC killjoys at work" https://t.co/7J5cJIPV1G

— Farooq Yousaf (@faruqyusaf) February 5, 2019
This ban is a travesty. Clearly with four fast bowlers with longer run ups the over rate will be slower. Last time the #Windies were beating all comers new regulations restricted bouncers. Sport – England in West Indies: Jason Holder banned for third Test https://t.co/dr6cVIpHY5

— Joe Aldred (@joealdred) February 3, 2019
For more updates keep visiting allsportspk