Wimbledon Day 6: Top Seeds Into 5th Round; Federer Sets Record Of Playing 4th Round-17 Times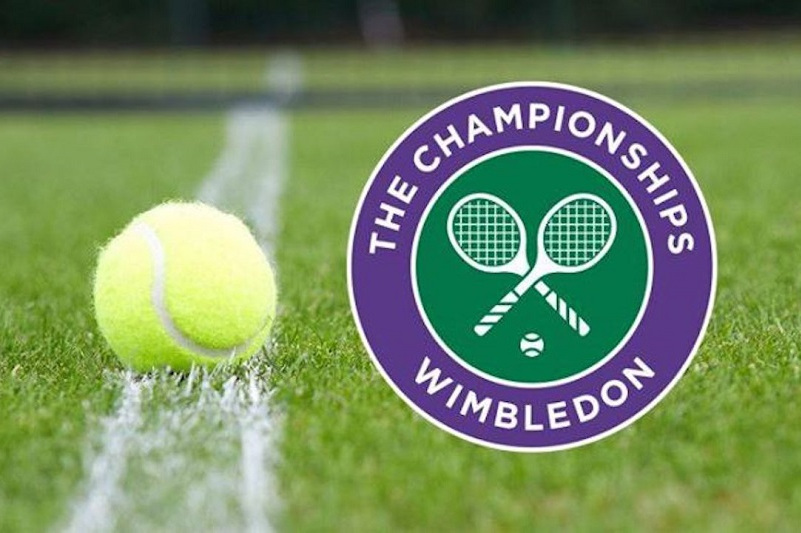 WIMBLEDON: First week of Wimbledon tournament is about to end with top stars Roger Federer, Rafael Nadal, Andy Murray and Serena Williams cursing towards the titles in single and doubles categories.
Eight times champion Roger Federer faced No. 27 seed Lucas Pouille after a close first set of 7-5. The 37 year old great Federer grabbed the game with both hands and progressed through the second week of the championship for the 17th time.
Swiss star defeated Pouille 7-5, 6-2 and 7-6 in a contest that lasted for more than 2 hours. Roger Federer became the first ever player in history to win 350 Grand Slam singles, as he is also the first man in the Open Era to reach the fourth round at Wimbledon 17 times, breaking a previous tie with American tennis sensation Jimmy Connors.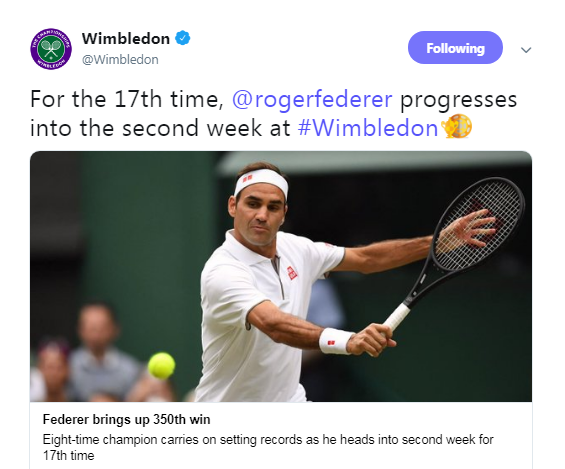 The world No. 2 Roger Federer continues to break records, as he is into the Round of 16 at a Grand Slam for the 65 time, extending his own record for the most fourth round matches in tennis Open.
World No. 3 Spanish tennis star Rafael Nadal is also into the fourth round of Wimbledon championship after a straightforward victory against Frenchman 6-2, 6-3 and 6-2.
A happy return for Andy Murray continues, as destructive pair of Andy Murray and Serena Williams dominated against Andreas Mies and Alexa Guarachi 6-4, 6-1 to reach the second round in the mixed
doubles.
Though, English star Andy Murray is out of the men's doubles as he and his partner Pierre Hugues Harbert lost to a sixth seeded Nikola Mektic and his partner Franko Suugor 6-7, 6-2 and 6-3 in the second round.
Another upset was recorded in Wimbledon as Tennys Sandgren put on a power show to extend his run in Wimbledon to defeat 12th seeded Fabio Fognini 6-3, 7-6 and 6-3 into the third round of the
tournament.
Czech Republic's Petra Kvitova, two times champion is also into the second week of Wimbledon, as the sixth seeded beat Magda Linette of Polan by 6-3, 6-2 to seal a spot in final 16.
For more updates keep visiting allsportspk