10m Air Rifle Men Junior Event: Filip Nepejchal Dominates With New European Record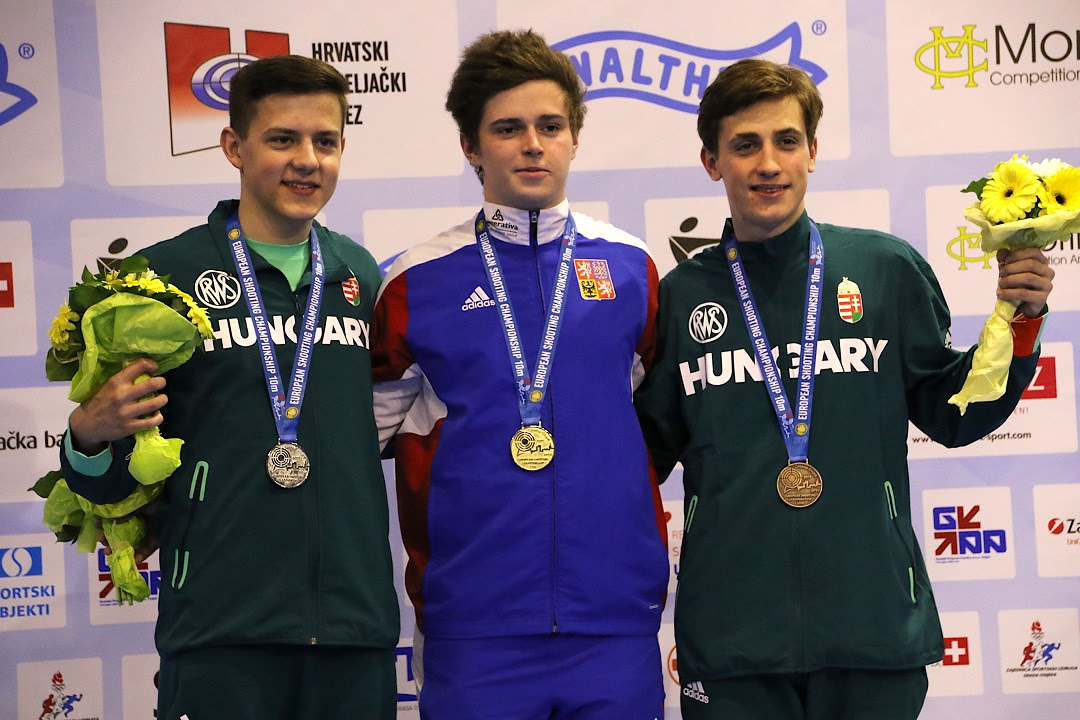 The 10m Air Rifle Men Junior was moreover dominated by Czech Filip Nepejchal. His shooting performance was so extraordinary brilliant which is seldom seen. The level of his performance was such which totally ruled the final. The result was a new European Juniors record of 252.0!
Zalan Pekler of Hungarian also shot very well, although could not perform as well as Nepejchal. Nepejchal, who won gold with the difference of 2.0 points.
Bronze medal was won by Marton Klenczner who belongs to Hungary. Overall, the performance of the Hungarian young rifle shooters were outstanding, while Ferenc Toeroek was sixth!
The new record holder Nepejchal said that, "Well, the feeling is now relaxed and happy. You couldn´t perhaps see how nervous I was but I new all the time the situation and the excitment inside me came all the time bigger and stronger. I have had good flow during this spring and I wished that It can continued here also and in to the end of the final. Well, it did", .
European Championship 10m Osijek

Events Wise Results

| | |
| --- | --- |
| Range |   |

| | |
| --- | --- |
| Start date / State |   |

10m
APMIX
10m
10m
18.03.2019 09:15 Finished
APMIXJ
10m AIR PISTOL MIXED TEAM JUNIOR
10m
18.03.2019 11:15 Finished
AR60WJ
10m AIR RIFLE WOMEN JUNIOR
Women
10m
18.03.2019 15:00 Finished
AR60J
10m AIR RIFLE MEN JUNIOR
Men
10m
19.03.2019 10:00 Finished
ARMIXJ
10m AIR RIFLE MIXED TEAM JUNIOR
10m
19.03.2019 12:00 Finished
AP60J
10m AIR PISTOL MEN JUNIOR
Men
10m
19.03.2019 15:45 Finished
AP60WJ
10m AIR PISTOL WOMEN JUNIOR
Women
10m
20.03.2019 09:15 Break
TEAM_APWJ
TEAM EVENT 10m AIR PISTOL WOMEN JUNIOR
Women
10m
20.03.2019 09:15 Break
TEAM_ARMJ
TEAM EVENT 10m AIR RIFLE MEN JUNIOR
Men
10m
20.03.2019 10:30 Break
TEAM_AP60M
TEAM EVENT 10m AIR PISTOL MEN JUNIOR
Men
10m
20.03.2019 10:30 Break
TEAM_ARWJ
TEAM EVENT 10m AIR RIFLE WOMEN JUNIOR
Women
10m
21.03.2019 09:30
AP60
10m AIR PISTOL MEN
Men
10m
21.03.2019 11:45
AR60W
10m AIR RIFLE WOMEN
Women
10m
21.03.2019 14:00
AR60
10m AIR RIFLE MEN
Men
10m
21.03.2019 16:15
AP60W
10m AIR PISTOL WOMEN
Women
10m
22.03.2019 14:15
ARMIX
10m AIR RIFLE MIXED TEAM
10mRT
18.03.2019 09:00 Finished
10RT
10mRT 10m RUNNING TARGET MEN
Men
10mRT
18.03.2019 09:00 Finished
10RTW
10mRT 10m RUNNING TARGET WOMEN
Women
10mRT
19.03.2019 09:00 Finished
10RTMIX
10mRT 10m RUNNING TARGET MIXED MEN
Men
10mRT
19.03.2019 09:00 Finished
10RTMIXW
10mRT 10m RUNNING TARGET MIXED WOMEN
Women
10mRT
19.03.2019 16:15 Finished
10RTMIXTeam
10mRT 10m RUNNING TARGET MIXED TEAM
10mRT
20.03.2019 09:00
10RTMIXJ
10mRT 10m RUNNING TARGET MIXED MEN JUNIOR
Men
10mRT
20.03.2019 09:00
10RTMIXWJ
10mRT 10m RUNNING TARGET MIXED WOMEN JUNIOR
Women
10mRT
21.03.2019 09:00
10RTJ
10mRT 10m RUNNING TARGET MEN JUNIOR
Men
10mRT
21.03.2019 09:00
10RTWJ
10mRT 10m RUNNING TARGET WOMEN JUNIOR
Women

Courtesy: ESC

for more updates keep visiting allsportspk