BoP Polo Tournament 2017 – Final: ZTBL wins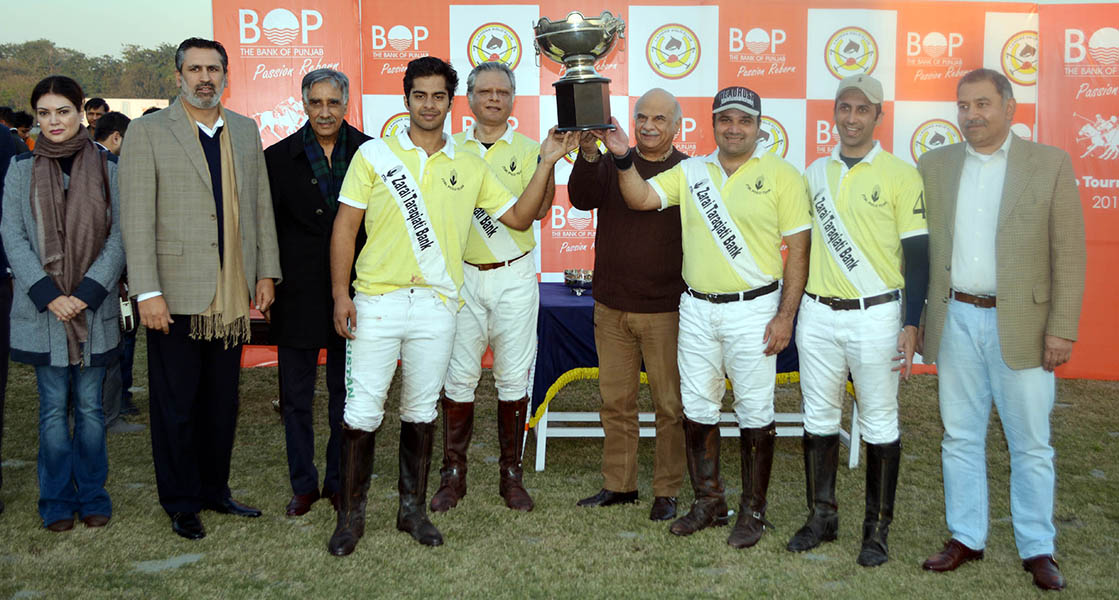 LPC LAHORE: Zarai Taraqiati Bank Limited (ZTBL) outpaced Master Paints by 8-5½ in the main final to clinch the Bank of Punjab (BoP) Polo Tournament 2017 trophy here at the Lahore Polo Club (LPC) ground on Sunday.
Saqib Khan Khakwani emerged as top scorer from ZTBL with his superb six goals while Mumtaz Abbas Niazi and Raja Arslan Najeeb contributed with one goal apiece. From Master Paints, Bilal Haye thwarted three goals while Hamza Mawaz Khan and Ahmed Bilal Riaz hit one goal each but their efforts couldn't help their team win the final.
Bank of Punjab Polo Cup – March 2017: Master Paints Wins The Trophy  
Saqib started the match by converting a successful 60-yard penalty hit to provide ZTBL 1-0 lead. Master Paints bounced back in style in the second chukker and slammed in two superb goals – one each by Hamza Mawaz and Ahmed Bilal – to take 2-1 edge. Saqib then displayed quality polo and hammered a hat-trick to give ZTBL 4-2 lead.
Master Paints changed their gears in the third chukker and succeeded in converting two more goals through Bilal Haye to level the score at 4-4. But Saqib then came from behind to put his team 5-4 ahead but in the dying moments of the chukker, Bilal Haye once again level the score at 5-5. The fourth and decisive chukker of the final was fully dominated by ZTBL as he fired three fantastic goals to take unbeatable 8-5 lead, which remained intact till the end and ZTBL emerged as title winners with the score of 8-5½, as Master Paints had half goal handicap advantage. Bilal Noon and Atif Yar Tiwana were the field umpires.
Winter Polo Cup 2017: Finals Day
Black Horse Paints outlasted Newage team by 8-3½ to win the subsidiary final. From Black Horse Paints, Hissam Ali Hyder struck fabulous five goals while Sufi M Amir banged in a brace and Abubakar Siddique one goal. From Newage, Ahmed Ali Tiwana scored two goal and Shah Shamyl Alam hit one goal.
For updates regularly visit: Allsportspk