11th KBC Inter-School Indoor Rowing Regatta 2019: Cedar Team "2019 Champion" 
KARACHI: Marking 11 years of competitive school rowing in Pakistan, Karachi Boat Club (KBC) hosted its 11th Annual Inter-School Regatta, which was held on on the club premises, followed by a prize distribution.
The Indoor Rowing Regatta 2019, winning team was Cedar.
The 11th Regatta brought together approximately 300 rowers from 17 different schools from Karachi, Lahore, and Quetta. The event started off with only a handful of rowers over a decade ago, has evolved into a constantly evolving community.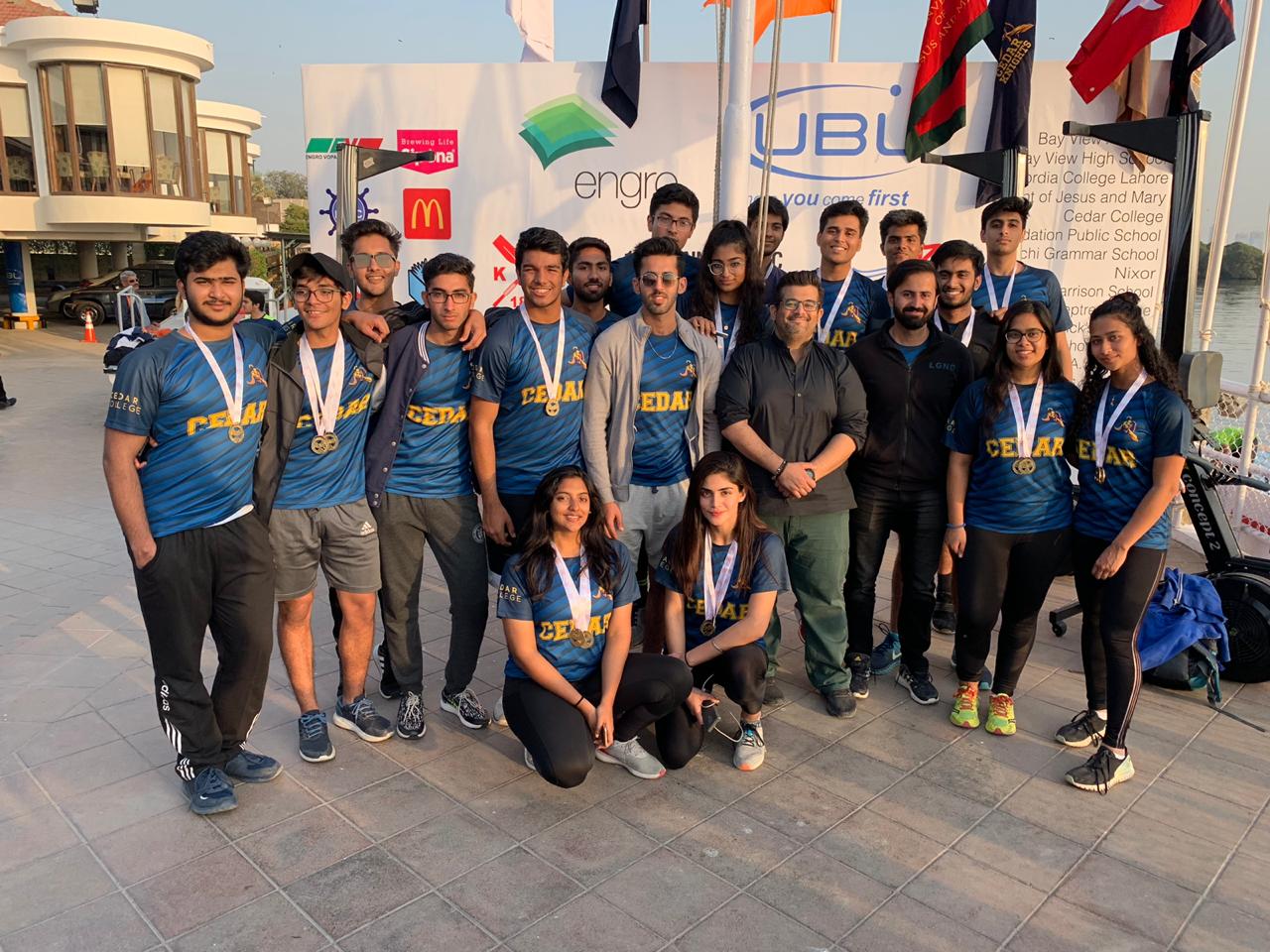 Helping Karachi Boat CLub maintain its high standard of rowing in the region, as well as providing rowers with constant support are sponsors of the event and the sport. The main sponsors for the 11th Inter-School Regatta are United Bank Limited (UBL) and Engro Corporation.
The Opening Ceremony was held on Saturday in the open air deck overseeing China Creek. The participants included: Mr. Arif Ikram, Captain of Boats, who spoke of rowing as a growing sport and a teaching point for leadership and camaraderie; while Mr. Jamshed Qureshi touched upon adding boats to the already existing fleet. as KBC is constantly aiming to develop the sport of rowing in Karachi, and in turn in Pakistan. Mr. Qureshi acknowledged the rowers and rowing committee who have been a part of the growth of rowing, "Karachi Boat Club has impacted an entire generation of individuals, some of who still work on rowing with us today. Over the passage of time we can see how rowing has groomed individuals who carry with them the same team spirit, sportsmanship, and skill development, which has and will propel them forward for years to come."
Honouring the Inter-school Regatta, his excellency, Eugene Wolfarth, Counsel General of Germany, was also present as the Chief Guest at the Ceremony on Saturday. Mr. Wolfarth praised Karachi Boat Club's mission and suggested to not only promote rowing within its local community, but to provide a safe, healthy, and positive environment for youth development.