56th National Badminton C'ships 2019 – Team Events Finals: National Bank & Wapda Win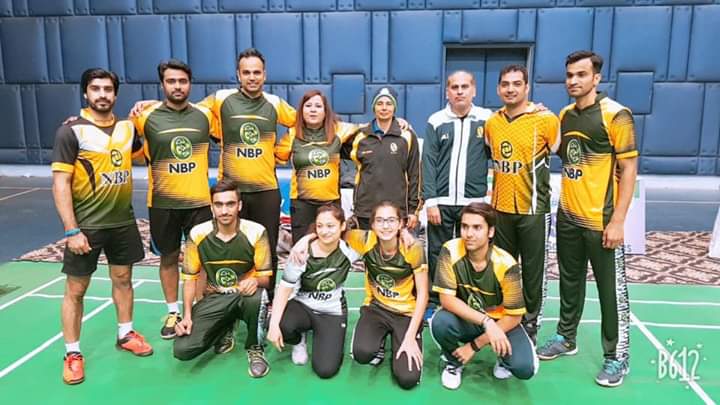 LAHORE: On the 3rd day of the 56th National Badminton Championships 2019, the Finals of Team events events were played.
The winners were:
Men Team Event Title: National Bank of Pakistan.
Women Team Event Title Pakistan Wapda who also retained the title.
NBP beat Pakistan Wapda by 3-1 in the men team event final and Pakistan Wapda beat SNGPL by 3-0 in the women team event final.
The detailed results of the matches are as under:
Final Men Team Event
NBP beat Pakistan Wapda by 3-1
1st Single: Murad Ali (NBP) beat Irfan Saeed (Wapda) by 14- Retired Hurt
1st Double: Rizwan Azam & Kashif Sulehri (NBP) beat Attique Ch. & Awais Zahid (Wapda) by 14-21, 21-19, 22-20
2nd Single: Azeem Sarwar (Wapda) beat Anjum Bashir (NBP) by 21-13, 21-15
2nd Double: Murad Ali & Raja Hasnain (NBP) beat Irfan Saeed & Azeem Sarwar (Wapda) Irfan Saeed Retired Hurt
Final Women Team Event 
Pakistan Wapda beat SNGPL by 3-0
1st Single: Shera Akram (Wapda) beat Javeria Tahir (SNGPL) by 21-10, 21-10
1st Double: Mahoor & Mehmoona (Wapda) beat Ghazala & Zubaira (SNGPL) by 21-19, 13-21, 21-17
2nd Single: Mahoor Shahzad (Wapda) beat Ghazala Siddique (SNGPL) by 21-11, 21-2
For more updates keep visiting allsportspk