11th NBP Ranking Snooker C'ship 2019: Commences 28th July; Schedule Announced
KARACHI: The organizers  Pakistan Billiards & Snooker Association  announced holding of the the 11th NBP Ranking Snooker Championship 2019 at NBP Sports Complex, Karachi from 28th – 3rd August 2019.
The defending champion is Muhammad Ijaz. 32 Ranked  as per latest PRC + 1 Junior players of Pakistan Snooker Circuit will be participating. 
The players to be ranked No.1 and 2 in this tournament will represent Pakistan in the Snooker World Cup 2019.
Sponsored by NBP – National Bank of Pakistan, the Prize money will be:
Winner Rs. 100,000
Runner-up Rs. 40,000
Semi Finalist Rs. 20,000 (Rs. 10,000 each for the two Semi-Finalists)
Quarter Finalist Rs. 20,000 (Rs. 5,000 each for the four Quarter-Finalist)
Highest Break winner will receive Rs. 5,000
The format of play will be as follows:

33 Players divided into 8 Groups
Qualifying Rounds will be best of 7 Frames
Pre-Quarter Finals best of 9 Frames
Quarter-Finals best of 9 Frames
Semi-Finals best of 11 Frames
Final will be best of 15 Frames.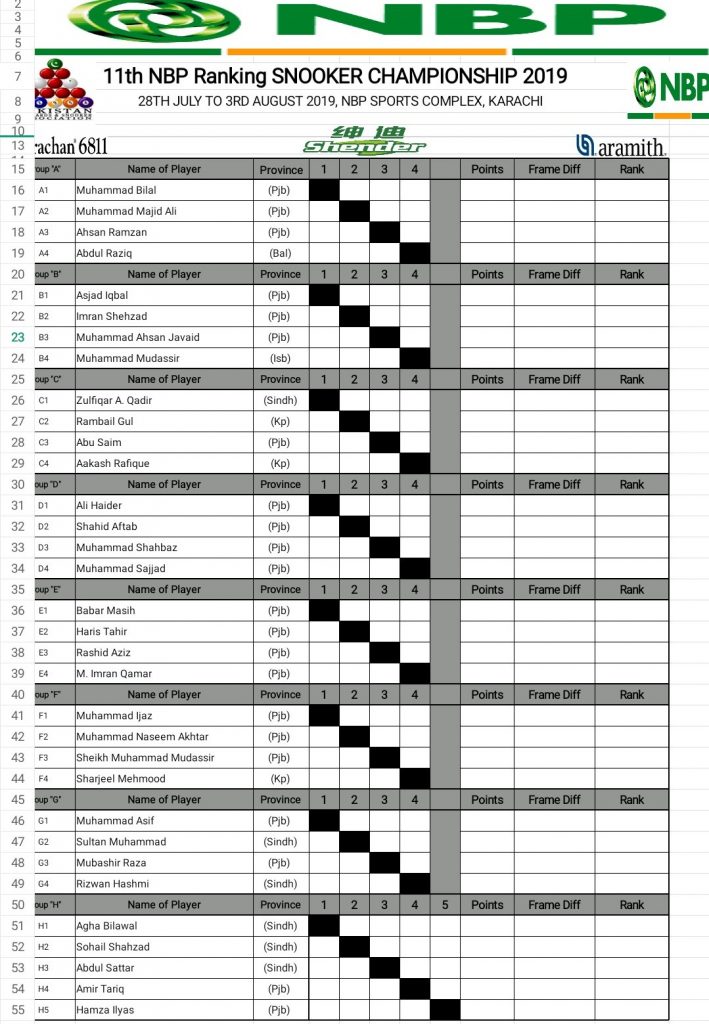 For more updates keep visiting allsportspk