1st FEGA All Pakistan Ladies Amateur Golf Championship: Winners Shine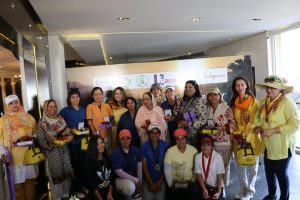 ISLAMABAD: First FEGA Pakistan Ladies Amateur Golf Championship, was contested over three days at the Bahria Town Muree Expressway Golf Course and concluded after a sharp competitive activity that was exclusively meant for lady golfers.
The Pakistan Ladies Amateur Golf Championship went into a competitive mode and champions like Parkha and Rimsha launched themselves to demonstrate powerful shots off the tees and back that up with crisp approach shots. To facilitate the relatively new golfers the events were divided into gold category, silver category and bronze category.
After a tremendous display of golfing talent and expertise, Atya Anjum succeeded in picking up the 2nd gross prize in Bronze section. The runner up was Mrs Saleem Akhter and gross winner was Mrs Ayesha Moazzam. While these ladies were the top ones in race for gross honours, those who won in net category were Ayesha Hamid, 2nd runner up net, Mina Zafar, net runner up and Falah Zara, net winner.
UMA CNS Asian Tour Open Golf Championship: Thai Players Dominate; Namchok On Top
In the competition in Silver category, 2nd runner up gross was Ms Rafaqat Abjad, runner up gross Ms Tehmina Rashid and winner gross D.S.P. Shehzadi Gulfam.
Performers in Silver category were Ms. Faiza Imtiaz 2nd runner up net, Dr Shaheen Irfan runner up net and Ms Ayesha Fizza net winner.
Gold category was a battle among the skilled ones and noticeable was the quality of their hitting and most importantly their battle hardened nerves. Competition was close and after a close fight winner in net category was Rimsha Ijaz and Ms Aruba Ali was runner up net. Gross section top one in Gold category was Anya Faqrooq followed by Ms. Parkha Ejaz who lost to Anya by one stroke.
The Senior section best one was Yasmeen Mubarak with a score of 53 over 9 holes. In the invitees game played in Texas Scramble format the winning pair was Nadeem and Bert. Bert shared his experience with fellow golfers of an app which can be searched for R&A rules while playing at the course.
Noticeable was the driving distance achieved by the young girls and included a massive 260 yards shot that enabled Rimsha to claim the longest drive while Parkha accurately played the nearest to the pin at 6ft from the hole.
CNS Asian Tour Open Golf Championship '18: Thailand's Tirawat Wins First Title
On the sideline of the championship a team match was also conducted with the best 2 scores from participating teams. The winning team was from Lahore.
At the conclusion of the First Fega Ladies Golf Championship, Mrs Tahira Raza, Former President of First Womens Bank distributed prizes to the top performers.
The heartening development is that lady golfers of the country are certainly on the increase and with the passionate efforts of ladies like Zeenat Ayesha and Dr Afzal Shami, FEGA and Pakistan Golf Federation the activity has started to yield classy young golfers like Aania Farooq of Karachi, Rimsha Ijaz of Lahore and Parkha, also of Lahore.
For more updates about Pakistan Ladies Amateur Golf Championshipkeep visiting allsportspk