M. Shoaib and Meheq Khokhar won the Men's and Ladies singles titles of the Sheheryar Malik Memorial Pakistan Open Tennis Championship 2023.
The Final Results:
Men's Singles final – M. Shoaib beat Aqeel Khan 6-3, 6-3.
Ladies Singles final – Meheq Khokhar beat Esha Jawad 6-3, 2-6, 6-4.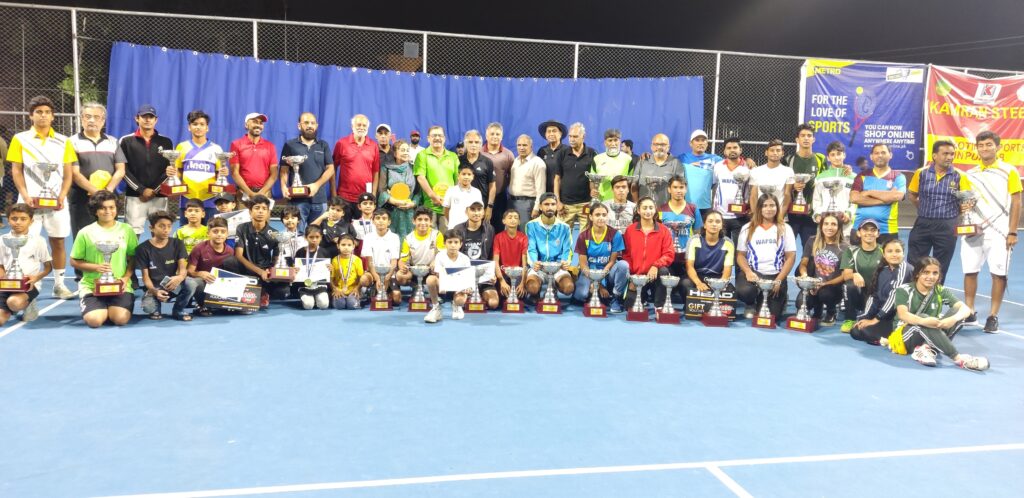 Men's Doubles final – Aqeel Khan/Shahzad beat Yousaf Khalil/Heera Ashiq 6-3, 6-3.
U-18 Boy's final – Bilal Asim beat Hamza Roman 6-0, 6-3.
U-18 Boy's Doubles final – Hamid Israr/Ahtesham Humayun beat Mahatir Muhammad/Asad Zaman 6-3, 6-3.
Girl's U-18 final – Soha Ali beat Shiza Sajid 7-5, 6-3.
6th Sheheryar Memorial Tennis 2022: Muzammil & Sarah Clinch Singles Titles; Other Categories…
U-16 Boy's final – Ahtesham Humayun beat Asad Zaman 6-1, 6-4.
U-14 Boy's final – Omar Jawad beat Abdul Basit 7-5, 6-1.
U-14 Boy's Doubles final – Amir Mazari/Muzammil Khan beat Nabeel Qayum/Abdur Rehman w/o.
U-12 Boy's/Girl's final – Shayan Afridi beat Ali Bachani 4-0, 4-1.
U-12 Doubles final – Abdur Rehman/Hajra Suhail beat M Junaid/Anees Khan 4-1, 4-0.
Sheharyar Malik National Grass Court Tennis 2018: Aqeel wins Men's Title
U-10 Boy's/Girl's final – Rashid Ali Bachani beat Muaz Shahbaz 4-1, 4-1.
U-8 category – Salar Khan won gold, Daniyal Afzal Malik silver and Azan Imran bagged bronze medal.
U-6 category – Aneeqa Abbas and Faiz Pirzada joint gold medal winners, Mamoon Bari and Eman Shahbaz joint silver medallists while Ibrahim and Faizan clinched bronze medal.