KARACHI: Pakistan Scrabble Association and Quetta Gladiators hosted a
press conference to officially announce that the upcoming 21st edition of the Inter School championship, from now will be known as 21st Gladiator Inter School Scrabble
Championship.
The 2020 edition is to be held at BVS Parsi High School on 8th and 9th February.
Allsportspk supports Mind Sports as a policy, thereby, lauds the efforts made by Pakistan Scrabble Association to reach the level of joining hands with a major Cricket team – The Quetta Gladiators. It is noteworthy that Mr. Nadeem Omar is one of the group member which started Scrabble in Pakistan (Refer to the article embed at the end).
Allsportspk editorial team member, Daniyal Sanaullah who himself is an avid Scrabble player, presents the salient features of the conference along with exclusive talk with the main participants.
The Press Conference had a guest appearance of Mr. Nadeem Omar (the Owner of Quetta Gladiators) and Sarfaraz Ahmed (the Captain of Quetta Gladiators).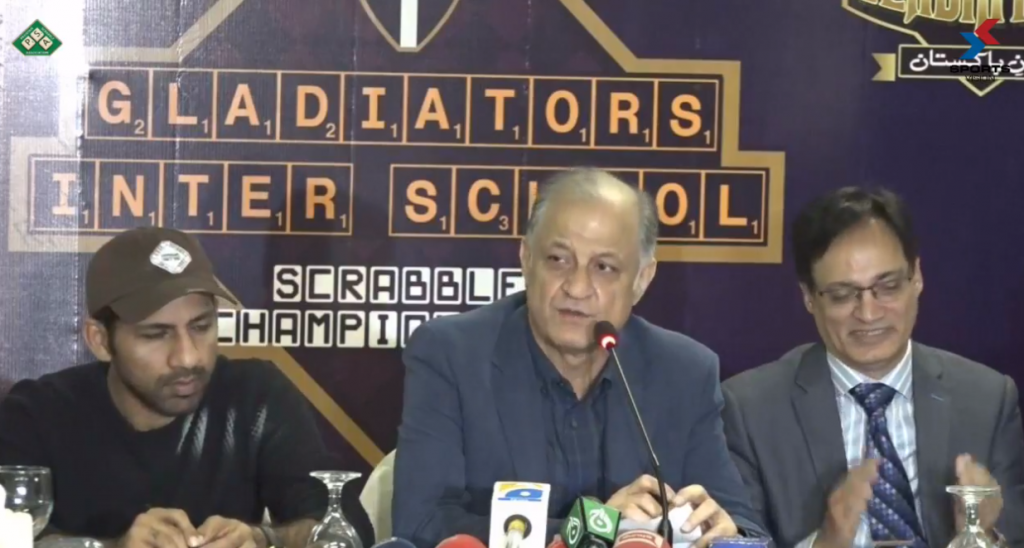 The salient features that were discussed in the Press Conference involved:
The expectation of hosting the greatest number of participants in this year's championship.
The winners to get the VIP passes of the opening match of the PSL, while the top five volunteers will too get the VIP passes for this match as well. All these winners will also have a grand dinner with the International Players of Quetta Gladiators as well which involve the likes of Jason Roy, Shane Watson and DJ Bravo etc.
Along with that, the current age category champions will also be given with the VIP passes of the match between Karachi Kings and Quetta Gladiators.
Alongside that Nadeem Omar said, "The players who are coming from Balochistan to take part in this championship, we will provide them with all the expenses of their accommodation, food and participation fee."
Mr Omar added," In future, Pakistan will also hold a PSL of Scrabble where six teams will be made, and overseas players will also be part of those teams. This will be the first time in the history of Scrabble that such involvements are taking place."
The man who stole the limelight of the press conference was by far Mr. Sarfaraz Ahmad who was not only honoured to be a part of this collaboration but had not heard of Pakistan's spectacular feats at International Scrabble.
He said, "Before coming to this conference, I had not even heard of Scrabble and Mr. Nadeem Omar guided me about its rules and regulations on our way to Beach Luxury Hotel. I am proud to know that these young kids have been doing wonders at such a young age and are the World Youth Scrabble Champions. I wish them all the best for their future endeavors and hope to see Pakistan excel at World Scrabble."
Daniyal also interviewed the Director of the Scrabble Pakistan Youth Program, Mr. Tariq Pervez who has high expectations, especially related to the participation level this year.
Daniyal-Allsportspk: Mr. Tariq, knowing that Quetta Gladiators is a big name in Pakistan's cricket, what do you think is going to be an impact of this newly formed collaboration?
Tariq: It is great to see Quetta Gladiators and Nadeem Omar, who is a former Scrabble Player himself joining hands with PSA to make Scrabble a success. Although, the sports are not linked by far, but knowing that cricket is a widely followed sport, it will be, however, impactful as not only more players will be drawn towards playing Scrabble, but Scrabble will grow in Pakistan.
Daniyal-Allsportpk: How are people preparing for the event to make it a success this year?
Tariq: Well, we have an entire team of volunteers who are a product of this Interschool Championship itself. Working day and night, we have been marketing and publicizing the event on the highest level. An example is that we have sent invitations to 600 schools around Pakistan, to instill interest in the students and make this year's event the greatest of all time times.
Daniyal-Allsportpk: That is interesting! I on behalf of Allsportspk wish the best for this event and pray that you do meet your expectations.
Tariq: Thank you.