The most prestigious Polo event of Pakistan Polo circuit, Quaid-e-Azam Gold Cup after competitive matches for a week yesterday decided the finalist. Today on Saturday, DS Polo/Rizvi's qualified for the subsidiary final of Tower 21 Quaid-e-Azam Gold Cup Open 2022, after winning the match played under American system among three teams.
On Sunday, 6th March the main final will be played as per following schedule:
Final
Newage Cables/Master Paints Vs HN Polo
at 3:00 p.m
*************
Subsidiary Final
DS Polo/Rizvi's Vs FG Polo Team
at 2:00 pm
The matches between DS Polo/Rizvi's, Barry's and Rough Riders Polo Team which were postponed due to rain and wet outfield on Thursday, was played today (on Saturday) under American. Every match among these three teams was of two-chukker each and DS Polo/Rizvi's managed to win both of their matches. They first defeated Rough Riders Polo Team and then beat Barry's to book berth in the subsidiary final.  
In their first match, DS Polo/Rizvi's outpaced Rough Riders Polo Team by 5-1. Max Charlton emerged as hero of the day for DS Polo/Rizvi's with a contribution of fabulous four goals while Syed Aun Muhammad Rizvi struck one. From the Rough Riders, the only goal was converted by Julio Novillo Astrada.
DS Polo/Rizvi's Vs Rough Riders Polo Team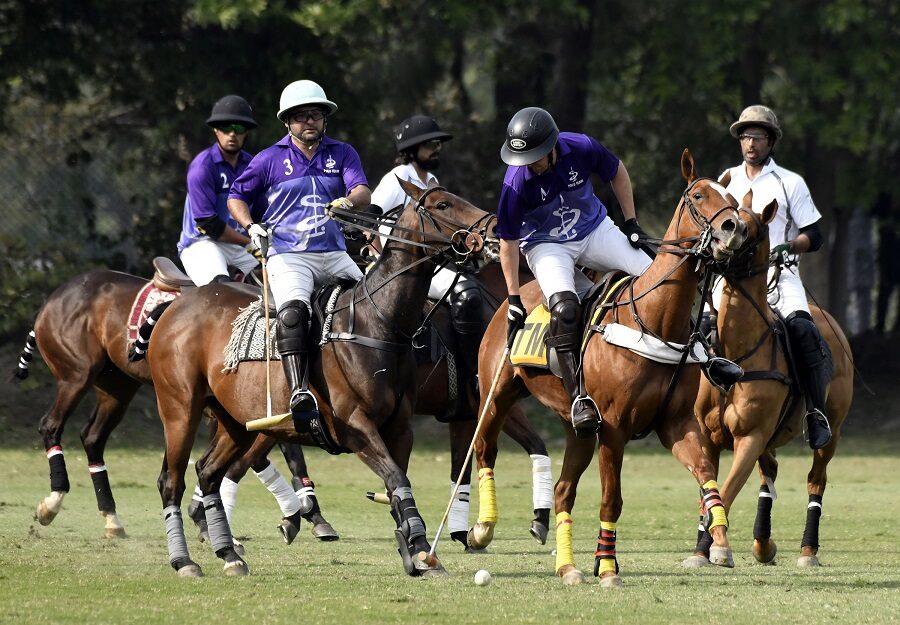 DS Polo/Rizvi's Vs Barry's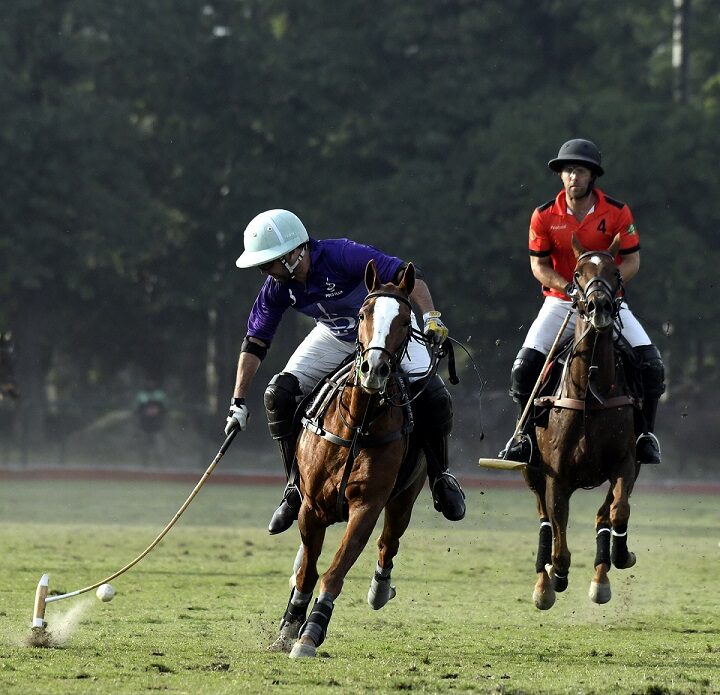 In the another match of the day, DS Polo/Rizvi's faced tough resistance from Barry's before winning the crucial encounter by a close margin of 4-3. This time, highly talented and shinning star Syed Aun Muhammad Rizvi banged in a brace and Max Charlton also thrashed in two goals. For team Barry's, Rulo Trotz pumped in two goals and Hamza Mawaz Khan scored one goal.
Barry's Vs Rough Riders Polo Team
In the last match of the day played between Barry's and Rough Riders Polo Team, Barry's emerged winners by 3-1. The major contribution from team Barry's came from their star players Rulo Trotz and Hamza Mawaz Khan, who converted two and one goal respectively while the only goal from Rough Riders came from Julio Novillo Astrada.
لاہور پولو کلب کے زیراہتمام ٹاور 21 قائداعظم گولڈ کپ اوپن 2022ء کا فائنل آج بروز اتوار سہ پہر تین بجے نیوایج کیبلز/ماسٹر پینٹس اور ایچ این پولو ٹیموں کے درمیان جبکہ قبل ازیں سب سڈری فائنل دوپہر ایک بجے ایف جی پولو اور ڈی ایس پولو /رضویز کے درمیان کھیلا جائے گا۔ تفصیلات کے مطابق لاہور پولو کلب میں ہائی گول قائداعظم گولڈ کپ ٹاور 21 بائی سٹی ہاؤسنگ کے تعاون سے جاری ہے جس کا فائنل دیکھنے کیلئے لاہوریوں کی ایک بہت بڑی تعداد متوقع ہے۔ اس موقع پر مہمان خصوصی سالار حمزہ ملک،سی ای او ٹاور 21 حمزہ رضا ملک، سٹی ہاؤسنگ کی مینجمنٹ، اعلیٰ شخصیات اور کئی نامور لوگوں کی آمد متوقع ہے۔ گزشتہ روز جمعرات کو بارش کی وجہ سے کینسل ہونیوالا میچ کھیلا گیا جس میں امریکن سسٹم کے تحت دو دو چکرز کے میچز کھیلے گئے جن میں ڈی ایس پولو /رضویز نے پہلے ٹیم رؤگ رائیڈز کو پھر بعد میں ٹیم باڑیز کو ہرا کر سب سڈری فائنل کیلئے کوالیفائی کرلیا۔ ڈی ایس پولو/رضویز نے پہلے رؤگ رائیڈرز پولو ٹیم کو 5-1 سے ہرایا جس میں میکس چارلٹن نے چار اور سید اون محمد رضوی نے ایک گول سکور کیا جبکہ رائیڈرز کی طرف سے جولیو نویلو اسٹاڈا نے واحد گول سکور کیا۔دوسرے میچ میں ڈی ایس پولو /رضویز نے باڑیز کو 4-3 سے ہرایا۔ ڈی ایس پولو /رضویز کی طرف سے سید اون محمد رضوی اور میکس چارلٹن نے دو دو گول سکور کیے جبکہ باڑیز کی طرف سے رولو ٹروٹز نے دو اور حمزہ مواز خان نے ایک گول سکور کیا۔ آخری میچ میں ٹیم باڑیز نے رؤگ رائیڈرز پولو ٹیم کو 3-1 سے ہرایا۔ باڑیز کی طرف سے رولوٹروٹز نے دو اور حمزہ مواز خان نے ایک گول سکور کیا جبکہ رائیڈرز کی طرف سے جولیو اسٹاڈا نے ایک گول سکور کیا۔