The Trials to select National Bridge Teams to represent Pakistan in the 22nd Bridge Federation of Asia and Middle East Championships in May 2023 stand finalized after bridge trials spanning over eight days competitive activity at Karachi Gymkhana.
While the Men's Team was selected two days earlier, now also selected are the mixed team a seniors team and a ladies team. The competition for selection of Seniors Team and Mixed Team involved participation by Four Senior Teams and Two Mixed Teams. 
The final teams selected are:
Team Samira, the victorious one consists of Samira, Rani Arslan, Rahat Mahmood, Agha Rubina, Khalid Mohiuddin, Anwar Kazalbash. Team Spel the runners up comprises of Zia Hyder, Ahsan Qureshi Yasser Rahim, Neelofar Aslam, Najm Abid an Rehana Saigol 
JK IV, was the winning seniors team, consisting of Saeed Akhtar, Imran Gardezi, Shahid Hameed, Ghias Malik. 
Team Fatima is the ladies winner.
The selected Mens Team comprises of Tehseen Gheewala ,Rashid ul Ghazi,Imran Abedi,Hassan Askari,Farrukh Liaqat and Mohsin Chandna .
Teams Ghazi & Fatima To Represent Green Flag
National Bridge Trials spanning over eight hectic days of competitive bridge concluded with Team Ghazi earning the honour of representing Pakistan at the 22nd BFAME Championship. Team Ghazi owes this honour to its team members Ghazi Tehseen Gheewala, Rashid ul Ghazi, Imran Abedi, Hassan Askari, Farrukh Liaqat and Mohsin Chandna. The runner up Team Allana had as its members A.R.Allana, Tahir Masood, Jahangir Ahmed, Sarfraz Ahmed, Anwar Qazilbash and Javed Miran.
Scroll Down For Reviews Of Previous Day's
Do You Remember The Team Which Qualified For 21st BFAME? …. Scroll Down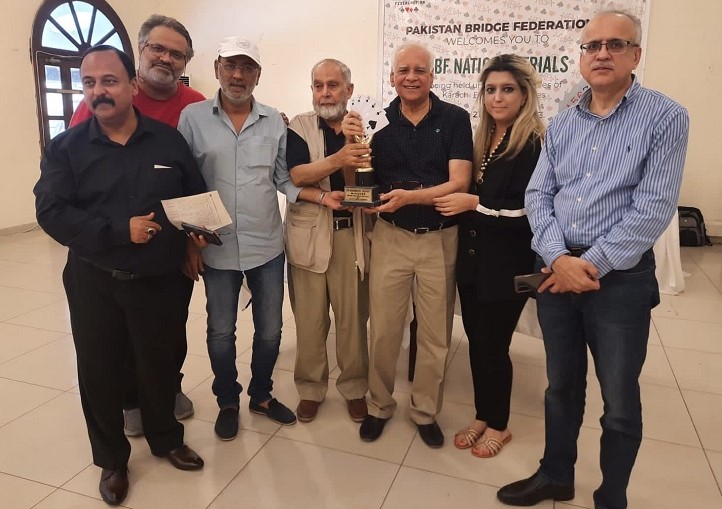 At the conclusion of the National Bridge Trials, the Secretary of Pakistan Bridge Federation, Ihsan Qadir awarded the newly instituted "Zia Mahmood Trophy " to the National Champions, the Team Ghazi. At the same time the Munir Ataullah Trophy was awarded to the winning Ladies Team Fatima comprising of Fatima Raza (Captain), Rubina Hai, Qudsia Dossa, Durriyah Vasi and Merang Byramji.
Final Teams Play Overview
The flow of the final days bridge competition between Team Allana and Team Ghazi was full of twists and turns. Fourth round of the final started with a nasty knock for Team Allana. Trailing by 34 imps, Team Ghazi went on the rampage and swung the game in their favour through brilliant moves. And in the very next board, this was followed up with another game swing which resulted in scores, Allana 132 and Ghazi 118, a total of 14 imps behind.
21st Bridge Federation of Asia & Middle East C'ship-Pak Trials: Jinnah Icon Team To…
In the fifth round again a turn around was witnessed. Team Ghazi outplayed their Team Allana opponents taking an advantageous swing on four boards, winning the round 60-27. As if this was not enough the final segment was simply sensational and though Allana won this by 8imps, they lost overall by 11 imps. Final two days were full of excellence on the part of mature and prime bridge players who thrilled their fans with calibre and distinction loaded bridge play .
Trial Day 5 | Fortunes Fluctuate Between Teams – Allana & Ghazi
The National Bridge Trials have reached a high point as Teams Allana and Team Ghazi comprising of masterly bridge players look all set to resolve which team will represent Pakistan in the 22nd Bridge Federation of Asia and Middle East Championship due to be held in May this year.
When the contest between Team Allana and Team Ghazi started on Saturday morning the flow of the selection race tilted in favour of Team Allana. In two direct matches they were successful in beating the Ghazi Team by a margin of 51 IMPS.
Later as the competition progressed Team Ghazi managed a narrow win of 4 imps thus reducing the margin. It was a tight match and both teams appeared to be geared up for a win.
In the Second Round both teams proceeded cautiously to play for a win. Allana Prevailed and added 12 more to their lead. Allana accumulated 76 Imp with the carry over, while Ghazi gathered 44 Points.
Allana Team has in its ranks names like A. R Allana, Tahir Masood, Jahangir Ahmed Sarfraz Ahmed, Anwar Qazilbash and Javed Miran. As for Team Ghazi their team members are Tehseen Gheewala , Mohsin Chandna Imran Abedi, Rashid Ul Ghazi, Javed Miran & Sarfraz Ahmed .
Three more Rounds are to be played on Sunday to complete 96 boards Final. Score Standings
| | | | | | |
| --- | --- | --- | --- | --- | --- |
| TEAM | CARRY OVER | SEG 1 | CUM | SEG 2 | CUM |
| ALLANA | 24 | 22 | 46 | 30 | 76 |
| GHAZI |   | 26 | 26 | 18 | 44 |
PBF/Allsoprtspk
Trial Day 4 | Men's Finalist Teams – Allana & Ghazi
In order to select national bridge team for participation in the 22nd Bridge Federation of Middle East Competition during May 2023, the trials continued on the fourth day at the Karachi Gymkhana Bridge Tables.
The teams emerging as the finalist two teams are Team Allana and Team Ghazi. As for Team Allana comprising of A.R.Allana, Javed Miran, Jahangir Ahmed, Sarfraz Ahmed Khan, Tahir Masood and Anwar Kazilbash, the going has been glossy and they stood out as the formidable front runners with a points tally of 179.8.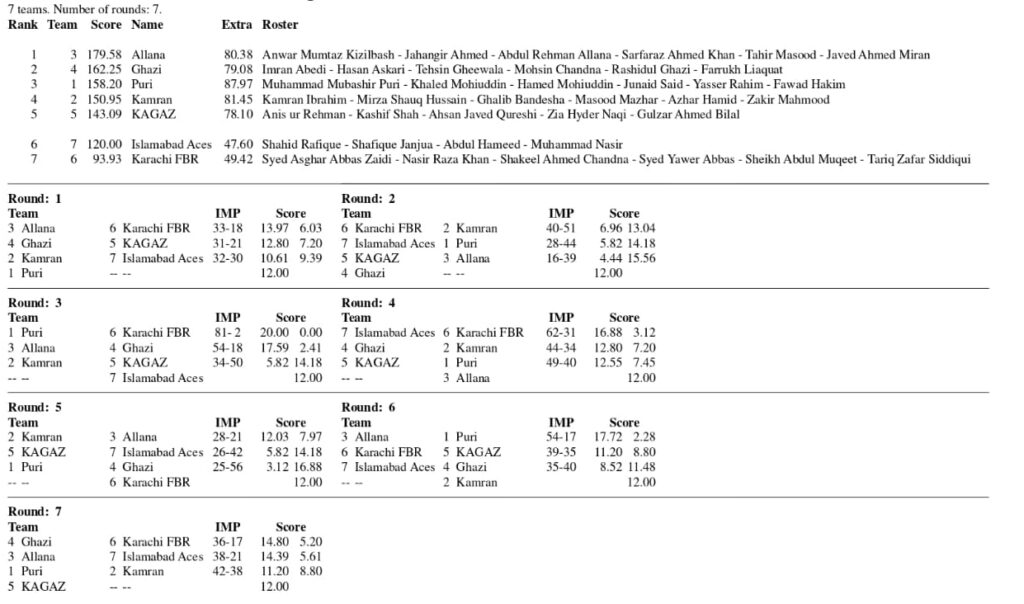 Regarding the team coming second there was an unyielding fight for survival between Team Ghazi, Puris and Kamran Team. In the end Team Ghazi consisting of Tehseen Gheewala, Imran Abedi, Hassan Askari, Mohsin Chandna, Rashid ul Ghazi and Farrukh Liaqat emerged as the second intimidating team.
Now over the next two days, Team Allana and Team Ghazi will play a final of 6X16 boards. Dates are 18th and 19th March 2023. The winning team will be declared National Champion and will represent Pakistan at the 22nd Bridge Federation of Asia and Middle East ,a championship that will be held in Lahore later this year.
Final tally of scores are; Allana 179.58; Ghazi 162.25; Puris 158.20; Kamran 150.95; Kagazi 143.09; Islamabad Aces 120; Karachi FBR 93.93.
Trial Day 3 | Ladies Team 'Fatima' To Represent Pak; Puris Leads In Men's Trials
The bridge trials for selecting Pakistan teams for BFAME bridge championship, continued for third day at Karachi Gymkhana.
Scroll Down For Reviews Of Previous Day's
The highlight of the day was that the Pakistan Ladies team which qualified to represent Pakistan at the Bridge Federation of Asia and Middle East Championship being held at Lahore, Pakistan from 5th to 13th May, is Team "Fatima" which includes – Fatima Raza (Captain), Qudsia Dosa, Rubina Hai, Merang Byramji and Duriya Vasi.
The Fatima team went to win the National Bridge Trials winning 7 of the nine matches and finished with a Tally of 342 IMPS, while their opponents Samira had 248 IMPs They out classed their Rivals Samira consisting of Samira Fancy, Rehana Saigol, Rani Mahmood, Shahnaz Bamboat , Neelofar Aslam and Najm Abid in 9 Round knockout matches.
Pakistan Open Team trials for Men are simultaneously being held at the Karachi Gymkhana Club to select Men's Team. Seven Teams after a gruelling battle in matches being played on double round robin basis playing 32 Boards against each team after 10 Rounds have reached the following position – Puris (134.15) Allana (127.5), Kamran (110.92), Ghazi (106.29) are in strong contention to be amongst two who will be playing 96 Boards Final on 18 and 19th March. Kagaz (103.92), Islamabad Aces (74.81), Karachi FBR (62.41) and appear to be out of contention.
Mr. Wajahat Surim, directed the Tournament while Ihsan Qadir was the Chief Tournament Director.