DS Polo/Rizvi's and Remounts carved out sensational victories on the opening day of the 2nd Allama Iqbal Polo Cup 2022 sponsored by KFC at the Jinnah Polo Fields.  
DS Polo/Rizvi's Vs Diamond Paints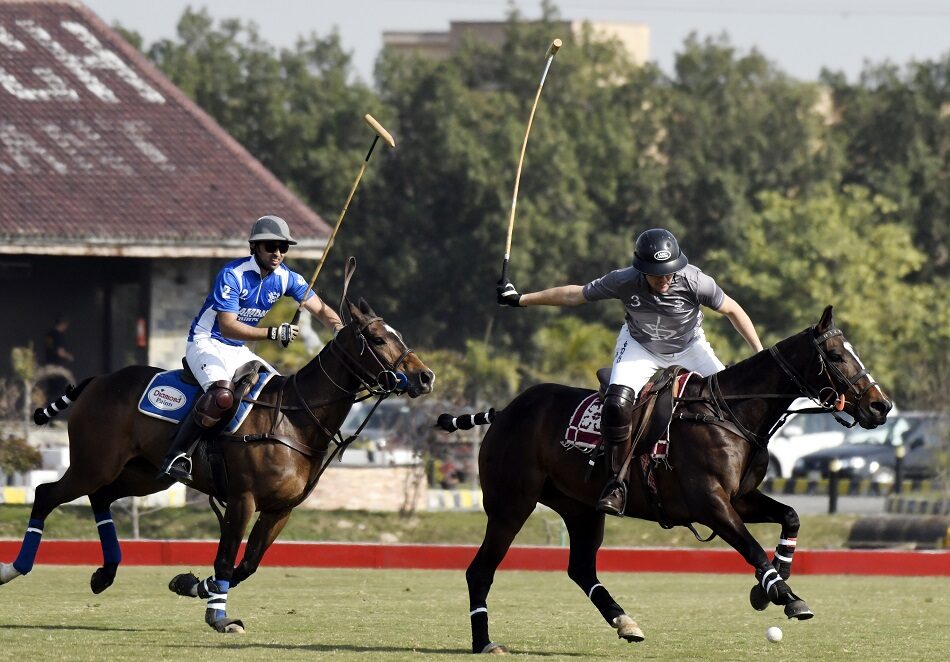 The first match of the day was won by DS Polo/Rizvi's, who played superb polo against Diamond Paints and outpaced them by 11-8½. Max Charlton and Hissam Ali Hyder emerged as heroes of the day from DS Polo/Rizvi's as they contributed with superb six and five goals respectively. For Diamond Paints, which had two and a half goal handicap advantage, Saqib Khan Khakwani thrashed in three goals while Mir Shoaib Ahmed and Mir Huzaifa Ahmed converted one goal apiece.
Diamond Paints began the match having 2½ goal handicap advantage, which they further enhanced to 3½ by converting field goals. DS Polo/Rizvi's then showed their class and while playing aggressive polo, they fired in four fantastic goals to gain 4-3½ lead by the end of the first chukker. They stamped their authority in the second chukker as well as they converted three more goals to gain a healthy 7-3½ lead. In the dying moments of the chukker, Diamond Paints struck one to reduce the margin to 7-4½.
The third chukker saw Diamond Paints' dominance as they pumped in three goals against one by DS Polo/Rizvi's, who were still enjoying a slight 8-7½ lead. They added one more goal in the beginning of the fourth and decisive chukker to get back 8½-8 lead but DS Polo/Rizvi's then made a strong comeback and thrashed in three back-to-back goals to win the well-contested encounter by 11-8½. 
Remounts Vs BBJ Pipes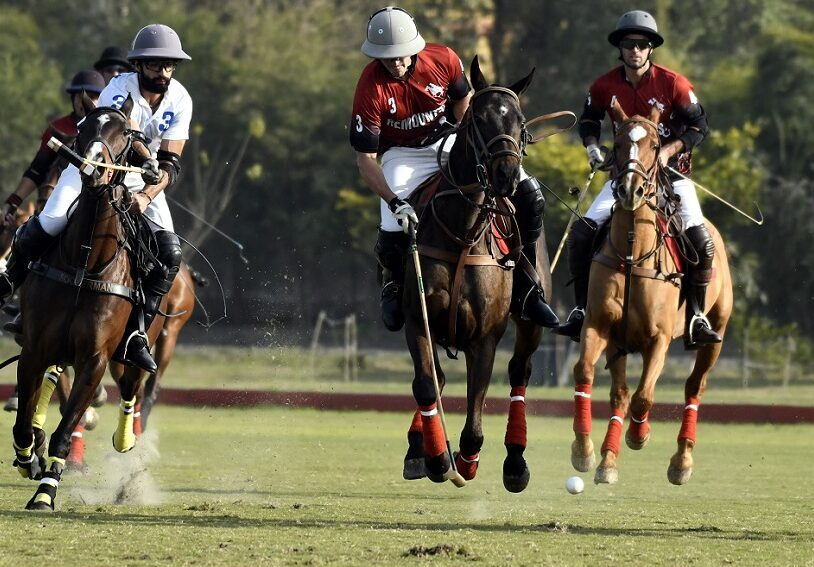 Helped by Simon Prada and Nico Roberts' fabulous four goals each, Remounts overpowered BBJ Pipes with a good margin of 10-5½ in the second match of the day. Besides Simon and Nico's heroics, the remaining two goals were scored by Mumtaz Abbas Niazi. From BBJ Pipes, which had two and a half goal handicap advantage, Ahmed Zubair Butt banged in a brace and Raja Sami Ullah struck one goal.  
Having 2½ goals handicap advantage, BBJ Pipes were off to a flying start as they banged in a beautiful brace to further stretch their lead to 4½-0 by the end of the first chukker. Remounts then bounced back in style and cracked a classic quartet of goals to make it 4-4½. In the third chukker, they added four more goals in their tally to gain a healthy 8-4½ lead while in the dying moments of the chukker, BBJ Pipes converted to reduce the margin to 8-5½. Remounts fully dominated the fourth and last chukker and slammed in two more goals to win the encounter 10-5½.
On Wednesday, 9th February two more matches will be contested at Pakistan Park. At 2:00 pm, Diamond Paints will take on BN/Barry's while at 3:00 pm, BBJ Pipes will vie against FG Polo Team.  
جناح پولو فیلڈز کے زیراہتمام دوسرا علامہ اقبال پولو کپ سپانسرڈ بائی کے ایف سی کے پہلے روز دو اہم میچز ہوئے جن میں ڈی ایس پولو /رضویز اور ری ماؤنٹس کی ٹیمیں فاتح رہیں۔ تفصیلات کے مطابق جناح پولو اینڈ کنٹری کلب میں کے ایف سی کے تعاون سے منعقدہ علامہ اقبال پولو کپ کے میچز دیکھنے کیلئے تماشائیوں کی اچھی تعداد موجود تھی۔ اس موقع پر سپانسرز ادارے کے ایف سی، ٹی سی ایل اور پریسٹن فارمز کے نمائندے، جناح پولو فیلڈز رکے صدر لیفٹیننٹ کرنل (ر) شعیب آفتاب، سیکرٹری میجر (ر) بابرمحبوب اعوان، پولو کے کھلاڑی اور فیملیز کی بڑی تعداد موجود تھی۔ پہلے میچ میں ڈی ایس پولو /رضویز اور ڈائمنڈ پینٹس کے درمیان زبردست میچ ہوا جو ڈی ایس پولو /رضویز نے 11-8.5سے اپنے نام کیا۔ ڈی ایس پولو /رضویز کی طرف سے  میکس چارلٹن اور حسام علی حیدر نے شاندار کھیل پیش کیا۔ میکس نے چھ اور حسام نے پانچ گول سکور کیے۔ دوسری طرف ڈائمنڈ پینٹس کی ٹیم کو اڑھائی گول ہینڈی کیپ ایڈوانٹیج حاصل تھا کی طرف سے ثاقب خان خاکوانی نے تین جبکہ میر شعیب احمد اور میر حذیفہ احمد نے ایک ایک گول سکور کیا۔ دوسرے میچ میں ٹیم ری ماؤنٹس نے بی بی جے پائپس کو 10-5.5 سے ہرایا۔ ری ماؤنٹس کی طرف سے صائمن پراڈا اور نکورابٹس نے چار چار گول جبکہ ممتاز عباس نیازی نے دو گول سکور کیے۔ بی بی جے پائپس کی ٹیم کو اڑھائی گول ہینڈی کیپ ایڈوانٹیج حاصل تھا کی طرف سے احمد زبیر بٹ نے دو جبکہ راجہ سمیع اللہ نے ایک گول سکور کیا۔ آج بروز بدھ پاکستان پارک میں دو میچز کھیلے جائیں گے۔ دوپہر دو بجے ڈائمنڈ پینٹس کا مقابلہ بی این /باڑیز سے جبکہ سہ پہر تین بجے بی بی جے پائپس کا مقابلہ ایف جی پولو ٹیم سے ہوگا۔