LAHORE: 16 players have qualified for the pre-quarter final matches (Knock out round stage) after the conclusion of league round of Jubilee Insurance 2nd National Masters (+40) Snooker Championship, played at Champions Snooker Academy, Lahore.
Those who have qualified for the pre-quarter finals include:
Imran Shehzad – Defending Champion
Shehzad Butt
Shahid Shafiq
Muhammad Shahid
Muhammad Nadeem
Qadeer Butt
Khawaja Rizwan
Muhammad Atif Baig
Fawad Hussain
Mujtahid Ali Shah
Mesam Zadi
Muhammad Yousuf
Faisal Rogatia
Naveen Perwani
Khurram Agha
Saeed Ahmed
Pre quarter finals will be played 
on Tuesday
 in two sessions. The first session at 
11.00 am
 and the second will start at 
1.30 pm.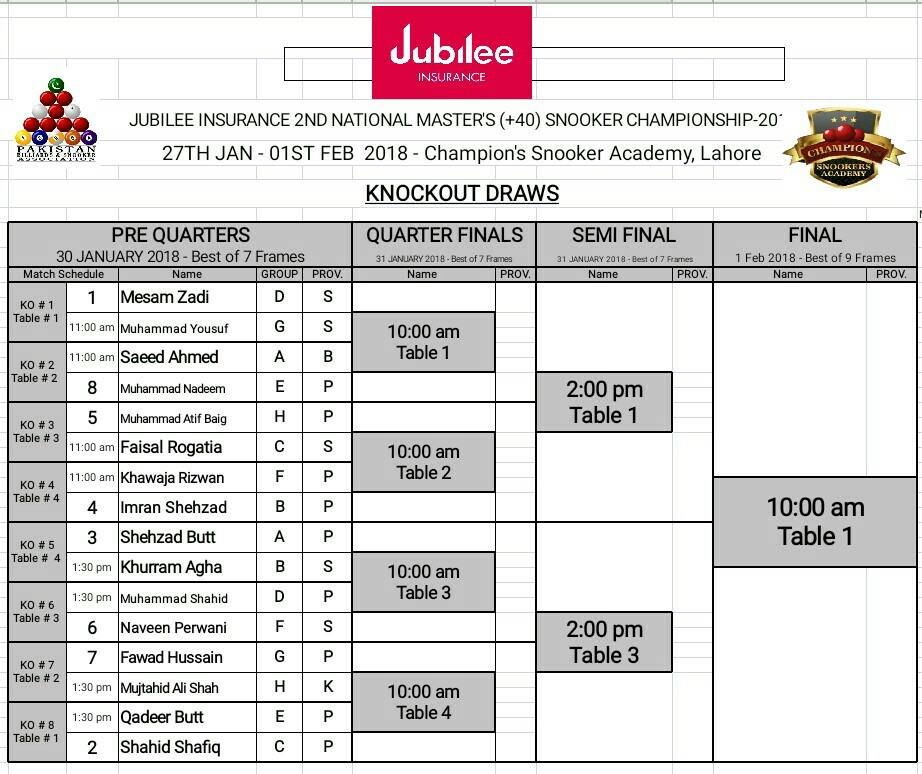 Day 3rd Results 
Shadab Baig (Sindh) bt Muhammad Nadeem (Punjab) 3-1
(62-43, 55-08, 38-50, 61-16)
Khawaja Rizwan (Punjab) bt Haji Saqib (Bal) 3-0
(55-32, 66-32, 78-06(78),)
Rashid Mehmood (KPK) bt Muhammad Yousuf (Sindh) 3-1
(61-46, 63-25, 40-57, 96-0)
Muhammad Atif Baig (Punjab) bt Sunny Shahani (Sindh) 3-2
(61-13, 47-35, 52-58, 44-48, 78-20)
Zafar Iqbal (KPK) bt Mukhtar Khan (Sindh) 3-0
(49-36, 63-17, 1-0)
Imran Shehzad (Pjb) bt Noor Hussain (Bal) 3-0
(77-06(54), 74-03(56), 79-08)
Shahid Shafiq (Punjab) bt Faisal Rogatia (Sindh) 3-2
(54-17, 11-77, 68-06, 28-43, 63-42)
Muhammad Shahid (Punjab) bt Amanullah (KPK) 3-0
(94-0, 58-32, 41-14)
Qadeer Butt (Punjab) bt Ahmed Naqvi (Islamabad) 3-0
(68-16, 62-22, 62-25)
Naveen Perwani (Sindh) bt Irfan Kareem (KPK) 3-1
(1-0, 28-60, 58-33, 47-38)
Fawad Hussain (Punjab) bt Arshad Ali Qureshi (Islamabad) 3-2
(66-21, 21-75, 30-65, 63-62, 67-37)
Mujtahid Ali Shah (KPK) bt Muhammad Yousuf (Jr.) (Bal) 3-1
(0-1, 80-43, 69-02, 47-19)
Shehzad Butt (Punjab) bt Saeed Ahmed (Bal) 3-0
(67-17, 68-09, 54-53)
Saeed ur Rehman (KPK) v Khurram Agha (Sindh) 3-0
(63-52, 58-45, 57-20)
Noman Awan (Punjab) bt Manzoor Ahmed (Bal) 3-1
(58-26, 82-20, 50-61, 51-13)
Mesan Zadi (Sindh) bt Saeed Bangulzai (Bal) 3-0
(80-19, 62-43, 54-17)

Group Position after Round Matches
Group A: Shehzad Butt (Pjb) 2. Saeed Ahmed (Bal)
Group B: Imran Shehzad (Pjb) 2. Khurram Agha (Sindh)
Group C: Shehzad Shafiq (Pjb) 2. Faisal Rogatia (Sindh)
Group D: Mesam Zadi (Sindh) 2. Muhammad Shahid (Pjb)
Group E: Muhammad Nadeem (Pjb) 2. Qadeer Butt (Pjb)
Group F: Naveen Perwani (Sindh) 2. Khwaja Rizwan (Pjb)
Group G: Fawad Hussain 2.  Muhammad Yousuf (Sindh)
Group H: Muhammad Atif Baig (Pjb) 2. Mujtahid Ali Shah (Kpk)

Pre Quarter Fixtures:

Mesam Zadi (Sindh) v Muhammad Yousuf (Sindh)
Muhammad Nadeem (Pjb) v Saeed Ahmed (Bal)
Muhammad Atif Baig (Pjb) v Faisal Rogatia (Sindh)
Imran Shehzad (Pjb) v Khwaja Rizwan (Pjb)
Shehzad Butt (Pjb) v Khurram Agha (Sindh)
Naveen Perwani (Sindh) v Muhammad Shahid (Pjb)
Mujtahid Ali Shah (Kpk) v Fawad Hussain
Shehzad Shafiq (Pjb) v Qadeer Butt (Pjb)
For updates regularly visit: Allsportspk