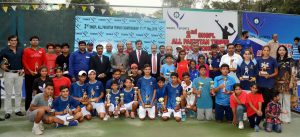 LAHORE:  The 2nd SNGPL  All Pakistan Tennis Championship 2018 finals took place despite a rain dominated day.
The Men's Singles final disturbed by rain resulted in a unique result – two winners. Rain was a Divine blessing for No. 1 Aqeel Khan, who was on the verge of being defeated by No. 2 seed Muhammad Abid. He had won the first set by 6-3 and was leading the second set by 4-2 when rain intervened and due to wet court, the tournament referee and management committee decided to stop play. And after consulting the players, it was decided to divided the prize money between the players.
The Prize Money was divided as follows:
 Muhammad Abid – 60 percent.
 Aqeel Khan – 40 percent.
In Girls Singles final: Sarah Mehboob of Wapda beat Noor Malik of ZTBL by 6-2, 6-1.
In Boys Under 18 final: Mohammad Shoaib of SNGPL beat his own team mate and city fellow Peshawar's Saqib Umer by 6-3, 6-3. Shoaib also won Under 18 Doubles title too.
In Boys Under 18 Doubles final: Pair from SNGPL Saqib Hayyat and Muhammad Shoaib out classed Ahmed  Kamil and Zalan Khan by 6-3, 6-3.
In Girls Under 18 final: Shima Tahir beat Maha Said by 6-3, 6-0.
In Boys Under 16  final: Aqib Hayat beat Nalain Abbas by 6-3, 6-2.. 
In Boys Under 14 final: Hamid Israr of Peshawar won his third title, by beating Uzair Khan by 6-1, 3-6, 6-4.
In Under 14 Doubles final: Hamid Israr and Hassan Ali beat Uzair Khan and Kashan Umer by 6-4, 7-5.
In Under 12 Boys Single final: Hamid Israr beat Bilal Asim by 6-3, 6-2.
In Boys Under 12 Doubles final: Bilal Asim and Shakeel Tahir beat Ehtesham Humayunion and Hamza Roman in a three hour long match by 7-6, 4-6, 10-7.
In Men's Senior 40 Plus final: Talha Waheed and Major (R) Adnan beat Hassan Said and Muhammad Khaliq by 6-2, 6-4..
In Men's 50 Plus final:  Arif Feroz and Muhammad Khalid beat Nisar Waqar and Mian Amir Altaf  6-3, 6-2..
In Men's 60 Plus final: Ahmed Babar and Brig (R) Ghazanfar beat Saeed Ikram and Mubeen Malik by 6-1, 6-1.
For updates regularly visit: Allsportspk