5PSL '20- 1st March: Day 9 – Match 14 Schedule, Venue & Time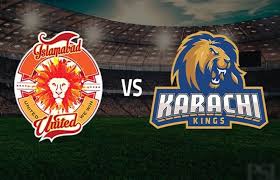 Islamabad United v Karachi Kings at Pindi Cricket Stadium, Rawalpindi (7pm-10.15pm)
Complete Schedule At The End
Schedule Details
The HBL Pakistan Super League 2020 schedule as announced by PCB – Pakistan Cricket Board includes in total 34 matches, from 20 February till 22nd March. With all the matches will be played within Pakistan.
Stadium Ceremonies
Opening ceremony will be at the National Stadium in Karachi.
Quetta Gladiators the 2019 4th champions will play the first opening match two-time ex-winners Islamabad United.
National Stadium will be hosting the Qualifier match to be played between the Teams No 1 and 2.
Gaddafi Stadium will be host of the two Eliminators and the Final.
National Stadium will stage nine matches and Lahore's Gaddafi Stadium will play host to 14 matches. Multan Sultans will play three games at the Multan Cricket Stadium, while Pindi Cricket Stadium will be the venue for eight matches.
The 5th edition final will be played on 22nd March at the Gaddafi Stadium.
5th Edition PSL Complete Schedule
February
20 Feb. Match 1
Opening Ceremony
Quetta Gladiators v Islamabad United at National Stadium, Karachi (Time TBC)
21 Feb. Matches 2 & 3
Karachi Kings v Peshawar Zalmi at National Stadium, Karachi (2pm-5.15pm)
Lahore Qalandars v Multan Sultans at Gaddafi Stadium, Lahore (7pm-10.15pm)
22 Feb. Matches 4 & 5
Quetta Gladiators v Peshawar Zalmi at National Stadium, Karachi (2pm-5.15pm)
Islamabad United v Multan Sultans at Gaddafi Stadium, Lahore (7pm-10.15pm)
23 Feb. Matches 6 & 7
Karachi Kings v Quetta Gladiators at National Stadium, Karachi (2pm-5.15pm)
Lahore Qalandars v Islamabad United at Gaddafi Stadium, Lahore (7pm-10.15pm)
26 Feb. Match 8
Multan Sultans v Peshawar Zalmi at Multan Cricket Stadium, Multan (7pm-10.15pm)
27 Feb. Match 9
Islamabad United v Quetta Gladiators at Pindi Cricket Stadium, Rawalpindi (7pm-10.15pm)
28 Feb. Matches 10 & 11
Multan Sultans v Karachi Kings at Multan Cricket Stadium, Multan (2pm-5.15pm)
Peshawar Zalmi v Lahore Qalandar at Pindi Cricket Stadium, Rawalpindi (7pm-10.15pm)
29 Feb. Matches 12 & 13
Multan Sultans v Quetta Gladiators at Multan Cricket Stadium, Multan (2pm-5.15pm)
Islamabad United v Peshawar Zalmi at Pindi Cricket Stadium, Rawalpindi (7pm-10.15pm)
March
1 Mar. Match 14
Islamabad United v Karachi Kings at Pindi Cricket Stadium, Rawalpindi (7pm-10.15pm)
2 Mar. Match 15
Peshawar Zalmi v Karachi Kings at Pindi Cricket Stadium, Rawalpindi (7pm-10.15pm)
3 Mar. Match 16
Quetta Gladiators v Lahore Qalandars at Gaddafi Stadium, Lahore (7pm-10.15pm)
4 Mar. Match 17
Islamabad United v Lahore Qalandars at Gaddafi Stadium, Lahore (7pm-10.15pm)
5 Mar. Match 18
Peshawar Zalmi v Quetta Gladiators at Pindi Cricket Stadium, Rawalpindi (7pm-10.15pm)
6 Mar. Match 19
Karachi Kings v Multan Sultans at Gaddafi Stadium, Lahore (7pm-10.15pm)
7 Mar. Matches 20 & 21
Peshawar Zalmi v Islamabad United at Pindi Cricket Stadium, Rawalpindi (2pm-5.15pm)
Lahore Qalandars v Quetta Gladiators at Gaddafi Stadium, Lahore (7pm-10.15pm)
8 Mar. Matches 22 & 23
Multan Sultans v Islamabad United at Pindi Cricket Stadium, Rawalpindi (2pm-5.15pm)
Lahore Qalandars v Karachi Kings at Gaddafi Stadium, Lahore (7pm-10.15pm)
10 Mar. Match 24
Lahore Qalandars v Peshawar Zalmi at Gaddafi Stadium, Lahore (7pm-10.15pm)
11 Mar. Match 25
Quetta Gladiators v Multan Sultans at Gaddafi Stadium, Lahore (7pm-10.15pm)
12 Mar. Match 26
Karachi Kings v Lahore Qalandars at National Stadium, Karachi (7pm-10.15pm)
13 Mar. Match 27
Peshawar Zalmi v Multan Sultans at National Stadium (7pm-10.15pm)
14 Mar. Match 28
Karachi Kings v Islamabad United at National Stadium (7pm-10.15pm)
15 Mar. Matches 29 & 30
Multan Sultans v Lahore Qalandars at Gaddafi Stadium (2pm-5.15pm)
Quetta Gladiators v Karachi Kings at National Stadium (7pm-10.15pm)
17 Mar. Match 31
Qualifier (1 v 2) at National Stadium (7pm-10.15pm)
18 Mar. Match 32
Eliminator 1 (3 v 4) at Gaddafi Stadium (7pm-10.15pm)
20 Mar. Match 33
Eliminator 2 (loser Qualifier v winner Eliminator 1) at Gaddafi Stadium (7pm-10.15pm)
22 Mar. Match 34
Final at Gaddafi Stadium (Time TBC)