Parkha Ejaz of Defence Raya who plays to a handicap of one ended up triumphant in the 5th PGA Ladies Amateur Golf Championship at the conclusion of a three rounds at the Royal Palm Golf and Country Club Golf Course.
Scroll Down For Previous Day's Overviews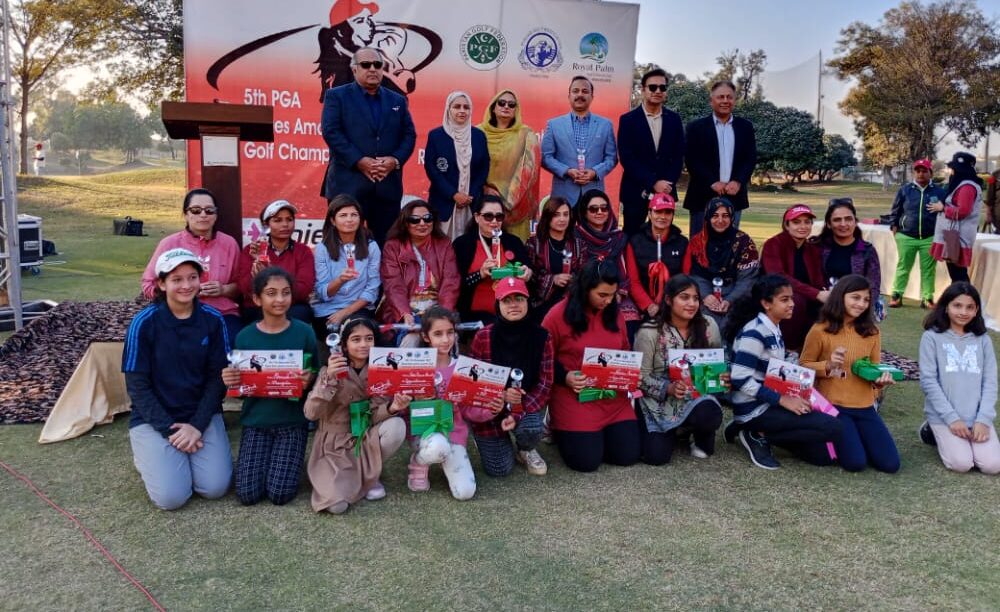 Up against adversaries like Hamna Amjad (zero handicap), Rimsha Ejaz (handicap 1), Aania Farooq (handicap 2) and Suneya Osama (handicap 3), Parkha a adroit golf playing lady of the national golf scene, bolstered her command over the run of play through cohesive control over her shots. In the final round of 18 holes on Sunday, she achieved a spirited score of gross 74 and that added to her first two rounds scores of 76 and 72 gave her a championship aggregate of 222, giving her a winning edge over Hamna Amjad who ended up the championship at a score of 223. Hamna Amjad is a very young one of enormous expertise but had to be content with the runner up slot. Her scores for three rounds were 74, 75 and final days 74 and she played with valour and pluckiness to remain in intimidating sway till the very last hole. Achieving the third gross was Aania Farooq of Karachi Airmen Golf Club with three rounds aggregate score of 234.
Winner net in A category for competitors in handicap range 0–14 was Bushra Fatima (Lahore Garrison ), while second net was won by Zebunnisa (Royal Palm). Amina Tiwana ,also of Royal Palm won third net .
Winners in Handicap category 15–24 were Shabana Waheed, first gross, Dr. Rubab Haider, second gross and Nida Arfeen, third gross. Net winner net was Momina Tarrar while second net went to Rabia Tiwana and third net was secured by Nida Haq.
In handicap category 25–36 winner gross was Minaa Zainab. Second gross winner was Samina Ishtiaq and third gross went to Huma Bilal. Net section winners were Shazia Imran, second net was won by Saqiba Batool and third net went to Salbia Murtaza.
In the Senior Ladies category gross winner was Shahzadi Gulfam and net winner was Ayesha Hamid .
Other results:
Longest Drive: Parkha Ejaz.
Nearest to the Pin: Minaa Zainab.
Inter Association Team Match was won by Punjab Golf Association.
Junior Girls 11-14 years: Aleesa Almas Rashid, winner.
Junior Girls 10 and below: Aminah Ali Khan, winner.
Young Ladies 14 -21 years; Yasmin Zaman Khan winner.
At the conclusion of the 5th PGA Ladies Amateur Golf Championship the prizes were awarded by Mrs Javairia Bhatti along with CEO of The Springs Apartments and Brig. Ayyaz Masood Khan (Retd),Secretary, Punjab Golf Association.
Parkha Leads With A Stroke | Shazadi; Aleema & Aminah Win 'Age Categories'
The three rounds 5th PGA Ladies Amateur Golf Championship enters the final concluding phase on Sunday, 11th December at the Royal Palm Golf Course.
After the completion of two animatedly played golf rounds by the ladies whose handicap falls in the bracket zero to 14 in intimidating form was Parkha Ejaz of Defence Raya who plays to a handicap of one. Excellence oozed out of every shot that she hit and one noticed composure and equilibrium in her putting, an aspect that is so very essential for producing good scores. Parkha ended the second round with an admirable card of par 72 and that added to her first rounds gross 76 gives her an aggregate of 148 for two rounds. A leader she certainly is after two rounds but enjoys an advantage of just one stroke over her formidable rival, Hamna Amjad of Rumanza Golf Course, a zero handicapper who also played exceptionally well to achieve a score of gross 75 in the second round and an aggregate of 149 over the two rounds.
A few other prominent ones in line for positions other than the first are Rimsha Ijaz (Defence Raya) placed at a score of 157, Aania Farooq from Airmen Golf Club, Karachi at 158, Bushra Fatima of Lahore Garrison at 161, Ghazala Yasmin at 162 and Suneya Osama at 165.
In the race for honours in handicap category 15–24 the contest is over two rounds and 36 holes. The notable one in this handicap category is Shabana Waheed (Garrison) at a score of net 72, with Momina Tarrar (Royal Palm) at 75 and Fauzia Umber (Gymkhana ) at net 76.
Handicap category 25–36 aspirants found Shazia Imran (Royal Palm) in enormous form and her score of net 64 looks commanding. The next best in this category is Minaa Zainab and her score for 18 holes is net 72 followed by Meerab Rizwan and Sobia Waseem at net 76.
Seniors Category ladies concluded their competitive race. The winner gross was Mrs Shahzadi Gulfam and Winner Net was Mrs Ayesha Hamid.
Prize Winners in Girls age group 11-14 years were Aleema Almas Rashid, first, Natalia Nadeem Khan, second and Areej Atif, third.
Winning Girls in age category 10 and below were Aminah Ali Khan, first, Syeda Noor Zahra, second and Noor Bano Chaudry, third.