Alchemist Cup Scrabble Championship '18: Youngest Player Pak's Sohaib Becomes Sensation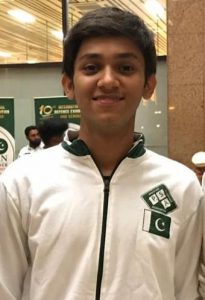 MALAYSIA: The Alchemist Cup Scrabble Championship got underway at Penang, Malaysia today. Widely regarded as the toughest scrabble tournament of all times the Alchemist Cup is a world team event.
The sensation of the tournament was the 16 year old Sohaib Sanaullah from Pakistan, who on his debut beat 4 World Champions on the first day of his debut tournament. It was an historic performance with Sohaib becoming the buzz name of the tournament.
The tournament is played by 10 teams comprising 5 players each compete against 5 players from another team over 5 days.
Alchemist Cup Scrabble Tournament: 3 Pakistan Players In "Rest Of Asia" Team
Only the top 50 players in the world are eligible based on their international rating.
At the end of day-one the first three team positions was as follows:
USA was on top with 25 wins and a spread of 1196 overall.
Thailand ended day one on the second spot with 24 wins and a spread of 540.
Rest of the World is currently 3rd with 24 wins and a spread of 310Three players from
Pakistan – Sohaib, Waseem Khatri and Moiz Baiz are representing Rest of Asia team. Waseem Khatri started the tournament well winning his first four matches but lost the next 4 to end the day with a 5-4 record. Reigning junior world champion Moiz Baig also has 5 wins from 9 games.
The undoubted star of the day, Sohaib Sanaullah got a chance to play the tournament only after Sherwin Rodrigues of India dropped out at the last minute.
The youngest at the toughest scrabble tournament of the world the youngster showed great character and composure.
Another 9 matches will be played tomorrow
The Alchemist Cup Scrabble Tournament '18 teams according to WESPA rating as at 28 October are:
Nigeria : mean rating 2065
Ayorinde Saidu (2098)
Eta Karo (2096)
Moses Peter (2090)
Nsikan Etim (2040)
Olatunde Oduwole (2002)
2. USA: mean rating 2048
Conrad Bassett-Bouchard (2141)
David Wiegand (2140)
Evans Clinchy (2062)
Jesse Day (2043)
Will Anderson (1857)
3. Australia: mean rating 2043
David Eldar (2150)
Chris May (2084)
Edward Okulicz (2033)
Andrew Fisher (1999)
Naween Fernando (1949)
4. New Zealand: mean rating 1971
Nigel Richards (2297)
Alastair Richards (2106)
Howard Warner (1892)
Lyres Freeth (1788)
Joanne Craig (1772)
5. Thailand: mean rating 1962
Panupol Sujjayakorn (2065)
Chollapat Itthiaree (1999)
Akkarapol Kwhansak (1959)
Thacha Koowirat (1941)
Jakkrit Klaphajone (1846)
6. Rest of the World: mean rating 1960
Adam Logan: Canada (2131)
Lewis Mackay: UK (2105)
Austin Shin: UK (2000)
Esther Perrins: Australia (1801)
Theresa Brousson: Malta (1766)
7. Singapore: mean rating 1896
Hubert Wee (1953)
Toh Weibin (1941)
Marlon Prudencio (1885)
Ricky Purnomo (1860)
Jeremy Khoo (1841)
8. Malaysia: mean rating 1886
Ganesh Asirvatham (2324)
Vannitha Balasingam (1860)
Khoo Beng Way (1821)
Andrew Chang (1741)
Kong Chock Heng (1687)
9. Rest of Asia: mean rating 1785
Lakshan Wanniarachchi: Sri Lanka (1853)
Waseem Khatri: Pakistan (1846)
Goutham Jayaraman: India (1837)
Moiz Ullah Baig: Pakistan (1800)
Sohaib Sanaullah: Pakistan (1590)
10. East Africa: mean rating 1785
Allan Oyende: Kenya (1936)
Gitonga Nderitu: Kenya (1865)
Edgar Odongkara: Uganda (1791)
Stanley Njoroge: Kenya (1755)
Martins Mutahi: Kenya (1578)
For more updates about Alchemist Cup Scrabble Championship keep visiting allsportspk