Alchemist Cup Scrabble Tournament: 3 Pakistan Players In "Rest Of Asia" Team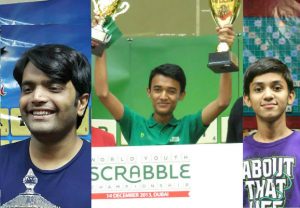 Three players from Pakistan have been selected to represent "Rest of Asia" team in the Alchemist Cup Scrabble tournament. This was announced by Mr. Michael Tang, the organizer of the tournament which is scheduled to be played at Penang, Malaysia from 5th – 9th December, 2018.
Alchemist cup is a world team event with ten teams of five players each. A gruelling 45 rounds will be played over 5 days. It is an elite tournament therefore only the top players in the world are selected.
The Alchemist cup is dubbed as the toughest scrabble tournaments in the world with several current and former world champions and national champions of their countries participating.
16 years old Sohaib Sanaullah got the opportunity of his life when Sherwin Rodrigues of India dropped out from the Rest of Asia team due to personal reasons. Sohaib is the youngest player in the competition and will relish the chance of rubbing shoulders with the greatest players in the world.
Playing against players rated much higher will give Sohaib an ideal opportunity to polish his skills ahead of the WESPA Youth Cup scheduled in mid December in Dubai. Sohaib is a strong contender of the youth title.
World Scrabble Rankings – 27th August '18: Ganesh Retains Top Spot
Former world youth champion Moiz Baig and 8-time national champion Waseem Khatri are also selected for Rest of Asia along with Goutham Jayaraman of India and Lakshan Wanniarachchi of Sri Lanka.
The following teams are announced for the Alchemist Cup Scrabble tournament:
1. Australia
David Eldar
Chris May
Edward Okulicz
Andrew Fisher
Naween Fernando
2. Malaysia
Ganesh Asirvatham
Darren Khoo Beng Way
Vannitha Balasingam
Andrew Chang
Kong Chock Heng
3. New Zealand
Nigel Richards
Alastair Richards
Howard Warner
Joanne Elizabeth Craig
Lyres Freeth
4. Nigeria
Eta Karo
Moses Peter
Nsikak Etim
Saidu Ayorinde
Olatunde Oduwole
5. Singapore
Hubert Wee
Toh Weibin
Jeremy Khoo
Ricky Purnomo
Marlon Prudencio
6. Thailand
Panupol Sujjayakorn
Chollapat Itthi-aree
Akkarapol Kwansak
Thacha Koowirat
Jakkrit Klaphajone
7. USA
Conrad Bassett-Bouchard
Dave Wiegand
Evans Clinchy
Jesse Day
Will Anderson
8. Rest of Africa
Gitonga Nderitu – Kenya
Allan Oyende – Kenya
Stanley Njoroge – Kenya
Charles Tachie Menson – Ghana
Edwin Boama – Ghana
9. Rest of Asia
Goutham Jayaraman – India
Lakshan Wanniarachchi – Sri Lanka
Waseem Khatri – Pakistan
Moiz Ullah Baig – Pakistan
Sohaib Sanaullah – Pakistan
10. Rest of World
Adam Logan – Canada
Lewis Mackay – UK
Austin Shin – UK
David Webb – UK
Theresa Camilleri – Malta
For more updates keep visiting allsportspk