During December 1937, in a match between the Chelsea and Charlton football clubs, at the Stamford Bridge stadium London was stopped in the 60th minute due to heavy fog.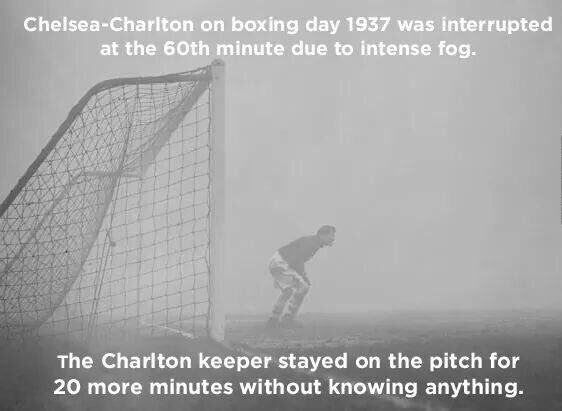 But Charlton's legendary goalkeeper Sam Bartram remained unaware and kept on guarding the goal 15 minutes after the game had stopped.
As he did not hear the referee's whistle because of the crowd behind his goal. He stood at the goal with his arms outstretched and completely focused, looking forward so as not to be surprised by the opponent's shots. Fifteen minutes later, when the stadium police approached him and informed him that the match had been abandoned, Sam Bartram said these famous words with great sorrow:
"How sad that my friends forgot me when I was guarding their gate." 
Bartram thought his team was attacking and not allowing the opposing team to get close to the goal.
There are so many players in the field of life whose goal one defends with enthusiasm and support, but when the situation becomes like a wave of fog, they walk out of the field and leave us alone.
Samuel Bartram was an English professional football player who played as a goalkeeper for the Charlton Athletic club. Born 22nd January 1914 – Died 17th July 1981 he is considered as among greatest Charlton's players, and their best goalkeeper. On 6th March 1954, set the record of 500 appearances in the English Football League.