Baroque Polo Cup 2018: Day 4; Guard Group Vs Remington Pharma Final
LAHORE: Guard Group edged past Newage/Diamond Paints by 6-4 to qualify for the main final of the Baroque Polo Cup 2018 at the Lahore Polo Club ground. The final will be against Remington Pharma team which had already qualified by defeating Olympia.
Baroque Polo Cup 2018: Day 3; Remington Pharma In Final
Saqib Khan Khakwani displayed outstanding polo skills and techniques and hammered a hat-trick in his team's victory while Taimur Ali Malik contributed with a brilliant brace and Raja Arlsan Najeeb added one. From the losing side, Shah Shamyl Alam thwarted a hat-trick while Mir Huzaifa Ahmed.
Newage/Diamond Paints started the crucial match well as they scored the opening goal through Shah Shamyl by converting a 30-yard penalty successfully. Guard Group struck an equalizer through Saqib Khakwani, who also converted a 30-yard penalty to make it 1-1. The second chukker was also evenly poised as both the sides slammed in one goal apiece to square the things at 2-2. Saqib fired in a field goal for Guard Group while Mir Huzaifa converted for Newage/Diamond Paints.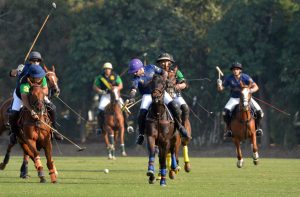 The third chukker saw complete dominance of Guard Group, who thwarted three tremendous goals to take unassailable 5-2 lead. This time, Raja Arslan Najeeb scored one and Taimur Ali Malik a brace for the winning side, as all were the field goals.
Newage/Diamond Paints made a good comeback in the fourth and last chukker as they slammed in two goals – both were field goals by Shah Shamyl – to reduce the deficit to 5-4. They kept on trying to score an equalizer and launched a series of attacks on Guard Group's goal but their opponents defence defended well and denied all the attacks. In the dying moments of the match, Guard Group managed to get a spot penalty, which star of the day Saqib Khakwani converted successfully.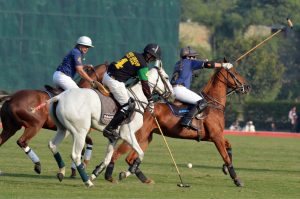 Ghulam Mustafa Monnoo and Farasat Ali Chatha supervised the match as field umpires.
For more updates keep visiting allsportspk