Basketball – NBA: Rajon Rondo Expected To Be Out For A Month After Finger Surgery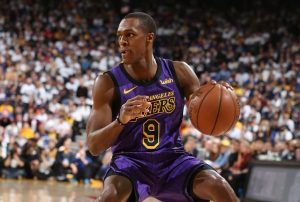 According to a team announcement, Los Angeles Lakers guard Rajon Rondo will be sidelined for 4 or 5 weeks, after experiencing medical surgery on a sprained ring finger.
The 32-year-old endured the damage on Tuesday in the Lakers' triumph over the Golden State Warriors, before sitting out Thursday's misfortune at the Sacramento Kings.
After reports recommended Rondo would not be available for 1 month, Los Angeles anticipated length of his nonappearance on Friday.
World Basketball Rankings – 26th December 2018: USA Maintains Top Spot
In the wake of breaking a similar hand against the Portland Trail Blazers in November, Rajon Rondo missed 17 matches before this season. And, before enduring this finger injury, Rondo had just returned a week ago and only featured in 3 matches.
Rondo's injury is not the first bad news for Laker fans, as their star player, LeBron James, is also unavailable for a few matches, as he strained his groin against the match with the Warriors.
At present, LA Lakers are tied for fifth place in the NBA's Western Conference with the Blazers and are 20-15 after their recent loss to the Kings.
OFFICIAL: Rajon Rondo, who suffered a Grade 3 sprain to his right ring finger during Tuesday's game at Golden State, underwent successful surgery today to repair a ligament in that finger.

Rondo is expected to make a full recovery in 4-5 weeks. https://t.co/8idGYHksz8

— Los Angeles Lakers (@Lakers) December 28, 2018
For the second time this season, #Lakers point guard Rajon Rondo has undergone surgery on his hand, this time to repair a torn ligament on his right ring finger. He's expected to be out 4-5 weeks. #LakeShow pic.twitter.com/HM2zs6pGcv

— Michael J. Duarte (@michaeljduarte) December 28, 2018
For more updates keep visiting allsportspk