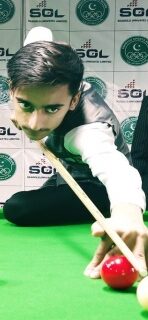 Pakistan's 16 Year old Ahsan Ramzan is the World Snooker Champion. Termed as Super Star beat Iran's Amir with the score 6-5 in a Final lasting for 5 hours plus.
The Men Snooker Championship 2022 which commenced with 62 best players of 29 countries ended up being dominated by Pakistan cueist.
Pakistan cueist not only proved their individual class but made a unique record of all 3 cueist qualifying for the semifinals and only one other cueist Amir Sarkhosh being from Iran.
Details To Follow