British Junior Open 2019: Commences; 1st & 2nd Round Played
BIRMINGHAM: The British Junior Squash Championship kicked off at Birmingham with its 1st round.  A group of players from Pakistan are playing in U-13, U-15, U-17 and U-19 age categories.
In the evening session, 2nd round matches were also played today.
Detailed results of matches played by Pakistan players are appended below.
Boys U-13
Round 1
Humam Ahmed [17/32] beat Chester Dockray (ENG)   11-3, 11-2, 11-2    (3-0)
Round 2
Harith Danial Jefri [5/8]   beat  Humam Ahmed [17/32]  11-9,14-12,11-9   (3-0)
Round 1
Anas Ali Syed [9/16] beat Christian Faergemann  (ENG)   11-4, 11-4, 11-4 (3-0)
Round 2
Anas Ali Syed [9/16] beat Alex Banhidai [17/32] (ENG)  10-12,11-6,11-4,11-7  (3-1)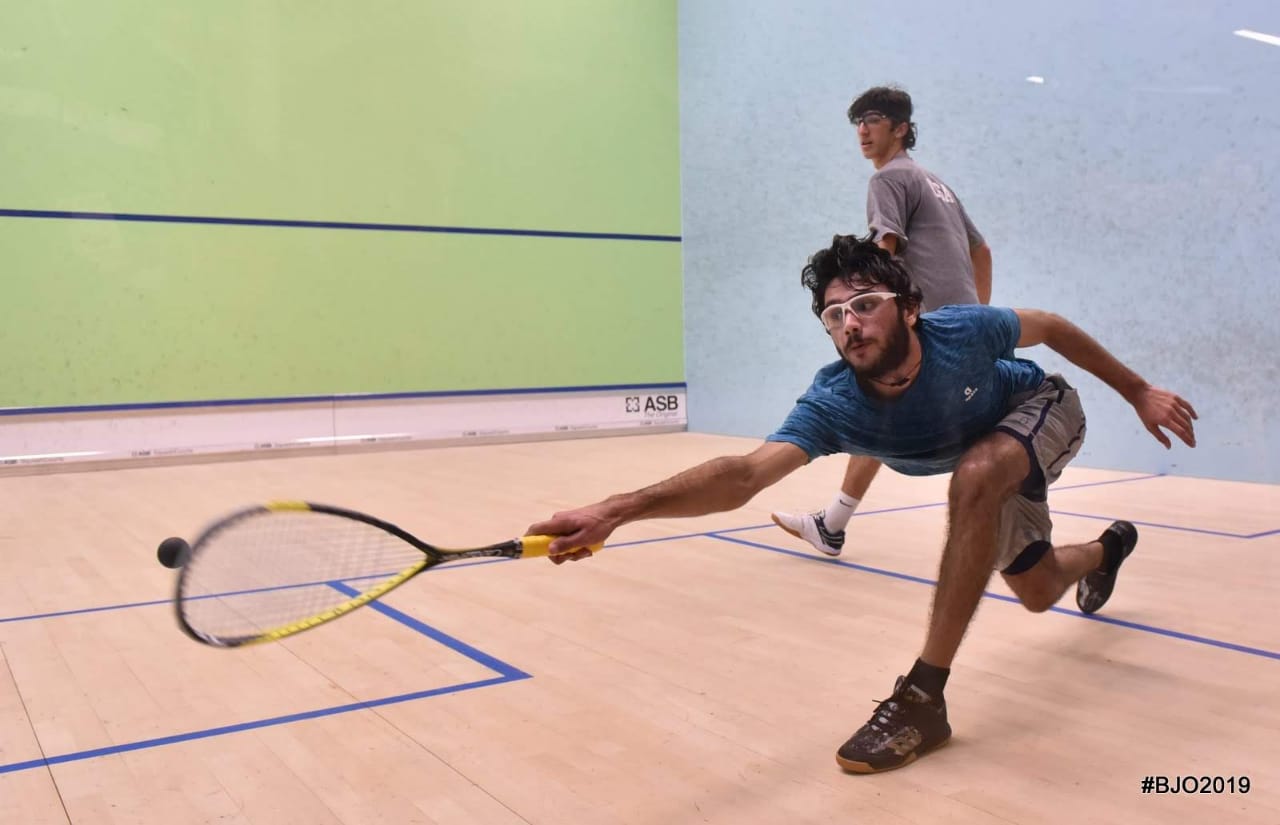 Boys U-15 
Round 1
Muhammad Ashab Irfan [33/64] beat Joe Pannell (ENG) 11-4, 11-8, 11-6    (3-0)
Round 2
Omar Azzam (EGY) [5/8]  beat  Muhammad Ashab Irfan [33/64]   11-6, 4-11, 7-11, 11-6, 11-7  (3-2)
Round 1
Round 2
Muhammad Humza Khan [9/16]  beat Melvil Scianimanico (FRA) [33/64]   11-7, 11-2, 11-1   (3-0)
Round 1
Round 2
Noor Zaman [5/8]  beat Chun Yu Kelvin Lo (HKG)    11-4, 11-4, 11-8  (3-0)
Round 1
Muhammad Azlan Khawar [33/64] beat Nero Harms (WAL)    11-6, 11-4, 8-11, 11-3      (3-1)
Round 2
Jia Rong Hi (MAS) [17/32]  beat  Muhammad Azlan Khawar [33/64]   11-1, 11-3, 11-3   (3-0)
Round 1
Juan Jose Torres Lara [33/64] beat Din Moeen Ud    11-0, 11-0, 11-1   (3-0)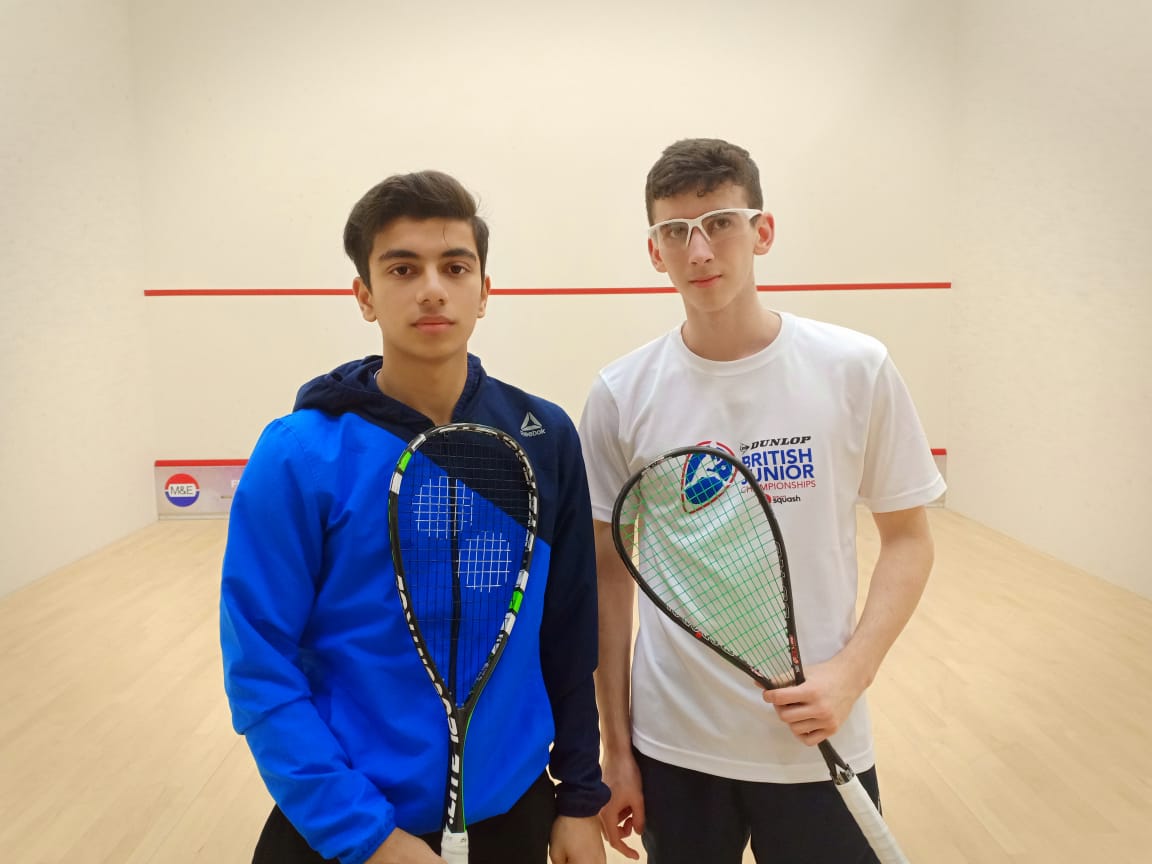 Boys U-17
Muhamamad Hassaan Raza [33/64]
Round 1
Muhamamad Hassaan Raza [33/64]  beat  Karim Elgarhy  (ENG) 11-2,  11-4,  11-3    (3-0)
Round 2
Muhamamad Hassaan Raza [33/64]  beat  Andrew Glen [17/32]   (SCOT)  11-6, 11-8, 5-11, 11-9  (3-1)
Round 1
Asad Ullah Khan [33/64]  beat  George Bidder (ENG)  11-3, 11-1, 11-1   (3-0)
Round 2
Duncan Lee (MAS) [5/8] beat  Asad Ullah Khan [33/64]   11-4, 11-3, 11-6     (3-0)
Round 1
Round 2
Haris Qasim [9/16]   beat  James Gibbins  (ENG)  [33/64]    11-3,  11-4,  11-1  (3-0)
Round 1
Syed Hasnain  beat  Jamie Carmichael [33/64]   11-6, 8-11, 11-3, 11-6  (3-1)
Round 2
Karim Abelalim Elbarbary (EGY) [3/4]  beat  Syed Hasnain  11-6, 11-2, 11-5  (3-0)
Round 1
Hamza Sharif  beat Tymour Saba (ENG)  [33/64]     11-7, 11-5, 11-7   (3-0)
Round 2
Muhammad Amir Amirul Azhar (MAS)  [5/8]  beat  Hamza Sharif  11-9,8-11,11-7,9-11,11-5  (3-2)
Round 1
Round 2
Muhammad Farhan Hashmi [17/32]  beat  Brice Nicolas [33/64]   11-5, 11-6, 11-6   (3-0)
Boys U-19 
Round 1
Naveed Rehman [33/64]  beat  Aaron Nagy  (CAN)  11-5, 11-1, 11-2   (3-0)
Round 2
Aly Eltokhy (EGY) [17/32] beat Naveed Rehman [33/64] 11-8, 6-11, 11-4, 11-9  (3-1)
Round 1
Round 2
Abbas Zeb [9/16] beat William Ezratty (USA) [33/64]  11-2, 11-4, 8-11, 11-4   (3-1)
Round 1
Juan Carlos Vargas (MEX)  beat  Saif Ullah [33/64]   11-7, 11-5, 11-8   (3-0)
GIRLS U-17
Round 1
Amna Fayyaz [17/32]  beat  Amy Pullen  (ENG)  11-6, 11-8, 13-11  (3-0)
3rd Round Matches will be played on 4th January as follows: 
Boys U-13
Syed Anas Ali vs Ahmed Haq (USA)
Boys U-15
Noor Zaman vs Abdallah Mohammed (Egy)
Muhammad Hamza Khan vs Jat Tse (HKG) (33/64)
Boys U-17
M Farhan Hashmi Vs M Amir Amirul Azhar (MAS)
Haris Qasim Vs  Andrik Lim Shan (MAS)
M Hassan Raza Vs Duncan Lee (MAS)
Boys U-19
Abbas Zeb vs Tushar Shahni (India)