SOUTH AFRICA: The thirteenth edition of the ICC Under-19 Cricket World Cup will be held from 17th January to 9th February 2020.
Being hosted by South Africa for the second time, a total of 16 teams will be taking part that will be split into four groups of four. It is basically a limited overs cricket tournament that will follow the ICC 50-over rules and the Round-robin and Knockout format will imply.
The top 16 team are participating. 11 are the ones that are full-time ICC members while the other 5 made it through the qualifying stage. Ireland is the only full-time ICC member that failed to make it to the big stage. Around fifty teams took part in the qualifying stage as per their respective divisions based on their continents out of which the following teams made it through:
Nigeria-Africa – Division 1
Canada-Americas – Division 1
United Arab Emirates – Asia Division 1
Japan – Division 1
Scotland – Division 1
The teams are divided into the following groups: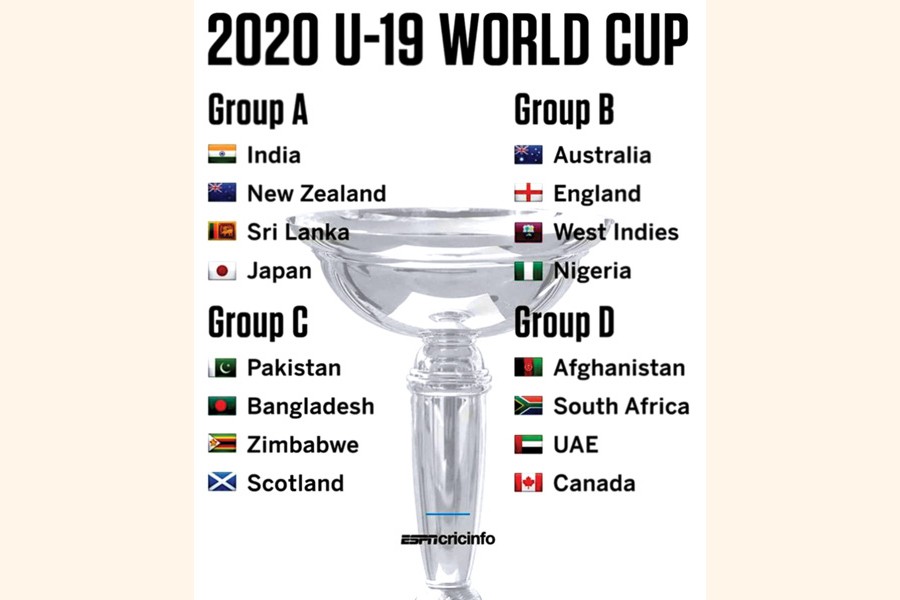 A total of 24 group matches will be played after which the top two team from each group will progress to the quarter-final stage, also known as the Super League. On the other hand, the bottom two teams, will advance to the Plate League. India are the defending champions and will be looking to defend their title this year too.
Warm Up Matches
To give teams an idea of the playing conditions in South Africa, the warm-up matches are too being organized while some of them did get washed off, here are the results of the selected Warm up matches:
South Africa U-19 vs Sri Lanka U-19 – Sri Lanka U-19 won by 15 runs
Nigeria U-19 vs Pakistan U-19 – Pakistan U-19 won by 9 wickets
England U-19 vs Zimbabwe-19 – No result
Afghanistan U-19 vs India U-19 – India U-19 won by 211 runs
For more updates regarding the ICC Under-19 Cricket World Cup and other Sports News, keep following Allsportspk.