CWC 19- Match 38: England Vs India
Match Basics
Date: 30th June 2019
Venue: Birmingham
Umpires: Aleem Dar, Kumar Dharmaseena
Toss Won by: England, elected to bat

Scorecard Summary
England's Innings: 337/7 (50 Overs, RR: 6.74)
Performers:
Batting: Jonny Bairstow 111 off 109 balls, BA Stokes 79 off 54 balls, Jason Roy 66 off 57 balls.
Bowling: Muhammad Shami 5/69 in 10 overs, JJ Bumrah 1/44 in 10 overs, Kuldeep Yadav 1/72 in 10 overs.
India's Innings: 230/7 (49.4 Overs, RR: 4.63)
Performers:
Batting: Rohit Sharma 102 off 109 balls, Virat Kohli 66 off 76 balls, HH Pandya 45 off 33 balls.
Bowling: LE Plunkett 3/55 in 10 overs, Criss Woakes 2/58 in 10 overs.

Highlights & Analysis
England Vs India: England's Innings

After losing from Pakistan, Sri Lanka and Australia, England was facing India in a must win game to stay in semi-finals race. They brought Liam Plunkett in place of Moeen Ali.

India with an undefeated record in the tournament came into this game without any pressure looming over their heads. Rishabh Pantt was included for the first time in World Cup playing 11 as he replaced Vijay Shankar.

England's power hitting duo Jason Roy and Jonny Bairstow opened the innings for the side, while Indian pacers Jasprit Bumrah and Muhammad Shami paired up for bowling side.

Pitch looked flat, as a high scoring game was predicted. Though England was playing at home ground, opponent India had plenty of support in the stands to cheer their side.

English batsmen struggled at the start of their innings, Jason Roy and Jonny Bairstow survived couple of inside edges, which could have easily hit stumps.

England gathered momentum and started playing shots all around. Two sixes from Jonny Bairstow and consecutive boundaries of Jason Roy put India on the back foot.

England's openers paced the inning beautifully and kept rotating the strike. India missed a couple of run out chances as England reached to 100 run mark in 15.3 overs.

England's openers continued to dominate even against the spinning duo Kuldeep Yadav and YS Chahal, both spinners could not prevent them to score quickly.

Jonny Bairstow kept aggressive attitude, hit 3 sixes to Indian spinners, as scoring run rate reached 6 per over.

Jason Roy joined partner and smashed two sixes against the spinners, as score reached 150.

England lost their first wicket as Jason Roy was deceived by Kuldeep Yadav and was caught in deep by RA Jadeja.

England kept the aggression, targeted Indian spinners in hopes of a 350 plus total. Joe Root rotated strike while Jonny Bairstow made spinners pay and reached to his 100 in 90 balls.

Though England lost wickets of Jonny Bairstow and Joe Root, India could not stop flow of runs.

All rounder Ben Stokes held one end for England, hit marvelous boundaries square of wicket.

Indian spinners were feeling rare pressure, as they had enjoyed being most economical pair of the tournament so far.

Ben Stokes also charged on spinners and hit couple of sixes. YS Chahal finished his quota of overs after conceding 88 without taking any wicket, while Kuldeep Yadav finished with 1/72 in 10 overs.

After dominating opponent for most part of the innings, England could not capitalize and started losing wickets at the end.

Muhammad Shami and Jasprit Bumrah were consistent with their death bowling skills and didn't give away any opportunities to the England' batsmen.

Muhammad Shami dismissed Indian captain Eion Morgan, aggressive batsman Joss Buttler and Cris Woakes in short span of time and squeezed England's chances of crossing 350.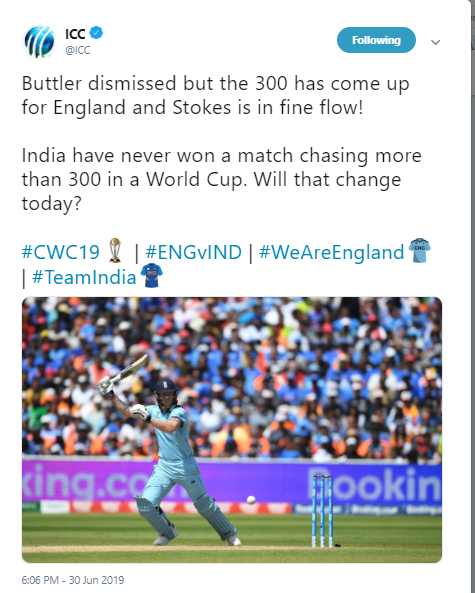 England's disappointing last overs relieved India, as they finished at 337-7 in 50 overs. Though a 330 plus total could put a lot of pressure on chasing team, India being renowned as supreme chasers were feeling confident to keep their undefeated record in the tournament.

England VS India: India's Innings
Indian openers KL Rahul and Rohai Sharma were on the crease to start the proceedings.

India faced early blow, KL Rahul was caught and bowl by Cris Woakes on a duck in just second over of the game.

Captain Virat Kohli joined Rohit to stablise Indian Inning. Both batsmen remain conscious against English seamers, resulted in drop of run rate.

Rohit received a life line, as Joe Root put an easy catch at slip. Virat Kohli hit bounderies in consecutive overs to put pressure back on England's bowlers.

India known for dominating bowlers, failed to find boundaries regularly and stayed far behind the required run rate.

After a slow partnership, Rohit finally changed gears, hit boundaries to leg spinner Rashid and moved score forward.

On other hand Virat Kohli remained focused on taking singles and doubles with odd boundary. Required run rate was pilling up and both batsmen started to feel under pressure.

India wanted to move, as Virat miss judged length of Plunkett and was caught at point, after scoring 66.

Rishabh Pant resumed innings, as England were feeling more confident after taking big wicket of Virat Kohli.

Rohit and Pant scored quick runs, tried taking on every bowler. Rohit reached to a milestone of 100 run mark but fell just after.

Indian batsmen Hardik Pandya and Rishabh Pant played few aggressive shot and scored runs but England had this game with in their grasp.

As required run rate loomed over 10 run per over, Indian batsmen lost the plot completely, handed the victory to England team.

MS Dhoni hit couple boundaries but all in vain, as England sealed the game. India finished at 306/5 as England won the game by 31 runs
Teams
India                                    England
KL Rahul                                Jason Roy
Rohit Sharma                                Jonny Bairstow
Virat Kohli (C)                               Joe Root
Rishabh Pant                               Eoin Morgan (C)
HH Pandya                                Ben Stokes
MS Dhoni (Wk)                                Jos Butler
KM Jadhav                                Criss Woakes
Kuldeep Yadav                                LE Plunkett
Muhammad Shami                        Jofra Archer
YS Chahal                               Adil Rasheed
Jasprit Bumrah                               Mark wood
For more update keep visiting Allsportspk