Cycling: Kristina Vogel Suffers Spine Injury During Crash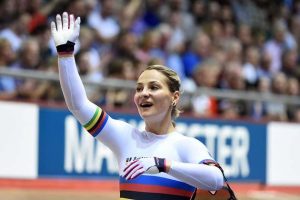 Two times Olympic victor Kristina Vogel says she "can't walk any more" subsequent to suffering from genuine spinal damage, when she crashed amid training in June this year.
World Cycling Rankings – 5th September '18: Van Vleuten Regains Top Spot
The 27-year-old German was engaged with a rapid impact with another cyclist on a track in Cottbus. Vogel, who is additionally a part-time police officer, won team sprint gold at London 2012 Olympics and the individual title in Rio Olympics 2016.
Working with Kristina Vogel's wonderful, exuberant good humour and sense of fun over the past ten years, not least at the 6 Days Series recently, has always been a pleasure. I hope it will continue. Now that indomitable strength and depth of character faces a new challenge.

— Matt Rendell (@mrendell) September 7, 2018
The German Cycling Federation extended its support to Vogel, and said that the cyclist is currently in a healing facility in Berlin.
Kristina Vogel has won 11 world titles, and the crash in Cottbus was not the first of her professional career. As in May 2009 during a training session, she was hit by a car after which she was put into an artificial coma.
It is a sad certainty: After her severe training accident in late June in Cottbus, the 27-year-old Kristina Vogel remains paraplegic.
This is tragic news for Kristina. My heart goes out to her ❤️

— DAVID LE GRYS (@LEGRO) September 7, 2018
Unfortunately, no one can disprove this heartbreaking news anymore, I'd so wish if it was fake… The Olympic champion Kristina Vogel was left paralysed after injuring spine during that damn crash. I just can't imagine. ?I wish you all the strength in the world, @KristinaVogel! pic.twitter.com/pRTXKeRIeh

— Mihai Cazacu (@faustocoppi60) September 7, 2018
For more updates keep visiting allsportspk