FMC International Men Squash Championship '18: Day 2 – Pak Players Dominant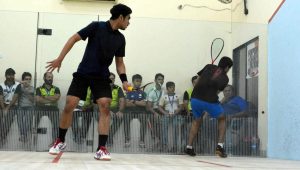 LAHORE: Pakistani players dominated the second round of the FMC International Men Squash Championship 2018 here at the Punjab Squash Complex on Tuesday.
Pakistan's Asim Khan, Tayyab Aslam, Farhan Mehboob and Israr Ahmad displayed outstanding squash skills and defeated their respective opponents to qualify for the quarterfinals of the prestigious event.
In the first match of the second round, Asim Khan of Pakistan outlasted compatriot Amaad Fareed with utmost ease as he won the encounter in just 30 minutes by 11/2, 11/5, 11/5. Asim dominated right from the start and won the first game 11/2. He kept pressure on his opponent and also took the second game 11/5 and won the third and decisive one with same margin of 11/5 to register victory.
Pakistan's Tayyab Aslam then routed Hong Kong's Chi Him Wong by 11/5, 11/1 (retired hurt). Tayyab was in superb form and played aggressive game right from the word it goes, as he won the first game 11/5 and won the second quite easily by 11/1. His opponent felt the heat and preferred to retired hurt instead of continuing the game.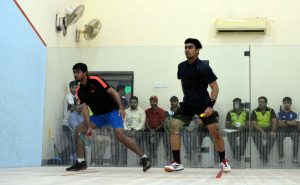 Farhan Mehboob of Pakistan also played well against Hong Kong's Tsz Kwan Lau as he took just 26 minutes to down his opponent by 11/7, 12/10, 11/7. Mehboob were off to flying start against Hong Kong player and dominated him well to win the first game 11/7. Although Mehboob faced tough resistance in the second game yet he managed to win it too by 12/10 while in the third and last game, the Pakistani player outpaced his opponent to take the game 11/7 to register an impressive victory.
Pakistan's Israr Ahmad had a tough battle against Muhammad Syafiq Kamal of Malaysia before winning the marathon 40-minute match by 11/6, 10/12, 11/8, 11/6. Israr won the first game 11/6 but lost the second 10/12 after a tough battle. He then changed his game plan, which paid dividend and won the third game by 11/8 and fourth by 11/6 to win the encounter.
Syed Ali Mujtaba Shah Bukhari of Pakistan lost his match against Malaysian Ivan Yuen by 11/7, 11/2, 11/8 in 26 minutes. Egyptian Mazan Gamal defeated Henry Leung of Hong Kong by 11/7, 11/9, 12/10 in 39 minutes, another Egyptian Youssef Soliman outlasted Robert Downer of England by 11/9, 11/9, 12/10 in 37 minutes while French Auguste Dussourd took 57 minutes to beat Hong Kong's Tang Ming Hong by 13/11, 2/11, 13/11, 3/11, 11/9 after a tough fight.
On Wednesday, the quarterfinals of the international squash events will take place.
In Glance Results of Round 02 Matches of the International Men Squash Championship:
Asim Khan (PAK) beat Amaad Fareed (PAK) score 11/2,11/5,11/5 (30 mins).
Mazan Gamal (EGY) beat Henry Leung (HKG) score 11/7,11/9,12/10 (39 mins).
Tayyab Aslam (PAK) beat Chi Him Wong (HKG) score 11/5,11/1 Retired Hurt.
Youssef Soliman (EGY) beat Robert Downer (ENG) score 11/9,11/9,12/10 (37 mins).
Farhan Mehboob (PAK) beat Tsz Kwan Lau (HKG) score 11/7,12/10,11/7 (26 mins).
Auguste Dussourd (FRA) beat Tang Ming Hong (HKG) score 13/11,2/11,13/11,3/11,11/9 (57 mins).
Israr Ahmad (PAK) beat Muhammad Syafiq Kamal (MAS) score 11/6,10/12,11/8,11/6 (40 mins).
Ivan yuen (MAS) beat Syed Ali Mujtaba Shah Bukhari
For more updates keep visiting allsportspk