Football: David Silva Retires From International Football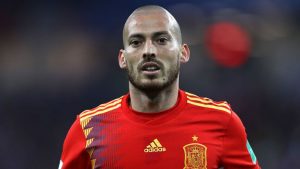 The Spanish midfielder, David Silva has reported his retirement, two days after his fellow team mate, Gerard Pique announced the end of his international career with the Spanish team.
This day should be known as David Silva day. What a player – the best to ever don the @ManCity shirt in my opinion. #ManCity #DavidSilva @21LVA

— James Ś A Watson (@JamesSAwatson) 13 August 2018
Egypt Football: World Cup's Oldest Player, Essam El-Hadary Retires
David Josué Jiménez Silva is a Spanish national and a professional footballer. At present, he represents the English Premier League club, Manchester City, where his main position is that of an attacking midfielder, however he also possesses the ability to play as a winger.
On his decision to retire from International Football, Silva said the following words:
It has not been easy, after all I've experienced, to write these lines. I've spent days and weeks considering this. The national team gave me everything and helped me grow as a player and a person. I leave proud and happy, bringing an end to a time full of emotions and memories, like of the figure of Luis Aragones, a maestro who will never be forgotten.
Silva made his debut for Spain in 2006, and since then he took part in over 125 matches, before finally deciding to retire from international football. The 32 year old played a vital role in helping Spain to win the 2010 World Cup and the European Championship titles in 2008 and 2012 respectively.
Social Media Reactions
World Cup 2010 and Euro 2008 & 2012 winner David Silva has announced his retirement from international football with Spain. He made 125 caps, scoring 35 goals. pic.twitter.com/yW5gEG7NPH

— City Watch (@City_Watch) 13 August 2018
2008: Euros ?
2010: World Cup ?
2012: Euros ?

David Silva ???

The Spain midfielder has retired from international football ? https://t.co/X3Vq9dLuZc pic.twitter.com/F010ECDow0

— BBC Sport (@BBCSport) 13 August 2018
David Silva announces his bye to spanish national team. He gave a lot of incredible things to the team and now he will be focus in Manchester City.

— Jose Alvarez Haya (@10JoseAlvarez) 13 August 2018
I'm actually a little emotional about @21LVA retiring from international football as it reiterates the fact that he will one day retire fully and never play for Man City ever again.

— Lee Montgomery (@unclebaldie24) 13 August 2018
125 – David Silva has managed 125 caps more for Spain than any other England International player, beating the likes of Harry Kane, Wayne Rooney, and David Beckham. Unrivalled. #Silva #DavidSilva #ESP

— Opta Obvious (@OptaObviously) 13 August 2018
@21LVA David Silva one of the best player ever to represent Spain National Team @spain @SeFutbol retired tonight from international football. Phenomenal footballer.#davidsilva #football #Spain pic.twitter.com/m2lShzudBy

— Anand Shrestha (@ab17anand) 13 August 2018
I knew it would come, but still, this moment has come sooner than I had expected. One of the best midfielders of our time, I wish you have taken away as much joy and excitement as you have brought to the fans, and enjoy the rest of your career at Man City to the utter most. ❤️

— Nan Jiang (@Nancynanj) 13 August 2018
Allsportspk Social Media Reactions: Mesut Ozil Retires From International Football
For more updates keep visiting allsportspk