Football: FIFA Bans Palestinian FA President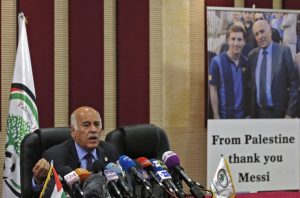 The president of the Palestinian Football Association has been handed a 12 month suspension by FIFA, after he encouraged fans to burn Lionel Messi shirts and pictures.
Football – Tottenham Hotspur: Hugo Lloris Charged With Drunk Driving
Jibril Rajoub has additionally been fined 20,000 Swiss francs (£15,826) for "inciting hatred and violence" with articulations made before a friendly match amongst Argentina and Israel.
This person, Jibril Rajoub, has also said he would nuke Israel if he could (https://t.co/fQlM0Qy7Pp). He made that statement while heading both the Palestinian Football Association and the Palestine Olympic Committee. Curiously, it didn't get him banned. https://t.co/vPw0gtvVOV

— Avi Mayer (@AviMayer) 24 August 2018
In this 12 month ban imposed by FIFA, Jibril Rajoub would not have the capacity to go to football matches in any way, shape or form.
The match was scheduled to be played in June in Jerusalem, however it was cancelled, due to a protest staged by the Palestinians.
Here is the decision from FIFA Disciplinary Committee on Palestine FA President Jibril Rajoub pic.twitter.com/0gb4L3wory

— Raphael Gellar (@Raphael_Gellar) 24 August 2018
In June, Argentine Foreign Minister Jorge Faurie had said he trusted his nation's footballers "were not willing to play the game" against Israel. After the match was dropped, the Palestinian FA issued an announcement expressing gratitude toward Messi and his colleagues.
Palestinian FA also said:
What happened… is a red card from the rest of the world to Israelis," Rajoub told a news conference, having earlier accused Israel of using the match as a "political tool"
#FIFA bans #Palestinian soccer chief Rajoub, for 1 year, for inciting violence against soccer superstar Lionel #Messi and a campaign that led to the cancellation of an Israel-Argentina friendly game. https://t.co/bKFsYUrA05 via @timesofisrael

— Lenny (@LennyBoyUSA) 24 August 2018
"FIFA imposed the minimum ban allowed in its disciplinary code for inciting hatred or violence. It prevents Rajoub from attending matches or engaging with the media at or near stadiums on matchdays for a year from Friday". https://t.co/XArvBrbob4

— Marian Houk (@Marianhouk) 24 August 2018
For more updates keep visiting allsportspk