Formula 1 – Fernando Alonso: McLaren Driver Hints Early Return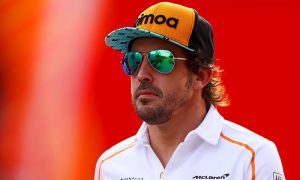 Fernando Alonso has conceded he may feel "desperate" to return to Formula 1 by mid 2019.
Since making a public announcement that he would not be on the F1 lattice next season, Alonso has kept up that a future return was conceivable in the correct conditions.
The McLaren driver emphasized that in front of showing up in this present end of the week's Abu Dhabi Grand Prix.
McLaren has arranged a tribute attire during the current end of the week, and Alonso will race with a helmet configuration including the hues he wore on his F1 make a big appearance with Minardi in 2001.
Alonso's present 2019 program is IndyCar's Indianapolis 500 and the rest of the 2018/19 World Endurance Championship season, however he has implied a lot more races could be included.
@alo_oficial Overall, I never liked you, because of Flavio. But you're the very best driver during a race I've ever seen in 30 years following racing! Thank you for giving back to the sport!

— Ivan Nikoloff (@IvanNikoloff) November 22, 2018
I still remember the celebration I had that day after the race. I opened a bottle of Chimay to celebrate with @alo_oficial this great win

— Benur (@benur) November 22, 2018
[To @alo_oficial ]

The last race at F1. Please don't be sad.
From now, the beginning of your future's life.
Until now your career will be useful.
Please challenge a variety of things.
You can immediately realize that.
Please forgive my cheeky remarks. pic.twitter.com/A1Hvbi4vfA

— nobu suzuki (@nobusuzuki1) November 22, 2018
I was there, Very impressed… and now I'm Remembering Your first Laps with Renault F1, in december 2000. Thank you for all those years of passion and memories… ??✨?? pic.twitter.com/tLYAmFwChQ

— F1Pronos (@F1Pronos) November 22, 2018
For more updates keep visiting allsportspk