French Open 2018 Men's Final: World No.1 Rafael Nadal Wins
Match: Rafael Nadal vs Dominic Thiem
Result: Rafael Nadal defeated Dominic Thiem by 6-4, 6-3, 6-2.
Highlights: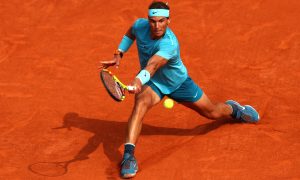 The first set started after a short warm-up and the king of clay, Nadal, took the lead in a very short time.

However, Dominic Thiem made a comeback and the score was equalized 4-4. After some time, Nadal played some solid backhand and forehand shots and kept his opponent under pressure, eventually winning the first set by 6-4.
BREAKING: Rafael Nadal has won the #FrenchOpen for the 11th time! The world No. 1 defeated Dominic Thiem, 6-4, 6-3, 6-2, and remains undefeated when playing in #RolandGarros finals. #RG18 pic.twitter.com/EtltEpRLH5

— TENNIS.com (@Tennis) 10 June 2018
Dominic was depressed by the loss but his hope wasn't lost yet and looked optimistic before the start of the second set.

Soon the next set started and Rafael Nadal as usual took the lead by 3-0. Dominic came back in action and recovered some points but it was too late as Nadal again won

the set by 6-3.

Now it was all down to the third set for both the players. Dominic really needed to win that set because it would cost him the French Open title.

At the start of third set, Dominic Thiem took the lead. Rafael not only recovered the points in a very short time but also took the lead.
"It's a dream to be here with this trophy again."

It's obvious how special this tournament is to Nadal.

Reaction?https://t.co/Z5CLh7ct0V#bbctennis #RG18 pic.twitter.com/qqt5pEQFuC

— BBC Tennis (@bbctennis) 10 June 2018
Thiem struggled very hard throughout the set as Nadal was constantly winning the points and eventually won the third game and 

sealed the victory with overall score of 3-0.

It was Nadal's 11th French Open title and his 17th Grand Slam title in his career.
For updates regularly visit: Allsportspk