Golf – Brooks Koepka Named PGA Tour Player Of The Year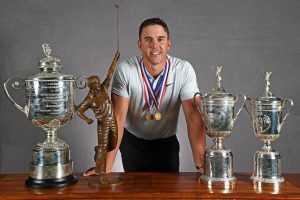 The US golfer, Brooks Koepka has been named as the PGA Tour player of the year for 2018.
This year the 28-year-old, won the US PGA Championship and turned into the 1st golfer since 1989 to secure consecutive US Open titles.
Other nominees were Justin Rose, Dustin Johnson, Francesco Molinari, Bryson DeChambeau, and Justin Thomas.
PGA Tour individuals who have played in 15 FedEx Cup occasions in the 2017-18 season were qualified to cast a ballot, of which Koepka emerged as the winner.
Social media reactions
? @BKoepka accepted his Player of the Year Award today.

Of course @DJohnsonPGA showed up. ?#LiveUnderPar pic.twitter.com/4M5vYIOm8M

— PGA TOUR (@PGATOUR) October 9, 2018
The top shots from the top player last season.

The best from @BKoepka:
5. ⤴️?
4. ⏳?
3. ??
2. ??
1. ?? pic.twitter.com/dG0lGiBXes

— PGA TOUR (@PGATOUR) October 9, 2018
Congrats to BK @BKoepka on POY honors. Extremely deserving and played some unbelievably clutch golf at the biggest stages all year. Go lift some weights to celebrate ??

— Justin Thomas (@JustinThomas34) October 9, 2018
Congratulations to Brooks Koepka, he has been named the 2017-2018 PGA Tour Player of the Year ?

Take note Ladies & Gents, here's how to swing the club in the modern game ?? pic.twitter.com/NDkHKxh75p

— HowDidiDo (@HowDidiDo) October 9, 2018
"Hey Dustin."
"Hey Brooks."
"What is up?"
"Not much. What is up with you?"
"Not much also."
"Cool."
"Yeah." pic.twitter.com/IFwoniQMag

— Michael McEwan (@MMcEwanbunkered) October 9, 2018
#Repost pgatour
・・・
Congrats to our guy Brooks Koepka @bkoepka on winning Player of the Year! Wonderful year from an amazing talent! #hangthebanner… https://t.co/vXwQR9dwxC

— Joey Diovisalvi (@CoachJoeyD) October 9, 2018
Just hope he doesnt go and try and re invent the wheel next year. Hopefully he sticks with his equipment approach and goas and win us open no 3 in a row! Go get it

— Harry Burgoyne (@BurgoyneH1) October 9, 2018
For more updates keep visiting allsportspk