Ahsan Ramzan 16 years old from Pakistan became the 2021 Snooker World Champion. The mature manner in which the teen handled the tense moments of the final marked him also as a new sensation in the snooker world.
Besides him, the extraordinary performance credits also go to the three Pakistan cueists who all qualified for the Semis and in the final position list, occupied three (1st, 3rd and 4th) from the first four positions.
Both the finalists, Pakistan's Ahsan Ramzan and Iran's Amir Sarkhosh of Iran, have been invited IBSF Vice President, Jim Leacy for the World Games 2022 to be hosted in Birmingham, USA.
Ahsan defeated Iranian player Amir Sarkhosh 6-5 (63-60, 91-0 (70), 56-34, 01-102 (102), 28-68, 27-66, 86-18, 1-70, 69-0, 63-17, 67-25).
The final match of the World Championship hosted in Doha, Qatar had hyped interest after the 16 year old defeated the defending champion Muhammad Asif in the semi-final match yesterday.
Amir had the experience to avail the opportunities but the new sensation Ahsan played with confidence and unexpected mental confidence and class. Ahsan remained composed and won first two game frames is a sail through manner.
Third frame was a bit competitive with fortunes and misfortunes coming across both finalists and in the end Amir winning and the finals score becoming 2-1. With this the under pressure Amir regained his expected level which in the fourth frame reached the height of Amir scoring a century break and the game score being tied at 2-2. Fifth and sixth frames were also won by Amir which showed his control by winning four consecutive frames.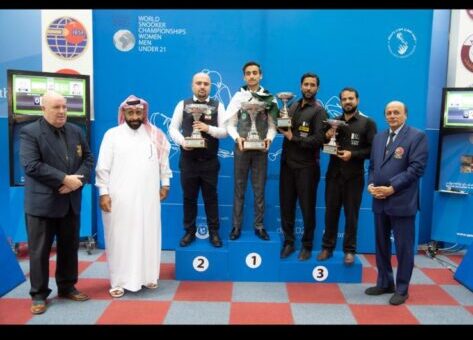 In seventh frame Ahsan pocketed 63 points then with a bit of competition Ahsan regained a breather win to have the score 4-3. The eight frame was also won by Amir to have lead of 5-3. making the winning option rather bleak for Ahsan. Although, his yesterday performance left a light of hope but the only option was for Ahsan to consecutively win the remain three frames.
The ninth and tenth frames were games of nerves with forces safety placements and finally a magical comeback of 16 years old Ahsan's, making the score 5 all (5-5) and leaving the World Champion title a frame away.
In the last deciding frame, although Amir had placed two snookers but availing the opportunities Ahsan edged through using his mind and classic execution of required shots to be crowned as the 2021 Snooker World Champion.
Final Moment Images