2ND ACBS / IBSF Snooker Asian Tour: In China From 28th Oct.
The 2nd championship of the Asian Tour 10 Reds Snooker 2018, will be held from 28th – 31st October 2018 in Jinan, China. The hosting honours are with CBSA – the Chinese Billiards & Snooker Association.
Played in the new popular format, the 1st championship which witnessed the 24 leading players of the world was held in Doha, Qatar. It was won by Muhammad Bilal from Pakistan.
Asian Tour 10 Red Snooker Championship 2018: Pakistan's Muhammad Bilal Wins
The PBSA – Pakistan Billiards & Snooker Association in its press release has announced that the 3 member team which will participate in second stage of the ACBS Asian Tour 2018 will include the following players:
Muhammad Bilal
Haris Tahir
Babar Masih
The 24 player list issued by IBSF of the leading players which have qualified to participate is as follows: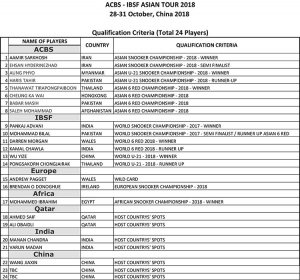 For more updates keep visiting allsportspk