Inter-Tehsil Girls Athletics: TT Singh Athletes Excel
LAHORE: Toba Tek Singh female athletes performed very well in Inter-Tehsil Girls Athletics meet held under the banner of Sports Board Punjab's Annual Sports Calendar events. The competitions of Annual Sports Calendar are being organised across the Punjab province.
The girls from Toba Tek Singh grabbed seven titles out of nine contested on Friday. The remaining two titles went to tehsil Gojra athletes.
Reeha Zainab demonstrated wonderful racing skills and remained triumphant in 100m and 200m events. The titles of 400m and 800m went to Toba Tek Singh's Marryam Zafar and Muqaddas Sajjad respectively. Alishba Jabeen also from TT Singh emerged winner in 100m hurdles and long jump meets. Gojra's Sana Yaqub also clinched titles of discus throw and shot put.
The race 4×100 relay was won by Toba Tek Singh's Muqaddas Sajjad, Marryam Zafar, Minahil Tahir and Amna Maryam.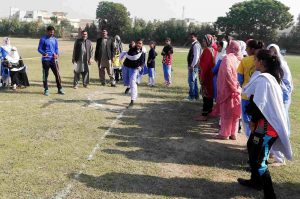 In Faisalabad, Amina, (100m, 400m), Arooj (100m hurdles and 200m), Amna Saeed (800m), Arooj Shahzad (long jump), Khadija Mehreen (discuss throw) and Khadija (shot put) emerged winners in their respective Inter-Tehsil athletics events.
Tehsil Dina emerged winner in the Inter-Tehsil Girls athletics meet. Tehsil Jhelum remained runner-up in the event. Overall 49 girls took part in the competitions. Headmistress Govt Girls Junior Model School Jhelum Madam Shamim Mirza was the chief guest on this occasion.
In Inter-Tehsil cricket tournament, Rawalpindi defeated Murree by 42 runs in the final match on Friday.
Rawalpindi scored 161 runs while playing first in their allotted overs. In reply, Murree cricket team could not cope with fierce bowling of Pindi bowlers and bundled out for 119 runs.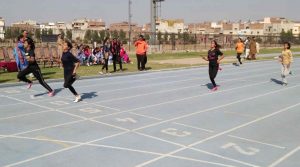 The competitions of Mianwali Inter-Tehsil Athletics meet were held at Mela Sports Stadium, Mianwali. 27 female athletes of three tehsils Mianwali, Isa Khel and Piplan participated in the event. Munazza Javed remained most prolific performer winning 100m, 200m, 800m and long jump titles. Asia Bibi also captured titles of shot put and discus throw. The title of 400m was won by Maria Khan.
27 boys also took part in Mianwali Inter-Tehsil Athletics contest. Khizer Hayat, Saleem Ullah, Attiq ur Rehman, Hameedullah, M Abrar, Tahir Hussain , Shahid Khan won 100m, 200m, 800m, long jump, shot put and discus throw titles.
For updates regularly visit: allsportspk