Master Paints, Diamond Paints and FG Polo recorded triumphs in the Bank Alfalah National Open Polo Championship 2021 matches played at the Lahore Polo Club. 
Remounts Vs Master Paints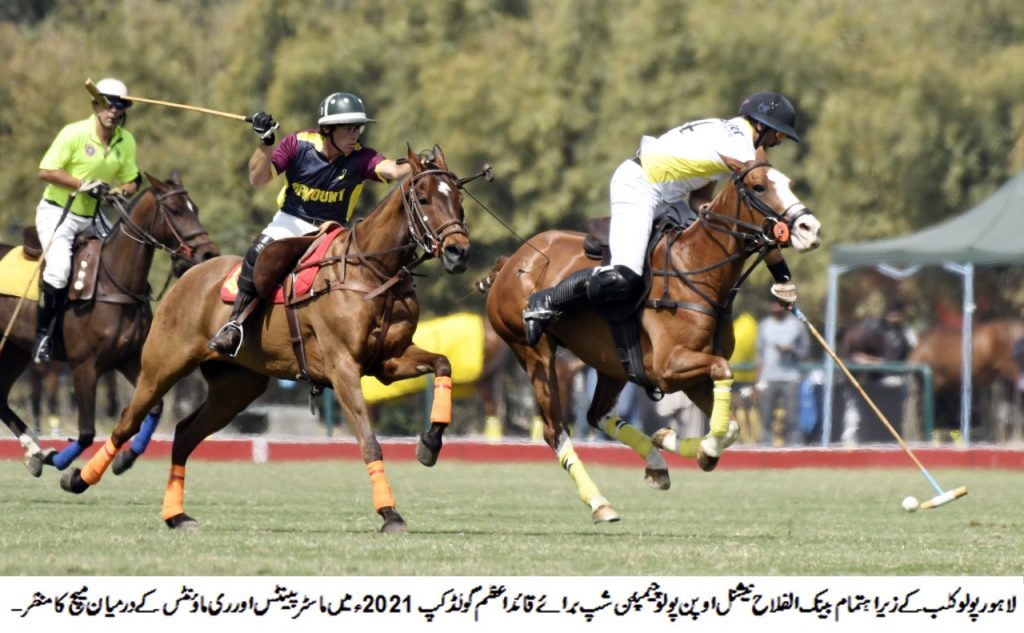 Marcos Panelo excelled in Master Paints' narrow 7-6 triumph over Remounts. Panelo was star of the day for Master Paints with fabulous four goals while Juan Cruz Losada banged in a brace and Farooq Amin Sufi struck one. For Remounts, Ignacio Negri cracked a quartet while Imran Shahid and Vieri Antinori scored one goal apiece. Remounts started the match well and banged in a brace to have 2-0 lead. Master Paints opened their account with a field goal to make it 2-1. The second chukker was identical to the first one as once again Remounts converted a brace against one goal by Master Paints to gain 4-2 lead.
Remounts added one more goal in their tally in the beginning of third chukker to stretch their lead to 5-2 while Master Paints made a good comeback by thrashing in two back-to-back goals to reduce the margin to 5-4. Remounts continued their habit of scoring the opening goal of the chukker by firing in a field goal to enhance their lead to 6-4 while Master Paints smashed in two back-to-back goals to level the score at 6-6. In the fifth and last chukker, the only and decisive goal was converted by Marcos Panelo to steer Master Paints to a close 7-6 win.
Diamond Paints Vs Barry's
The great team work helped Diamond Paints defeat Barry's by 6-4 in the first match of the day. All the players contributed equally and guided Diamond Paints to a dazzling win. Raul Laplacette, Ramiro Zaveletta and Mir Huzaifa Ahmed slammed in a brace each for Diamond Paints while for Barry's, Ernesto Trotz converted all the four goals. 
Both Diamond Paints and Barry's were off to flying start in the second match of the day as they thrashed in two goals each to finish the first chukker at 2-all. Diamond Paints played better polo in the second chukker and struck a brace against one by Barry's to to have a slight lead of 4-3. The third chukker was fully dominated by Diamond Paints by scoring another brace to earn a healthy 6-3 lead. No goal was scored in the fourth chukker while the only goal of the fifth and last chukker was converted by Ernesto Trotz, thus Diamond Paints won the match by 6-4.
FG Polo Vs team Risala
The third encounter of the day also proved to be a thrilling one, where after a tough fight, FG Polo managed to beat team Risala by a close margin of 7-6. For FG Polo, Francisco Bensadon smashed in superb six goals while Jamie Le Hardy scored one goal.
For team Risala, Dylan Rossiter hammered four goals while Abdul Rahman Monnoo and Pedro struck one goal each.FG Polo made a good start in the third encounter of the day by banging in a brace to take 2-0 lead. They added one more in their tally in the beginning of second chukker to enhance their lead to 3-0. Risala bounced back well by hammering a hat-trick to level the score at 3-3. The third and fourth chukkers were dominated by FG Polo by scoring a brace each to gain 7-3 lead while Risala slammed in three goals in the fifth and last chukker to make it 7-6, thus lost the encounter by just one goal margin.
لاہور (سپورٹس رپورٹر) لاہور پولو کلب کے زیراہتمام بینک الفلاح نیشنل اوپن پولو چیمپئن شپ برائے قائداعظم گولڈ کپ 2021ء میں تین اہم میچز ہوئے جن میں ماسٹر پینٹس، ڈائمنڈ پینٹس اور ایف جی پولو کی ٹیمیں فاتح رہیں۔ کرونا ایس او پیز کے تحت ہونے والی ان گیمز کو دیکھنے کیلئے ممبرز اور ان کی فیملیز آئیں جنہوں نے سوشل فاصلے کے تحت میچز دیکھے۔ اس موقع پر لاہور پولو کلب کے صدر عمر صادق، ایگزیکٹو کمیٹی ممبران آغا مرتضیٰ علی خان، شاہ قبلائی عالم، آغا، فیروز گلزار، عثمان حئی، نجیب رضا، ثاقب خان خاکوانی اور سیکرٹری لیفٹیننٹ کرنل (ر) مدثر شریف اور دیگر بھی موجود تھے۔ پہلے میچ میں ماسٹرپینٹس نے ری ماؤنٹس کو 7-6 سے ہرا دیا۔ ماسٹر پینٹس کی طرف سے مارکوس پنیلو نے چار، جان کروز لوساڈا نے دوجبکہ فاروق امین صوفی نے ایک گول سکور کیا جبکہ ری ماؤنٹس کی طرف سے اگناسیو نیگری نے 4، عمران شاہد اور ویری انٹونیو نے ایک ایک گول سکور کیا۔دوسرے میچ میں ڈائمنڈ پینٹس نے باڑیزکو 6-4 سے ہرا دیا۔ ڈائمنڈ پینٹس کی طرف سے راہول لیپ سیٹے،رومیروزیولیٹا اور میر حذیفہ احمد نے دودو گول سکور کیے جبکہ باڑیز کی طرف سے چاروں گول ارینسٹو ٹروٹز نے کیے۔ تیسرے اور آخری میچ میں انتہائی دلچسپ مقابلے کے بعد ٹیم ایف جی پولو نے ٹیم رسالہ کو 7-6 سے ہرا دیا۔ ایف جی پولو کی طرف سے فرانسسکو بنساڈون نے چھ جبکہ جمی لی ہارڈی نے ایک گول سکور کیا۔ رسالہ کی طرف سے ڈیلن روسیٹر نے چار، عبدالرحمان منوں اور پیڈرو نے ایک ایک گول سکور کیا۔