The BWF-Badminton World Federation, Pakistan Badminton Federation, Sindh Badminton Association and Alpha College jointly launched the new outdoor game – Air Badminton in Pakistan.
The official inauguration event of Air Badminton Shuttle in Pakistan will in Alpha College on Sunday, 14 March 5:00 pm .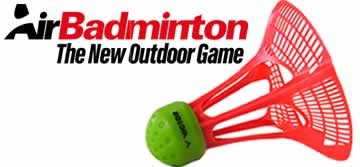 What is Air Badminton? It is simply outdoor badminton which is played with normal badminton rackets, however, newly designed shuttlecock. The new shuttlecock designed for outdoors has been developed in a manner which makes provide more stability and wind resistance. It also boasts increased durability. The end result is a vastly improved experience when playing badminton outdoors.
Air Badminton objective is to create options for people of all ages and abilities to play badminton on hard, grass and sand surfaces in streets, parks, gardens, playgrounds, and sandy beaches. And also stressing the health and social benefits from playing badminton either in indoor or outdoor form.