30th National Women Hockey Championships '18: WAPDA Retains Title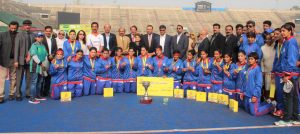 LAHORE: WAPDA, the long standing national champions, retained the title at the 30th National Women Hockey Championships beating Punjab Colours 4-0 in the final at the National Hockey Stadium, Lahore.
Comprising almost entirely of internationals, WAPDA were the favourites having won all their matches with ease including a 5-0 victory over Punjab Colours in the pool game.
However, it was the Punjab side which made the early inroads and had a couple of chances in the early minutes. The defending champions settled down and from their first penalty corner, Pakistan's ace PC expert Ishrat Abbas sounded the board with her trademark angular flat hit. Later in the first quarter both the sides wasted a PC each.
The second quarter saw almost complete domination of WAPDA and the ball mostly remained in the opponents' half. No less than six chances were squandered by them. Punjab net minder Tahira, later declared tournament's best goalkeeper, shone under the bar.
Half Time: 1-0
Just after the change of the sides, the goal which was coming for a long time finally arrived. Sana Allahditta putting it in from a very close range.
After conceding the second goal, Punjab enjoyed a good spell earning two penalty corners but the proper execution was missing.
In the dying minutes of the third quarter, little Sana Allahditta scored twice to complete her hat trick. First she pounced upon a PC rebound and soon after capped a move from right. Last quarter was the most evenly contested. Both the sides had chances, open play and PCs.
Men's Hockey World Cup 2018: Scheduled Matches & Points Table (3.12.18)
But it ended 4-0 for WAPDA.
It was a creditable performance from the Punjab Colours; the only provincial side to qualify for the semis. Almost all their player came from the Rukhsana Arshad Women Hockey Academy.
Earlier, the playoff for the third position saw an exciting game between Army and HEC. Army won 3-2 HEC twice came from behind to equalise but couldn't neutralise army's third goal.
Chief guest Air Vice Marshal Irfan Ahmed, Officer Commanding Central Air Command, put gold medals around the winning team's necks. DG Sports Board Punjab, Nadeem Sarwar presented silver medals to Punjab Colours. Secretary PHF, Shahbaz Ahmad gave bronze medals to Army.
Player of Tournament: Hammra Latif (WAPDA)
Goal Keeper of Tournament: Tahira Islam (Punjab)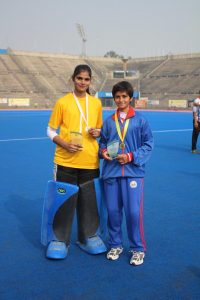 WAPDA received a cash prize of Rs 50,000 from the sponsors while Punjab Colours got richer by Rs 25,000. DG Sports Board Punjab gave Rs 50,000 to the Punjab side and Rs 25,000 to WAPDA.
Chief guest AVM Irfan Ahmed announced Rs 50,000 for the winners and Rs 25,000 each for the runners up and the third placed army.
Results:
Final: WAPDA beat Punjab Colours 4-0
3rd Position: Army beat HEC 3-2
For more updates keep visiting allsportspk