Nayza All-Pakistan National Tennis C'ship 2017: Aqeel & Ushna win the single Titles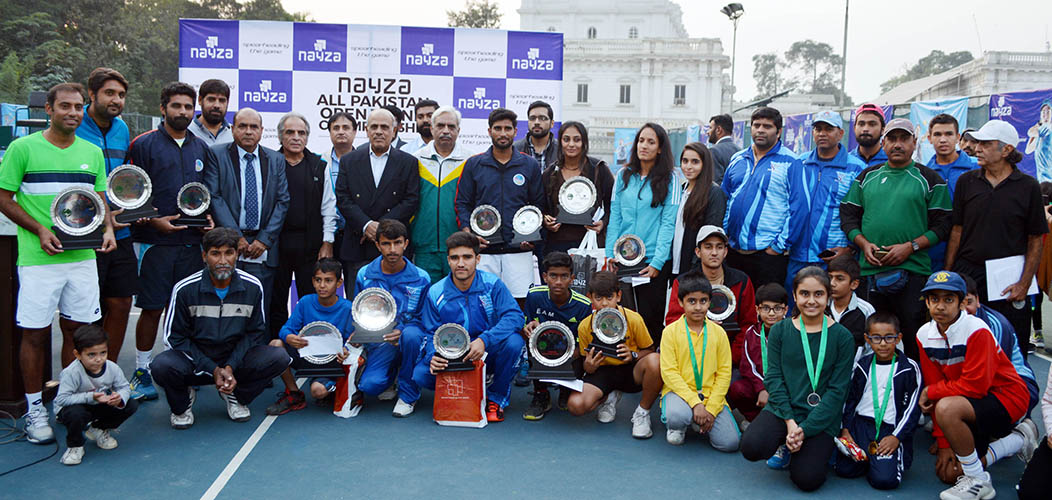 LAHORE: Double delight for Pakistan's longest serving No 1 player Aqeel Khan as he won men's singles and doubles titles while international ladies player Ushna Suhail scored double hat-trick of national titles of the year 2017 in the Nayza All-Pakistan National Tennis Championship 2017 here at the PLTA tennis courts on Sunday.
In the men's singles final, Aqeel Khan outlasted M. Abid by 6-4, 6-2. Both the players gave worthy tennis for the spectators to watch. The match included display of superb tennis skills and competitive tennis on part of  both the players . But it was veteran Aqeel Khan's wide experience which helped him down the youngster Abid to win the title. Aqeel faced tough resistance from Abid in the first set to take it 6-4 but in the second set, he played aggressive game and did not allow his opponent to take control  and won the set 6-2, thus adding yet another crown to his tally of achievements.
In the ladies singles final, second seed Ushna of ZTBL proved too over powering for top seed Sara Mansoor and routed her by 6-1, 6-4. With this title victory, Ushna claimed sixth consecutive title of the year while she has also the honour of earning world ranking points. Ushna showed her dominance right from the start and took the first set 6-1 with utmost ease. Although she faced some resistance in the second set where she conceded 4 four points yet she won it 6-4 to claim the sixth national title.
In the men's doubles final, the pair of Aqeel Khan and Shahzad Khan edged past the pair of M. Abid and Usman Rafiq 6-0, 6-4 to clinch the title.
The Under-18 boys' singles title was won by M Shoaib who toppled M. Umar of SNGPL 6-3, 6-3.
The Under-14 boys' singles title went to Asheesh Kumar who beat Farman Shakeel 6-4, 4-6, 6-3
While Hamza Ruman clinched the Under-10 title by beating Hamayun Ehtesham by 6-4.
For updates regularly visit: allsportspk