Pakistan 2019 – Winter Sports: Schools Inaugurated At Chitral & Swat Valley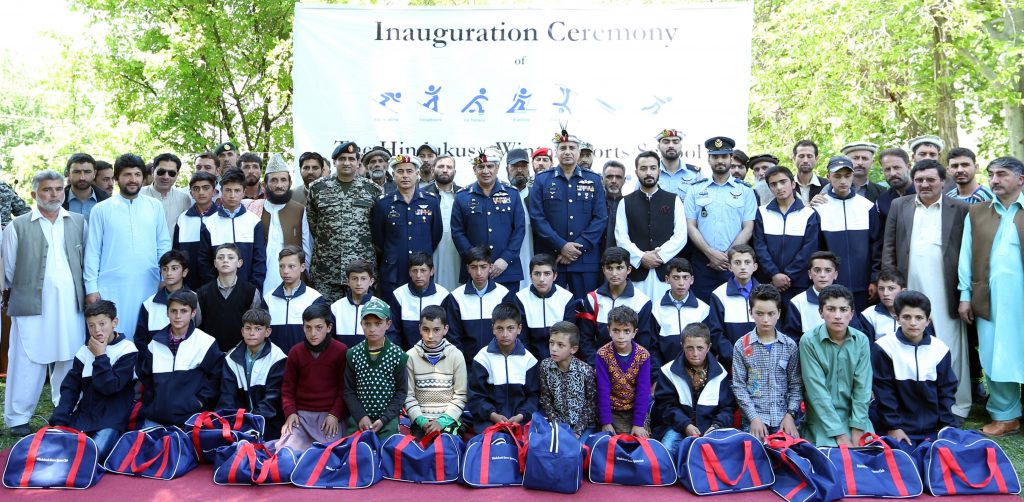 ISLAMABAD: To improve the talent of local athletes, Winter Sports Federation Pakistan inaugurated two winter sports training schools at Madaklasht, Chitral and Malam Jabba, Swat.
A similar school was also inaugurated at Arungkel (AJK) by WSFP on 14 April, 2019, thus making a total five winter sports schools in northern parts of Pakistan. These schools have been established to promote ice and snow sports in the country.
Air Marshal Aasim Zaheer – Vice Chief of the Air Staff, who is also President Winter Sports Federation of Pakistan was the chief guest at the ceremonies.

Addressing at the occasion, President WSFP said that these schools would provide an opportunity to the local promising athletes to train in different disciplines like alpine skiing, snowboarding, ice skating and ice hockey. He added that WSFP would initially build makeshift infrastructures for these schools which would be funded by the Federation. He further said that Madklasht (Chitral) and Arungkel (AJK) would be developed as proper ski resorts, on the pattern of Naltar. Expanded that WSFP would hire foreign coaches to polish the skills of athletes in different disciplines of winter sports and hoped that these schools would one day produce athletes of national and international repute.
ونٹرا سپورٹس فیڈریشن آف پاکستان نے چترال ا ور سوات میں سرمائی کھیلوں کے اسکولز کا افتتاح کیا۔

اسلام آباد 23 اپریل،2019: مقامی نوجوانوں کی صلاحیتوں کو نکھارنے کے لئے ونٹرا سپورٹس فیڈریشن آف پاکستان نے مڈاک لشٹ (چترال) اور مالم جبہ (سوات) میں سرمائی کھیلوں کے دو تربیتی ا سکولز کا افتتاح کیا ۔ ائیر مارشل عاصم ظہیر، وائس چیف آف دی ائیر سٹاف، جوکہ صدر ونٹرا سپورٹس فیڈریشن آف پاکستان بھی ہیں،ان تقاریب کے مہمانِ خصوصی تھے۔

اس موقع پر خطاب کرتے ہوئے صدر ونٹرا سپورٹس فیڈریشن آف پاکستان نے کہا کہ یہ سکول با صلاحیت مقامی نوجوانوں کو الپائن اسکیینگ ، سنو بورڈنگ ، آئس سکیٹینگ اور آئس ہاکی جیسے مختلف کھیلوں کی تربیت فراہم کریں گے۔ انہوں نے مزید کہا کہ ونٹرا سپورٹس فیڈریشن آف پاکستان شروع میں ان اسکولز کے لئے عارضی بنیادوں پر انفراسٹرکچر فراہم کرے گی جس کے لئے تمام فنڈنگ فیڈریشن خود مہیا کرے گی۔ انہوں نے کہا کہ مڈاک لشٹ (چترال) اور اڑنگ کیل (آزاد کشمیر) کو نلتر اسکی ریزورٹ کی طرز پر تعمیر کیا جائے گا۔ انہوں نے مزید کہا کہ فیڈریشن ان نوجوانوں کی صلاحیتوں میں اضافے کے لئے غیر ملکی کوچز کی بھی خدمات بھی حاصل کرے گی ۔ انہوں نے امید ظاہر کی کہ ان اسکولوں سے تربیت یافتہ کھلاڑی جلد ملکی اور بین الاقوامی سطح پر ملک کا نام روشن کریں گے ۔

ونٹرا سپورٹس فیڈریشن آ ف پاکستا ن نے پچھلے ماہ اڑنگ کیل (آزاد کشمیر) میں بھی ایک تربیتی اسکول کا افتتاح کیا ہے جس سے ملک کے شمالی علاقوں میں قائم کردہ سرمائی کھیلوں کے اسکولز کی تعداد پانچ ہو گئی ہے۔پاکستان کے شمالی علاقہ جات میں ان سرمائی کھیلوں کے اسکولوں کے قیام سے نہ صرف ان برف پوش پہاڑوں پر سرمائی کھیلوں کے موا قع پیدا ہونگے بلکہ ملکی سیاحت کو بھی مزید فروغ ملے گا۔
For more updates keep visiting allsportspk