The National Games Golf Event 2023 came to a celebrated conclusion after four rounds of strikingly impressive golfing encounters between top golf amateurs of the country at Quetta Golf Club Golf Course.
The ultimate winners of the Team Gold Medal were the Army Team whose playing members were Noman Ilyas, Shahzaib Jahan, M. Arsalan, and M. Shoaib. Their untiring preparations for this national event paid off and they maintained a dominance on all four days of the competition flow. And all accolades to their effort as they were up against a very accomplished WAPDA Team comprising of sturdy and energetic players – Salman Jehangir, Hussain Hamid, Noman Asghar and Danish Javed.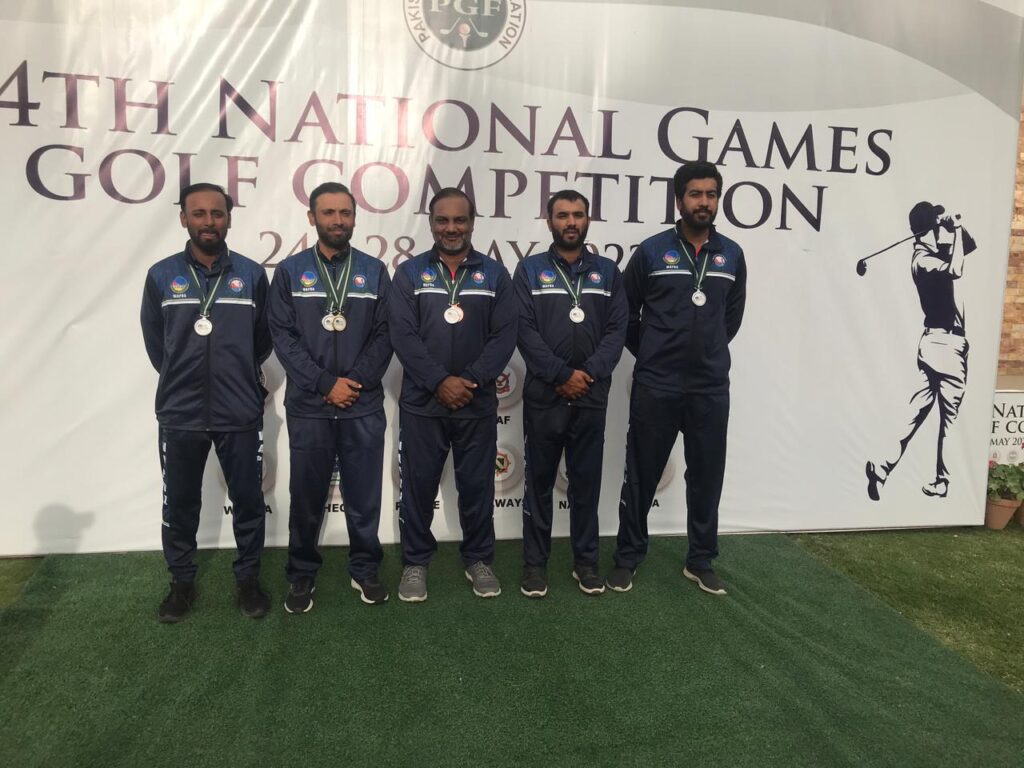 In the overall reckoning, Army Team won the illustrious gold medal by compiling a team score of 867 over four rounds and in golfing terms 72 holes. As against this WAPDA Team had to be content with the silver medal with a team aggregate score of 876 and they lost to Army by nine strokes and managed to reduce the 13-stroke advantage that the Army enjoyed at the start of the final round.
The bronze medal-winning Team was Pakistan Air Force and their performing team members were Usama Nadeem, Muslim Abbas, Danial Jehangir, and Damil Ataullah. The team score was 901. For PAF their team members put up a commendatory effort.
Individual Play
And the valiant one in the Individual Gold Medal race was Salman Jehangir, a merited player of the national golf circuit. Up against competent and masterly rivals, he managed to ensure success for himself through the application of golfing technique, powerful hitting, accurate shot-making from the fairways, and most important of all, nerve free putting on the greens. His final round score of gross 69 was a remarkable effort and enabled him to assure himself an esteemed gold medal. His scores for the championship were 76, 69, 71 and 69 and his aggregate score was 285.
The silver medal winner was M. Arsalan, a young one whose father M. Sultan was a prominent golf player and raised Arsalan to become a top-of-the-line golf performer. M. Arsalan had four rounds scores of 70, 76, 72 and 71 and his aggregate this championship was 289 and he lost to the gold medal winner by four strokes.
The bronze medal winner was Shahzaib Jahan who impressed all through the four days with his relentless effort. His four rounds scores were 74,71,71 and 74 and the Championship aggregate was 290.
Other notable performers were Noman Ilyas 293, Asif Khan 294, Hussain Hamid 295, Shahzaib Khan 297, Damil Ataullah 298, Ahmad Zafar Hayat 299, and Irtiza Hussain 301.
Lady's Play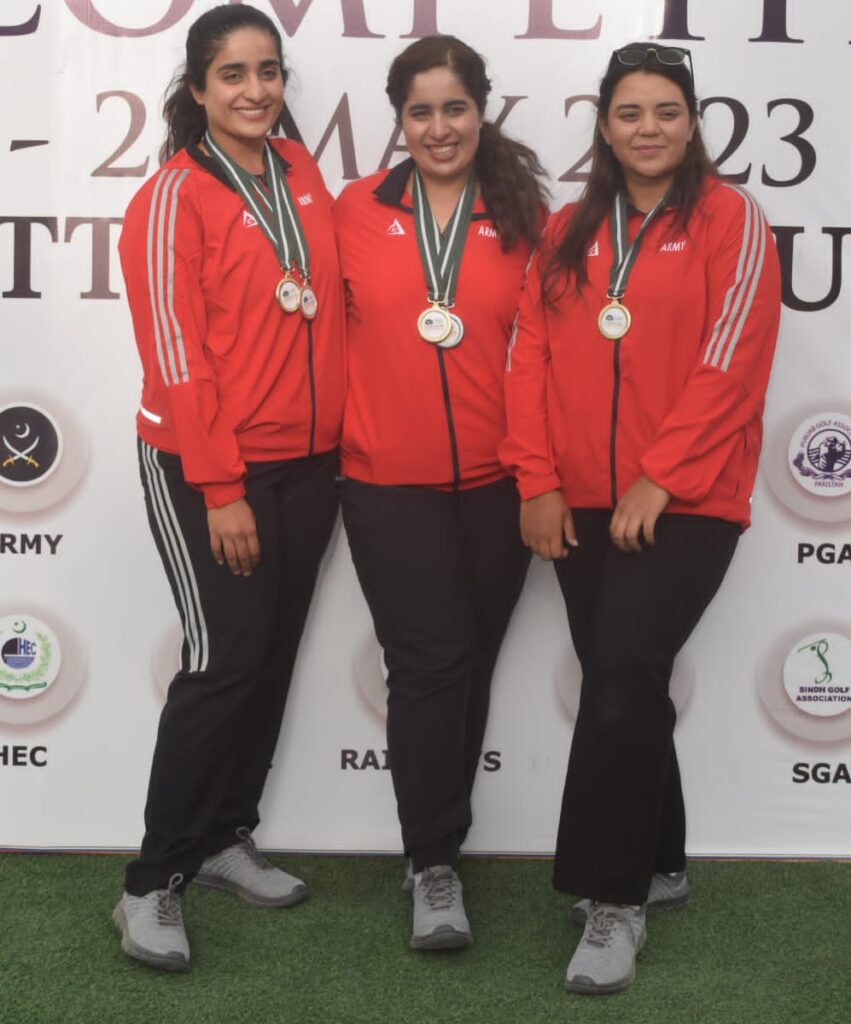 The ascendancy of the Army Team in the Lady's Section was spearheaded by the wonder girls Parkha Ijaz, Rimsha Ijaz, and Ania Farooq Syed. They combined well to become the proud winners of the National Games 2023 Gold Medal. Army Team compiled a winning aggregate team score of 450 and beat the silver medal-winning Pakistan Air Force Team by seven strokes. PAF Team of Hamna Amjad, Suneya Osama, and Dania Aziz put up a strenuous effort but could only succeed in securing the silver medal which is an honour by itself. The Bronze winning Lady's Team was WAPDA and the team members were Ana James Gill, Zaib un Nisa, and Ghazala Yasmin. The team score was 502.
In the Lady's Individual race, Parkha Ijaz and Rimsha Ijaz remained strikingly noteworthy on all days of the championship. Hitting off the tees was precise and faultless and absolutely error free was the approach shots to the green. Ultimately Parkha Ijaz emerged as the gold medal winner while her sister took home the silver medal. In this way, this Ijaz Family takes home the Team Gold Medal, the Individual Gold, and the Individual Silver. This is a compliment to their father and mother who have devoted time and resources to raise such girls of exceptional ability and talent.
Pakistan-34th National Games Golf 2023: Day 3 | Army Team Dominates; Final Winners A Day Away
The fight for top honors in the Team Event of the 2023 National Games Golf enters the final phase on Sunday at the Quetta Golf Club Golf Course.
Team Play
The Team Event Champions appear to be the Army Team comprising of M.Arsalan, Noman Ilyas, Shahzaib Jahan, and M. Shoaib. This combination has adhered to the basics, combined dexterously, and played unfaltering golf to attain a status that places them way ahead of their very strong adversaries, the WAPDA Team. After three rounds Army Team is placed at a team aggregate score of 646 while WAPDA Team is at a team aggregate score of 659. That means, going into the final competitive round on Sunday, Army has a lead of thirteen strokes over WAPDA. And WAPDA team comprises players like Salman Jehangir, considered the mighty one of the national golf scene, Hussain Hamid the most talented one, Nouman Asghar,a very hard-working one and the young Danish Javed who impressed all by playing a round of 72 on the third day on Saturday. If WAPDA players can come up with excellence in the final eighteen holes, it will be a show of resoluteness and undaunted single-mindedness.
Placed in third position is the Pakistan Air Force Team at a three rounds team aggregate score of 675 their team members are Usama Nadeem, Muslim Abbas, Daniyal Jehangir, and the youngest one Damil Ataullah who played a memorable round of gross 69 on Saturday. Police Team is at 683 and Punjab at 696, Pakistan Navy at 714, and Balochistan at 725.
Individual Play
Individuals' race for top positions is frightening as Shahzaib Jahan and Salman Jehangir are bracketed at a score of 216. Nouman Ilyas is at 217, while Hussain Hamid and M.Arsalan are at 218. A little behind at 222 is Irtiza Hussain and Asif Khan is at 223.
Ladies Play
In the Lady's Category, the Army Team takes over the top position from Pakistan Air Force. For Army Parkha Ijaz and Rimsha Ijaz showed good application of skills to edge past PAF Team. Now Army Ladies Team is placed at a score of 303 and Air Force Team consisting of Humna Amjad and Suneya Osama at 308. Placed third is the WAPDA Team at 335. Team members of WAPDA are Ana James Gill and Zaib un Nisa.
Ladies standings in Individual Category are Parkha Ijaz at 151, Rimsha Ijaz at 152, Humna Amjad at 153, Suneya Osama at 155, and Ania Farooq at 159.
The final round takes place at Quetta Golf Course on Sunday.