The 8th Virtual Scrabble Tournament title was claimed by Muhammad Nafay Mansoori. who emerged victorious after winning all 3 games.
With this Muhammad Nafay Mansoori joins the winners list of PVST – Pakistan Virtual Scrabble Tournament played every Sunday.
1st PVST Shahzaib Khatri – 2nd PVST Hamza Naeem – 3rd & 4th PVST'sHassan Bin – 5th PVST Aehzam Ahmed – 6th PVST Huzaifa Faisal – 7th PVST Minhaj Ahmed – 8th PVST Muhammad Nafay Mansoori.
Ali Jawwad and Ali Salman won the second and third positions. The complete ranking list of the 8th Online event is published below.
The selected game board images have been reproduced below the result cum ranking sheet. The purpose is for viewers to have an idea of the quality of play especially the vocabulary and word power of players who are in their teens or early twenties. Including the artistry with which the letters and words are placed.
The 8th tournament was tabulated and managed by the current Junior World Champion Syed Imaad Ali and Wali Muhammad Khubaib who is a scrabble player and Director Technical at PSA.
Organized by PSA, Cinepax and Allsportspk, as per set criteria the tournament winners and participants will receive the Cinepax Loyalty Card and Starplay Free subscription alongwith exclusive Allsportspk coverage.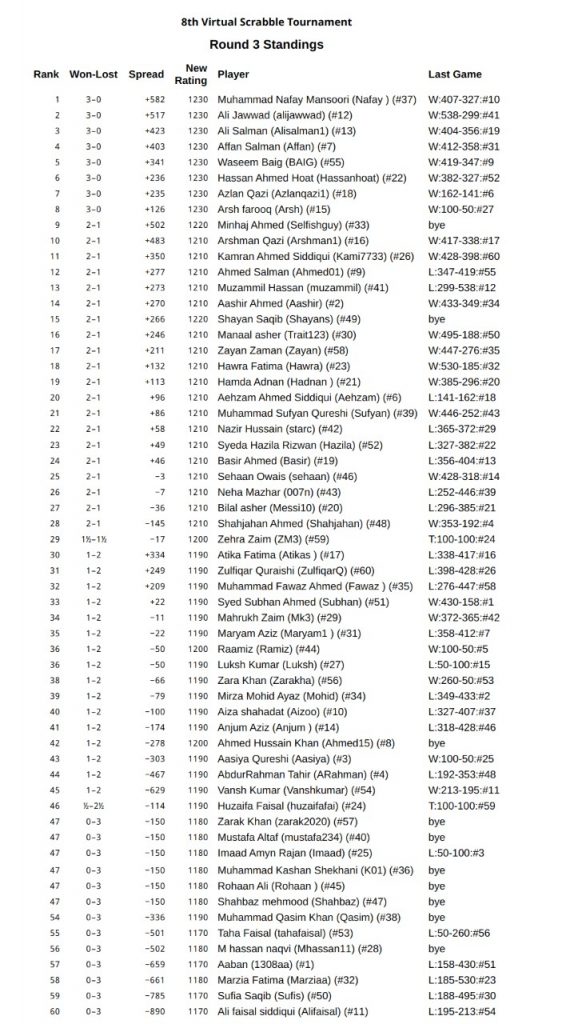 Selected Board Images of The 8th Pakistan Virtual Scrabble Tournament
Board of Round 2 Game Between Aiza Shahadat vs Nafay Mansoori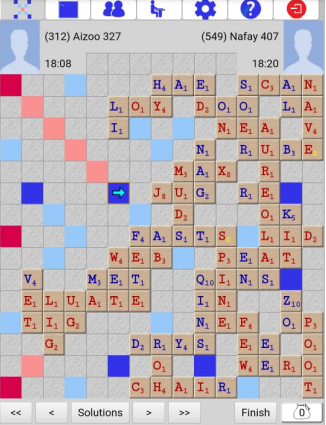 Board of Round 2 Game Between Asher vs Anjum Aziz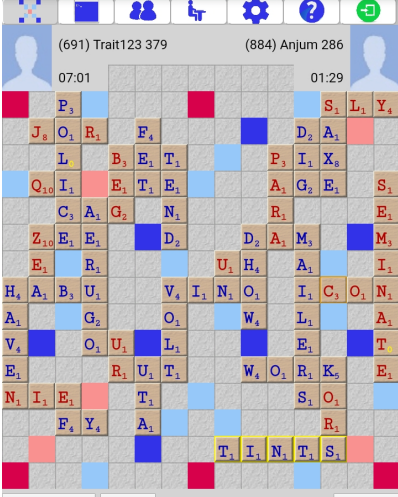 Board of Round 3 Game Between Qureshi vs Kamran Ahmed Siddiqui