Pakistan Snow Sports Festival '19 – Neelam Valley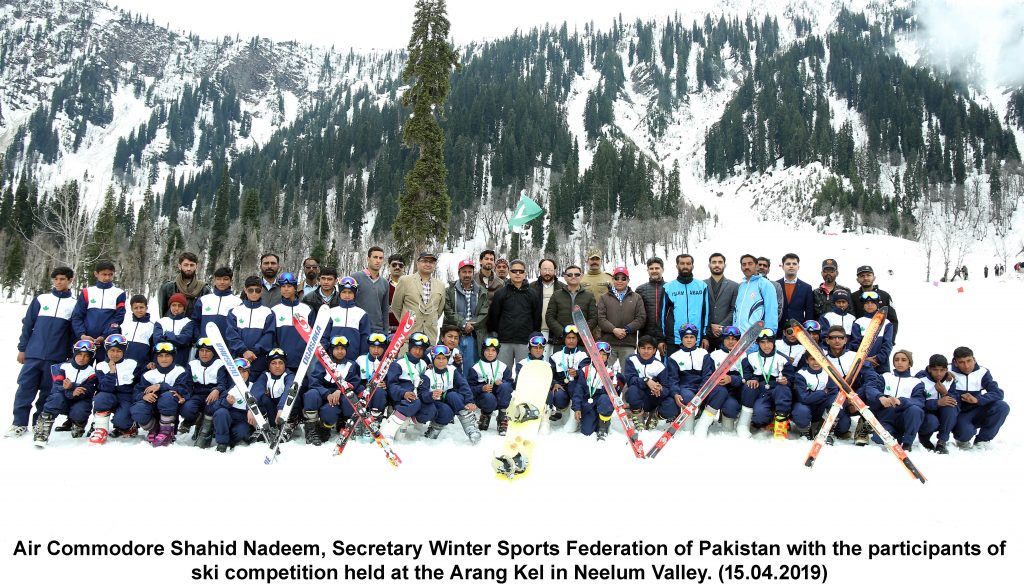 ISLAMABAD:WSFP – Winter Sports Federation of Pakistan in a press release stated that skiers from all over the country participated in the winter sports competitions during the Snow Sports Festival held at the enchanting Arang Kel in Neelum Valley.
Elaborating the WSFP spokesman informed that Athletes of under 10, under 14 and under 16 years of age participated in Ski Competitions during the festival. Apart from Ski competitions the budding athletes also participated in snowboarding and ice skating events. A training camp for local youth was also organized by Azad Jammu & Kashmir Winter Sports Associations with the help of Winter Sports Federation of Pakistan (WSFP). WSFP not only provided technical support but also the equipment for these sports.
Air Commodore Shahid Nadeem, Secretary Winter Sports Federation of Pakistan was the Chief Guest at this occasion. Brigade Commander Kel and President AJK Winter Sports Association were also present at the occasion.
The Chief Guest, while addressing the ceremony, said that three athletes from Kashmir had participated in Sadia Khan Ski Cup held at Naltar in December, 2018, who performed very well despite having limited facilities available. He further said that WSFP was searching for more ski slopes in the snow covered peaks of Kashmir and KP to widen the spectrum of winter sports in the country. He added that to harness the potential of young players of this area the first youth ski training camp was also held in this valley earlier this month.
وادی نیلم میں اسکیئرز کو ایک نئی جنت مل گئی
اسلام آباد15 اپریل،2019: ملک بھرسے ا سکیئرزنے اڑنگ کیل، وادی نیلم کی پُر فریب فضاؤں میں منعقدہ سرمائی کھیلوں کے اسنواسپورٹس فیسٹیول میں شرکت کی ۔ ائیر کموڈور شاہد ندیم ، سیکریٹری ونٹرا سپورٹس فیڈریشن آف پاکستان اس موقع پر مہمانِ خصوصی تھے۔ بریگیڈ کمانڈر کیل اورصدر آزاد جموں کشمیر ونٹرا سپورٹس ایسوسی ایشن بھی اس موقع پر موجود تھے۔
اس فیسٹیول میں کھلاڑیوں نے ا سکی مقابلوں کی انڈر 10، انڈر14اور انڈر 16 کیٹیگریز میں حصہ لیا۔ اسکی مقابلوں کے علاوہ نوجوان کھلاڑیوں نے اسنو بورڈنگ اور آئس سکیٹنگ کے مقابلوں میں بھی شرکت کی۔آزاد جموں کشمیر ونٹرا سپورٹس ایسوسی ایشن نے ونٹر اسپورٹس فیڈریشن آف پاکستان کی مدد سے مقامی نوجوانوں کے لئے ایک تربیتی کیمپ کا بھی انعقاد کیا ۔ ونٹر اسپورٹس فیڈریشن آف پاکستان نے نہ صرف ان کو تکنیکی معاونت فراہم کی بلکہ ان کھیلوں کا سامان بھی مہیا کیا۔
اس تقریب سے خطاب کرتے ہوئے مہمانِ خصوصی نے کہا کہ دسمبر 2018میں نلتر کے مقام پر کھیلے جانے والے سعدیہ خان کپ میں کشمیر سے تین کھلاڑیوں نے شرکت کی اور بہترین کارکردگی کا مظاہرہ کیا۔ انہوں نے مزید کہا کہ ونٹرا سپورٹس فیڈریشن آف پاکستان ملک میں سرمائی کھیلوں کے دائرہ کار کو بڑھانے کے لئے کشمیر اور خیبر پختونخواہ کی برف پوش پہاڑیوں پرنئی اسکی سلوپس تلاش کر رہی ہے ۔ انہوں نے کہا کہ اس خطے کے نوجوان کھلاڑیوں کی صلاحیتوں کو مزید اجاگر کرنے کیلئے رواں ماہ اس وادی میں ایک تربیتی کیمپ کا انعقادبھی کیا گیا تھا۔
For more updates keep visiting allsportspk