After the opening ceremony held on the 27th January, the rowers were set to compete, marking the official beginning of the most anticipated rowing event – The Annual International Inter School Regatta of 2023 in Karachi Boat Club. The Regatta began with the Indoor events were held, with the Outdoor races to claim the Ikram Cup, scheduled on Friday, 3rd February also at Karachi Boat Club.
With almost 500 athletes competing across 34 events, including the Sri Lankan team the day was full of enthusiasm and excitement. In the 34 races, records of 06 races were broken. Records were broken by not just the local schools, but two records were broken by the Asian International School rowers visiting from Sri Lanka.
A total of 102 medals were distributed to the top three winners of every race by the guest of honours: Mr. Herman Hardynata Ahmad, the Consul General Of Malaysia, and Mr. Alexis Chahtahtinsky, the Consul General Of France.
Indoor Events Results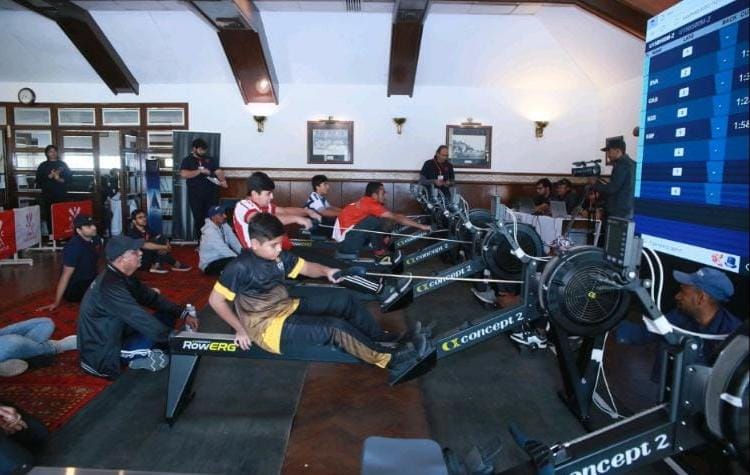 Event: Under 21 Boys 1 x 5000m
1st Position
The C.A.S. School
18:50:5
Ensi Qiao
2nd Position
Cedar College
19:43:4
Hayrbiyar
Rehmatullah Baloch
3rd Position
Nixor College
20:19:2
Haadi Butt
Event: Under 21 Girls 1 x 5000m
1st Position
Cedar College
23:01:5
Noon Amin
Muhammad
2nd Position
The Lyceum
23:33:3
Sara Saleem Khan
3rd Position
Karachi Grammar School
23:55:0
Zara Rizwan
Event: Under 18 Boys 1 x 500m
1st Position
Cedar College
01:28:7
Amir Sherbaz Khan Niazi
2nd Position
The C.A.S. School
01:30:2
Shahzain Habib
3rd Position
Karachi Grammar School
01:33:3
Hamza Minhaj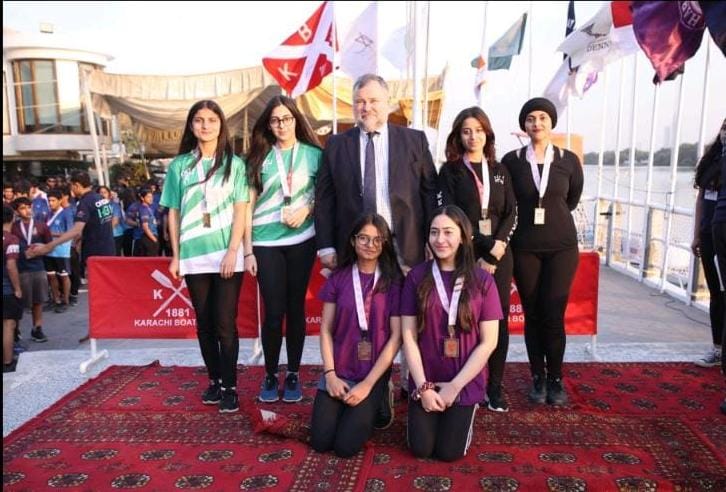 Event: Under 18 Girls 1 x 500m
1st Position
Karachi Convent Girls
01:45:8
Iman Shaikh
2nd Position
St. Michael's Convent School
01:49:3
Sakina Hatim Ali
3rd Position
Bay View Academy
01:50:1
Anaya Asif Gigi
Event: Under 21 Boys 1 x 500m
1st Position
The Lyceum
01:23:5
Hamza Jilani
2nd Position
Nixor College
01:23:9
Rayyan Malik
3rd Position
Karachi Grammar School
01:27:0
Muhammad Shamveel Butt
Event: Under 21 Girls 1 x 500m
1st Position
Nixor College
01:48:3
Aiesha Ather Iqbal
2nd Position
The Lyceum
01:49:0
Maryam Irfan Shaikh
3rd Position
Cedar College
01:51:1
Ilsa Asim
Event: Under 15 Boys 1 x 500m
1st Position
Froebels Education Centre
01:45:0
Muhammad Ali Qureshi
2nd Position
The C.A.S. School
01:45:1
Zurain Tahir
3rd Position
Ghulaman e Abbas
01:46:9
Noman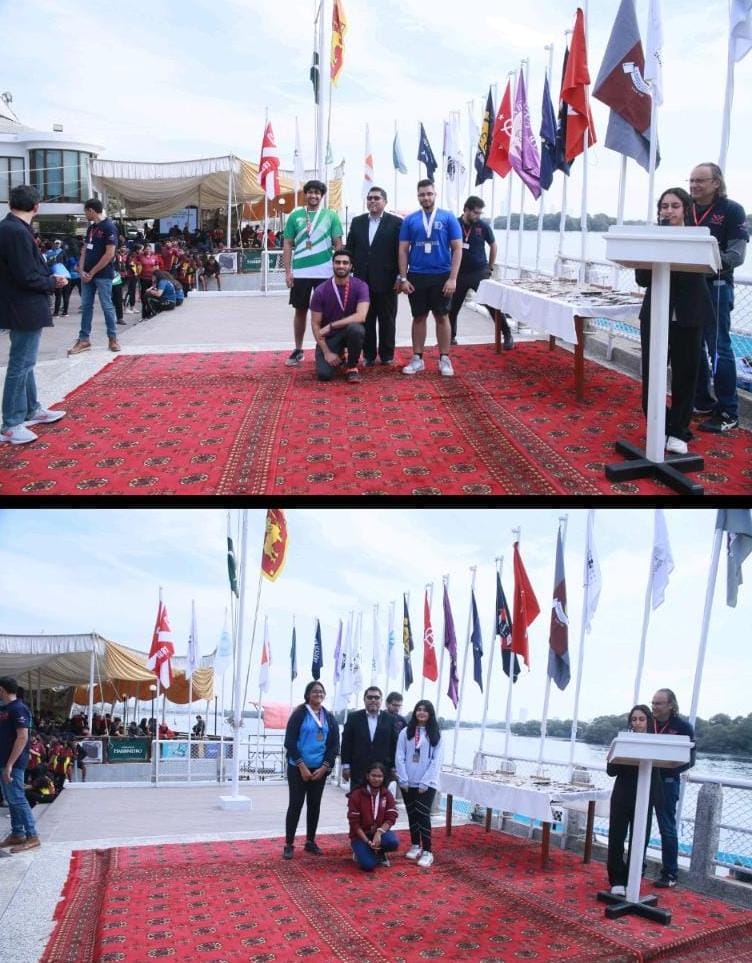 Event: Under 15 Girls 1 x 500m
1st Position
The C.A.S. School
01:52:3
Aysha Razvi
2nd Position
Bay View Academy
01:54:3
Rania Anjum
3rd Position
Karachi Grammar School
01:58:8
Amelle Jeeva
Event: Under 25 Boys 1 x 500m
1st Position
Aga Khan University
01:32:0
Basil Rehman
2nd Position
Denning Law School
01:37:2
Hunain Shoukat
3rd Position
Habib University
01:40:9
Fasih Uddin Khan
Event: Under 25 Girls 1 x 500m
1st Position
Habib University
01:41:8
Maira Khan
2nd Position
Aga Khan University
01:59:9
Anita
3rd Position
Denning Law School
02:03:0
Shanzay Sheikh Fahimuddin
Event: Under 18 Boys 1 x 2000m
1st Position
Asian International School
06:59:7
Shaylon Shayan
Ambrose Gunaratna
2nd Position
Karachi Grammar School
07:09:9
Emad Salman Beg
3rd Position
The C.A.S. School
07:27:9
Saif Malik
Event: Under 18 Girls 1 x 2000m
1st Position – New Record
Asian International School
08:05:6
Rovinya Mayanthi Wijesekera
2nd Position
Karachi Convent Girls
08:09:3
Iman Shaikh
3rd Position
St. Michael's Convent School
08:49:2
Sakina Hatim Ali
Event: Under 21 Boys 1 x 2000m
1st Position
Karachi Grammar School
06:45:7
Farid Muhammad Arif
2nd Position
Cedar College
07:25:9
Saad Yousuf
3rd Position
The Lyceum
07:42:6
Sheikh Abdullah
Event: Under 21 Girls 1 x 2000m
1st Position
Cedar College
08:38:5
Simran Sarwat Khowaja
2nd Position
The Lyceum
08:45:0
Sara Saleem Khan
3rd Position
Karachi Grammar School
08:51:3
Manahil Sohail
Event: Under 25 Boys 1 x 2000m
1st Position
Habib University
07:18:0
Muhammad Mustafa
2nd Position
Aga Khan University
07:21:3
Syed Muhammad Waqas
3rd Position
Institute of Business Administration
07:28:7
Shaad Ahmed Salam
Event: Under 25 Girls 1 x 2000m
1st Position
Aga Khan University
10:16:3
Iman Mushfiq Farooqui
2nd Position
Indus Valley School of Art and Architecture
11:02:4
Saleena Jalbani
3rd Position
Denning Law School
11:30:9
Tooba sheikh
Event: Under 18 Boys 1 x 5000m
1st Position
Karachi Grammar School
19:23:6
Emad Salman Beg
2nd Position
The C.A.S. School
20:48:9
Castro Shahnawaz Sprung
3rd Position
Bay View Academy
21:36:0
Hamdaan Qureshi
Event: Under 18 Girls 1 x 5000m
1st Position
The C.A.S. School
22:34:5
Syeda Emaan Shujaat
2nd Position
Karachi Grammar School
24:29:8
Hayan Adnan Ali
3rd Position
Bay View Academy
25:22:7
Eman Faisal Sheikh
Event: Under 15 Boys 2 x 1000m Relay
1st Position
The C.A.S. School
07:33:8
Rayan Saad, Cyrus Khan
2nd Position
Karachi Grammar School
07:49:0
Ibrahim Javed, Naqi Haider Khan
3rd Position
Ghulaman e Abbas
07:49:8
Faheem Abbas, Noman
Event: Under 15 Girls 2 x 1000m Relay
1st Position
The C.A.S. School
09:10:6
Marziya Amir Shah, Shiza Fatima Ladhubhai
2nd Position
Karachi Grammar School
09:18:9
Zoey Emaan Akram, Hiba Omar Murad
3rd Position
Froebels Education Centre
09:41:5
Shenze Khan, Nabeeha Arshad Sattar
Event: Under 18 Boys 2 x 1000m Relay
1st Position New Record
Asian International School
06:49:0
Shivanedra Goonewardene,
Shaylon Shayan
Ambrose Gunaratna
2nd Position
Cedar College
06:59:3
Amir Sherbaz Khan
Niazi, Muhammad
Haseeb Nadeem Rai
3rd Position
The C.A.S. School
07:01:4
Rohail Ahsan Choudhry, Syed Muhammad
Ibrahim Rizvi
Event: Under 18 Girls 2 x 1000m Relay
1st Position New Record
Karachi Grammar School
07:55:7
Haaniah Ahmed Rehmani, Shahnoor Meraj Ahmed
2nd Position
The C.A.S. School
08:07:2
Inaaya Jahanaz Zaidi, Hareem Malik
3rd Position
Asian International School
08:22:0
Arwa Moiz
Hydery Rehmanjee,
Dona Nethuki
Thehara Senanayake
Event: Under 21 Boys 2 x 1000m Relay
1st Position New Record
Cedar College
06:23:9
Ahmed Ali Khan,
Muhammad Haider
2nd Position
Nixor College
06:28:1
Muhammad Ibrahim Khan,
Ibrahim Ali Shah
3rd Position
Karachi Grammar School
06:30:4
Ryaan Adnan Ali,
Syed Mohammad Shujaat
Event: Under 21 Girls 2 x 1000m Relay
1st Position New Record
The Lyceum
07:50:1
Alefiya Najmuddin, Miraal Zafar
2nd Position
Karachi Grammar School
07:53:5
Syeda Zauraiz Sohail, Safa Haris
3rd Position
Cedar College
08:05:1
Noon Amin Muhammad,
Simran Sarwat Khowaja
Event: Under 25 Boys 2 x 1000m Relay
1st Position
Aga Khan University
06:51:4
Syed Muhammad Waqas,
Syed Musa Mufarrih
2nd Position
Institute of Business Administration
06:53:1
Shaad Ahmed Salam,
Muhammad Daniyal Bin Saqib
3rd Position
Denning Law School
07:52:0
Sagar Kumar,
hunain Shoukat
Event: Under 25 Girls 2 x 1000m Relay
1st Position
Aga Khan University
08:32:2
Bushra Kiran, Sheza Saqib
2nd Position
Indus Valley School of Art and Architecture
09:20:4
Eeman Kamran, Bareeka Reza
3rd Position
Habib University
09:42:8
Mahnoor Farid Khan, Aina Shakeel
Event: Under 15 Boys 4 x 500m Relay
1st Position
The C.A.S. School
06:58:8
Castro Shahnawaz Sprung, Rayan Saad,
Cyrus Khan, Zurain Tahir
2nd Position
Karachi Grammar School
07:41:8
Abraz Zahid,
Muhammad Omar Khan, Naqi Haider Khan,
Ibrahim Javed
3rd Position
Bay View Academy
07:56:8
Muhammad Moosa Irfan,
Agha Hamid Kamran,
Abdallah Faisal Sheikh,
Hussain Ali Bhagat
Event: Under 15 Girls 4 x 500m Relay
1st Position
Karachi Grammar School
08:04:5
Amelle Jeeva, Shanzeh Saqib,
Mishal Sohail, Haiqa Hasnain
2nd Position
The C.A.S. School
08:09:0
Aysha Razvi,
Marziya Amir Shah,
Shiza Fatima
Ladhubhai, Ryana Gir
3rd Position
Bay View Academy
08:52:9
Emaan Omair,
Aroush Nadeem
Event: Under 18 Girls 4 x 500m Relay
1st Position
The C.A.S. School
07:30:2
Syeda Emaan Shujaat, Hareem Malik,
Amna Imran Tabba, Aliza Adnan
2nd Position
Karachi Grammar School
07:32:3
Iffa Omer Murad,
Shahnoor Meraj Ahmed,
Haaniah Ahmed Rehmani,
Rania Eiman Shoukat
3rd Position
Bay View Academy
07:52:3
Soha Agha,
Alayna Anjum
Under 21 Boys 4 x 500m Relay
1st Position New Record
Nixor College
05:51:2
Rayyan Malik,
Muhammad Ibrahim Khan,
Muhammad Haroon, Ibrahim Ali Shah
2nd Position
Cedar College
05:59:2
Ahmed Ali Khan,
Muhammad Haider,
Muhammad Okasha,
Muhammad Dawood Moten
3rd Position
Karachi Grammar School
06:07:2
Farid Muhammad Arif, Ryaan Adnan Ali,
Syed Mohammad Shujaat,
Muhammad Shamveel Butt
Event:Under 25 Boys 4 x 500m Relay
1st Position
Aga Khan University
06:17:5
Basil Rehman,
Shahier Muhammad Paracha,
Muhammad Ahmed Zaman,
Syed Musa Mufarrih
2nd Position
Habib University
06:18:2
Quaid Johar,
Ammar Murtaza,
Mohammad Arqam Nakhuda,
Muhammad Mustafa
3rd Position
Denning Law School
07:22:9
Danish Fakih,
Rayyan Bin Saad Zuberi,
Muhammad Hussain,
Syed Muhammad Arfeen
Event: Under 18 Boys 4 x 500m Relay
1st Position
C.A.S. School Karachi
06:18:9
Saif Malik,
Shahzain Habib,
Syed Raed Sohail Ahsan,
Syed Muhammad Ibrahim Rizvi
Karachi Grammar School
06:30:9
Aahil Junaid
Ahmed, Hamza
Minhaj , Hamza Atif
Shah, Ali
Muhammad Mitha
Bay View Academy
06:46:2
Rayyan Imran,
Kazim Shabbir,
Awaab Nasruddeen,
Arshaan Mirza
Event: Under 25 Girls 4 x 500m Relay
1st Position
Aga Khan University
07:59:5
Bushra Kiran, Iman Mushfiq Farooqui,
Zahra Yasmeen,
Sheza Saqib
2nd Position
Habib University
08:02:1
Hajrah Khalid Kushtiwala,
Ruhama Naeem,
Aina Shakeel,
Maira Khan
3rd Position
Indus Valley School of Art and Architecture
08:43:7
Bareeka Reza,
Saleena Jalbani,
Nimrah Hassan,
Eeman Kamran
Event: Under 21 Girls 4 x 500m Relay
1st Position
The Lyceum
07:23:5
Maryam Irfan Shaikh,
Emaan Naveed Sheikh,
Alefiya Najmuddin,
Miraal Zafar
2nd Position
Karachi Grammar School
07:30:1
Iffa Omer Murad,
Manahil Sohail,
Syeda Zauraiz Sohail
Safa Haris
3rd Position
Nixor College
07:32:2
Aiesha Ather Iqbal,
Noor Arshad,
Shiza Saqib Pirzada,
Rabia Shah