The Quaid-e-Azam Gold Cup Open 2022, sponsored by Tower 21 got underway at the Lahore Polo Club with two matches having played on Day 1, in which HN Polo Team and Diamond Paints recorded victories.
HN Polo Vs DS Polo/Rizvi's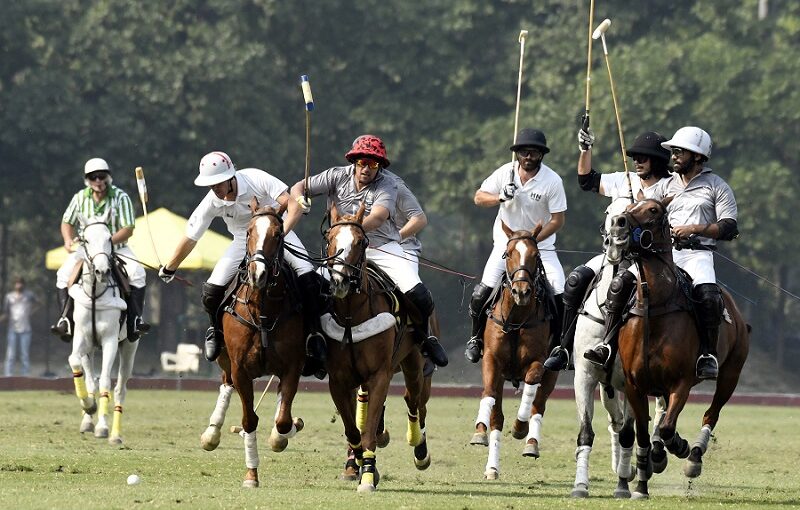 The first match of the opening day saw HN Polo playing better polo against DS Polo/Rizvi's and emerged as victorious with a close margin of 9-7. Tito Ruiz Guinazu did the magic with mallet and pony and not only played excellent polo against DS Polo/Rizvi's but also significantly contributed with superb seven goals. He was ably assisted by sensational Saqib Khan Khakwani, who banged in a beautiful brace. It is pertinent to mention here that Saqib was included in the side in place of injured Raja Sami Ullah. From DS Polo/Rizvi's, Marcos Panelo fired in four fabulous goals while Max Charlton thrashed in three but their efforts could not bear fruit for their side, which lost the match by 7-9.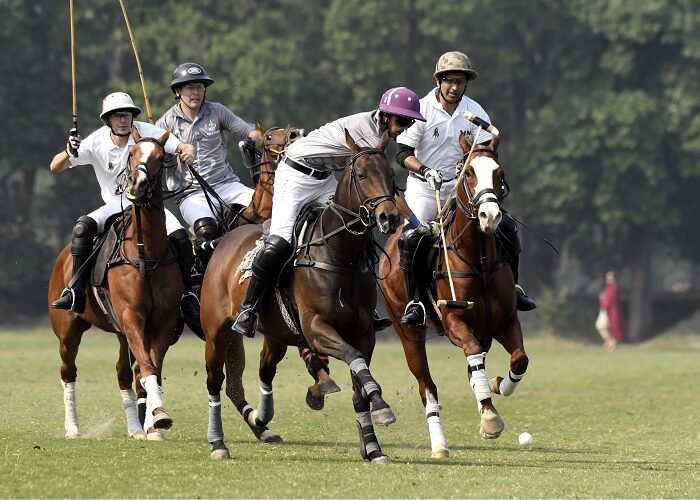 The match commenced with DS Polo/Rizvi's earning a 40-yard penalty, which they converted successfully to take 1-0 lead. After that, HN Polo dominated rest of the first chukker as they thrashed in three back-to-back goals to secure a good 3-1 lead. The second chukker was dominated by DS Polo/Rizvi's, who hammered a hat-trick of goals against one by HN Polo to level the score at 4-4.
HN Polo bounced back well in the third chukker and slammed in three goals against one by DS/Rizvi's to earn a 7-5 lead. The fourth and last chukker was evenly poised as both the sides played well and converted two goals apiece, with HN Polo emerging as triumphant with a margin of 9-7.
Diamond Paints Vs Rough Riders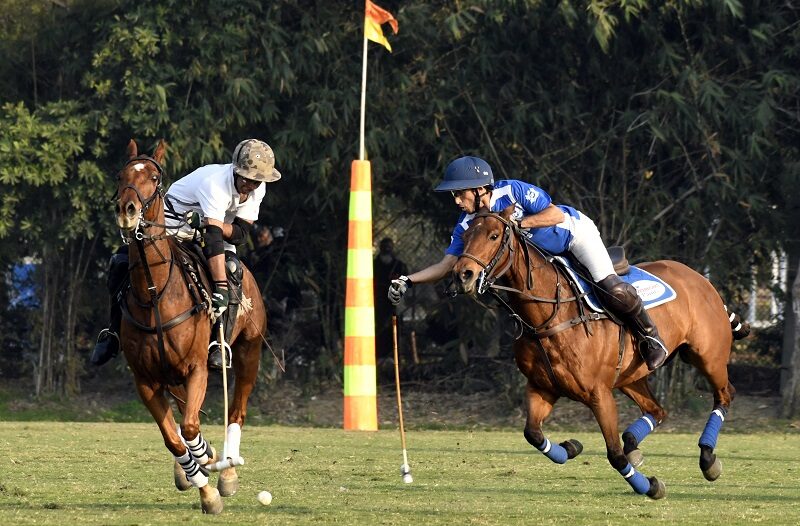 The second match of the day proved to be a nail-biting encounter where Diamond Paints and Rough Riders Polo Team fought well against each other and after a tough fight, Diamond Paints emerged as winners with a narrow margin of 5-4. Juan Ambroggio was the hero from the winning team as he hammered a beautiful brace while while Ahmed Ali Tiwana, Mir Shoaib Ahmed and Guy Gibrat converted one goal apiece. From Rough Riders, Julio Novillo Astrada thrashed in three goals and Saqib Khan Khakwani struck one.
Rough Riders though started the match well with a field goal to gain 1-0 lead yet Diamond Paints made a strong comeback by thrashing in two back-to-back goals to earn a 2-1 lead. Diamond Paints continued their good show in the second chukker as well as they banged in another brace to stretch their lead to 4-1 while Rough Riders converted one to reduce the margin to 4-2.
The only goal of the third chukker came from Rough Riders, helped them reduce the deficit to 4-3. In the fourth and decisive chukker, Diamond Paints played well and fired in a field goal to have a 5-3 lead while Rough Riders also tried hard to convert back-to-back goals to win the match but they succeeded in converting just one, thus lost the crucial match by 4-5.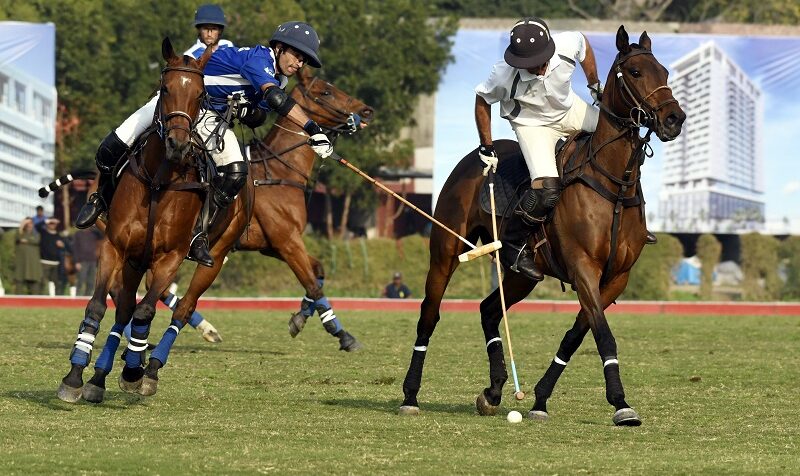 لاہور پولو کلب کے زیراہتمام ٹاور 21 قائداعظم گولڈ کپ اوپن 2022ء میں دو اہم میچز کھیلے گئے جن میں ایچ این پولو ٹیم اور ڈائمنڈ پینٹس کی ٹیمیں فاتح رہیں۔ تفصیلات کے مطابق لاہور پولو کلب میں ٹاور 21 کے تعاون سے منعقدہ قائداعظم گولڈ کپ اوپن 2022ء کے میچز دیکھنے کیلئے تماشائیوں، فیمیلیز اور ٹاور 21 کی منجمنٹ بھی موجود تھی۔ اس موقع پر ٹاور 21 کے سی ای او حمزہ رضا ملک،لاہور پولو کلب کے صدر عمر صادق، سیکرٹری آغا مرتضی علی، ایگزیکٹو کمیٹی ممبرز اور فیملیز کی بڑی تعداد بھی موجود تھی۔ پہلے میچ میں ایچ این پولو کی ٹیم نے ڈی ایس پولو /رضویز کی ٹیم کو 9-7 سے ہرا دیا۔ ایچ این پولو کی طرف سے خوان ٹی ٹو رئیوز گزنو نے شاندار سات گول جبکہ ثاقب خان خاکوانی نے دو گول سکور کیا۔ ثاقب خان خاکوانی زخمی راجہ سمیع اللہ کی جگہ میچ میں شامل کیے گئے۔ ڈی ایس پولو /رضویز کی طرف سے مارکوس پنیلو نے چار اور میکس چارلٹن نے تین گول سکور کیے۔ دوسرے میچ میں ڈائمنڈ پینٹس کی ٹیم نے دلچسپ مقابلے کے بعد رؤگ رائیڈرز پولو ٹیم کو 5-4 سے ہرا دیا۔ ڈائمنڈ پینٹس کی طرف سے خوان امبراگیو نے دو، احمد علی ٹوانہ، میر شعیب احمد اور گی گبرٹ نے ایک ایک گول سکور کیا۔ رئیوگ رائیڈرز پولو ٹیم کی طرف سے جولیو نویلواسٹاڈا نے تین، اور ثاقب خان خاکوانی نے ایک گول سکور کیا۔ میڈیا سے گفتگو کرتے ہوئے ٹاور 21 کے سی ای او حمزہ رضا ملک نے کہا کہ پولو ایک لائف سٹائل کھیل ہے۔ زندہ دلان لاہور کیلئے ایک شاندار پراجیکٹ لانچ کیا ہے اور امید ہے کہ جس طرح لاہور کے لوگ پولو کو سپورٹ کرتے ہیں اسی طرح ٹاور 21 کو بھی بھرپور سپورٹ کریں گے۔